Sunday Morning for Sunday 31 August 2014
7:08 Current affairs
We take a look at housing – what the politicians are saying, and local doctor Bryan Betty (pictured, far right) tells us how people live in Cannon's Creek, Porirua. Also – new Green Party candidate Barry Coates (pictured, left), and RNZI's Johnny Blades reports from Papua New Guinea.
8:12 Insight
In the second part of this Insight mini-series looking at election issues, we tackle what the political party policies mean for Auckland. Radio New Zealand's Auckland correspondent Todd Niall and Pacific Issues correspondent, Karen Mangnall investigate how the key issues facing the country's biggest city are affecting both those doing well and those who are struggling. They look at housing – from the perspective of someone living in a car, through to the professional property investor. And they explore the issue of employment – the city has a high jobless rate among its young people despite rates improving generally. Insight also looks at the relationship between Auckland's Council and central Government and how that affects the way problems are dealt with.
Produced by Philippa Tolley.
8:40 Donna Swift – Violence Among Girls
Dr Donna Swift, a tutor at Nelson Marlborough Institute of Technology (NMIT) has won the Sonja Davies Peace Award for her work in the area of girls' violence. Dr Swift talks to Wallace about unhealthy competition among girls to get attention from males, and the problem of a lack of strong female role models.
http://westreap.org.nz/documents/GirlsofConcernDonnaSwift2014.pdf
9:06 Mediawatch
Mediawatch asks if the Dirty Politics saga will have a lasting impact on the media, and why the political parties were pitted against the All Blacks last weekend. And now the election campaign is officially under way, are the media focused on policy, or personalities?
Produced and presented by Colin Peacock and Jeremy Rose.
9:40 Wayne Brittenden's Counterpoint
Wayne looks at our bid for a non-permanent seat on the UN Security Council and reflects on the meaning of an independent foreign policy. Wallace follows up with Waikato University's Professor Michael Peters.
10:06 Lee Child – Reacher Madness

One of Lee Child's thrillers featuring his hero Jack Reacher is bought somewhere in the world every 20 seconds and, per capita, sale of his books in New Zealand outsells all other markets. Lee Child describes New Zealand as "the world centre of Reacher madness". The latest Jack Reacher book is Personal - it's the story of a sniper with a grudge which sees the lone drifter Reacher dragged into the cross-hairs.  Wallace Chapman talks to Lee Child about the success of the Jack Reacher stories, his writing process, and his use of weed.
Message from Jack Reacher author Lee Child to NZ
10:30 Dan Pearson – Pop Up Dining
Dan Pearson is one of New Zealand's most innovative chefs. He began his career as a teenager in hamburger vans in England before working his way up into the London fine dining scene – where he cemented his skills at the Michelin-starred Foliage restaurant in Knightsbridge. In 2009, Dan Pearson moved to New Zealand and became Head Chef at Bracu Restaurant in Auckland. In 2012, he began his own business, Egg&Spoon, a series of pop-up dining events held in a variety of locations around Auckland, including the iconic White Lady burger van. Several of Dan's recipes feature in a new cookbook called Bistronomy and he joins Wallace to talk about food, foraging and his very large tattoo that proclaims the virtues of salt.
Dan Pearson's recipe for Parsnip Risotto, Walnut, Apple and Horseradish
10:45 Anna Leese – Star Soprano
NZ born, Italy-based soprano Anna Leese has returned to our shores to perform in the New Zealand Opera's production of Don Giovanni which begins next month. Anna Leese made her Covent Garden debut at the age of 24 and since then she has shared the stage with many of the world's opera greats – including Dame Kiri Te Kanawa, Jose Carerras and Andrea Bocelli. She represented New Zealand in the 2011 Cardiff Singer of the World competition and even has a rose named after her. She joins Wallace to talk about her career and her upcoming role as Donna Elvira in Don Giovanni.

Anna Leese in Don Giovanni – Photo by Mark Stone
11:05 Wellington's Architectural Centre
In the 1940s a group of idealistic Wellington architects formed the Architectural Centre. For more than six decades the Centre has been at the forefront of debates about how the city should develop. Wallace Chapman speaks to Paul Walker – the co-author of Vertical Living: The Architectural Centre and the Remaking of Wellington; and the Centre's current president Christine McCarthy. And Jeremy Rose catches up with two of the Centre's original members, Jim Beard and Bob Fantl – both now in their 90s.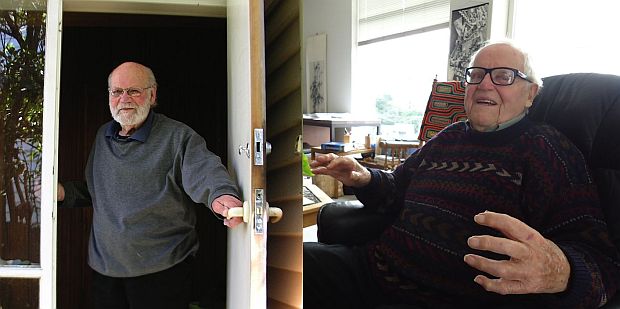 Photo: Bob Fantl and Jim Beard
11:45 Gordon McBean – Climate Concerns
Professor Gordon McBean is one of the leading voices in the field of climate change. A Nobel Prize winner, he has just been named president of the International Council for Science and he is In NZ for its General Assembly which begins in Auckland on Monday. He speaks to Wallace about why New Zealand needs to take the reins in climate change leadership.