Standing Room Only for Sunday 5 July 2015

12:42 2015 International Award for Public Art
Public art works tend to be polarizing - loved or loathed, embraced as a welcome addition to a community or resented because of the cost or the look of the work. Should the public have a say in substantial public art works, or is that a decision best left to others? Lewis Biggs has just judged the 2015 International Award for Public Art in Auckland. He is a former director of the Tate Liverpool - the city was the 2008 European Capital of Culture which saw many millions of pounds poured into its regeneration.
12:50 Hawke's Bay and East Coast women at war
"What did you do in the War Gran?" That's a question researcher Professor Kay Morris Matthews from the Eastern Institute of Technology wants more people to ask. She's tracked down the stories of 64 Hawkes Bay women who served overseas in The Great War for an exhibition at the MTG Hawke's Bay. The nurses, teachers and volunteers travelled far from the land they knew, to war-torn England, Egypt, Greece, and France.

Lonsdale House Hospital, London, March 1918, photographer unknown, Spencer Collection, Hawke's Bay Museums Trust, Ruawharo Tā-ū-rangi, [90314]
Kay Morris Matthews wants to hear from anyone who can help with her research. Email KMorris@eit.ac.nz
1:10 Film with Kailey Carruthers
Kailey Carruthers reviews Pixar film Inside Out, romantic comedy Man Up, and Brian Wilson from The Beach Boys biopic Love and Mercy.
1:30 Unnaming a glacier
Sasha Huber is travelling the world, unnaming things named after nineteenth century Swiss-born naturalist and glaciologist Louis Agassiz. Her latest unnaming ceremony has been held in New Zealand, at the former Agassiz Glacier, between the Franz Josef and Fox Glaciers on the West Coast. Ngāi Tahu representatives accompanied Sasha and her film crew to the area for the ceremony. Sasha Huber is in Wellington on an artist's residency and her trip is part of a long term international project called Demounting Agassiz. Sasha's exhibit Agassiz Down Under will show at Te Whare Hēra gallery.

Jeff Mahuika (Kāti Māhaki, Poutini Kāi Tahu) and Sasha Huber after the karakia, symbolically unnaming the Agassiz Glacier. Photo by Tom Hoyle
1:45 OSH on the dancefloor
The tougher new Health and Safety at Work legislation coming into force soon means performing arts spaces and companies will have to watch their step. Dance companies and teachers have been talking to experts in the field, to get some idea of what they're in for under the new legislation. Lawyer Scott Ratuki from Tompkins Wake and the Executive Director of Dance Aotearoa New Zealand Dr Tania Kopytko talked to Lynn Freeman about the changes.
2:04 The Laugh Track – Paul Waggott
Actor Paul Waggott is a constant presence on New Zealand stages, and Radio New Zealand Drama. He's part of theatre company My Accomplice, and will appear in the upcoming production at Circa Theatre, in Wellington, of The Ugly One by German Playwright Marius von Mayenburg.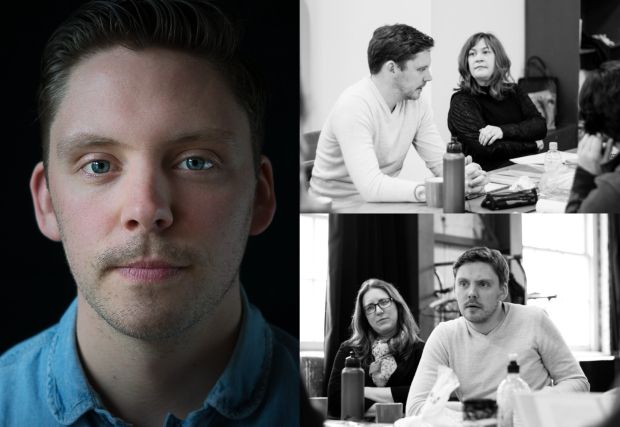 2:35 How to Catch a Grim Reaper
Having gathered a stack of awards for her poetry and a book of hers translated into French, German and Spanish, Helen Vivienne Fletcher has now set her sights on writing for the stage. Her poetry has appeared in print and on line, and she's also got several e-picture books to her name, including Jenny No-Knickers and Do Fruit Worry About Getting Fat? She's about to attend the opening night of her first play, How to Catch a Grim Reaper, which is part of the 2015 Young and Hungry Festival of New Theatre.
2:42 Author Charlotte Grimshaw - Starlight Peninsula
Few New Zealand novelists tackle contemporary political satire, but once again Auckland writer Charlotte Grimshaw takes it on. Charlotte's latest novel Starlight Peninsula, introduces us to Eloise Hay. She works in TV, her husband has left her for an actress, and she is overwhelmed by both that loss and another earlier one that catches up with her.
2:50 The Colourful World of Mica Still
If you've ever seen the work of Mica Still, you won't be able to walk past without a smile on your face. The US born, Wellington-based artist loves taking her art to the streets, and in recent years has made the transition from black and white photography and fine art, to an explosion of colourful creatures that can be found at various locations across the breadth of the country
3:05 The Drama Hour
The Drama Hour revisits a classic, The Legend Returns, starring Helen Moulder and recorded live on stage at Circa Theatre.
Music played in this show
Artist: Judith Durham
Song: When Starlight Fades
Composer: J. Durham, H. Cock
Album: Let Me Find Love
Label:  Musicoast
Played at: 12:12
Artist: Starlight Express Original Cast
Song: I Am The Starlight
Composer: Andrew Lloyd Webber, Richard Stilgoe
Album: Starlight Express
Label:  Polydor
Played at: 12:38
Artist: Zoe Muth
Song: Starlight Hotel
Composer: Zoe Muth
Album: Zoe Muth and The Lost High Rollers
Label: Signature Sounds Recordings
Played at: 12:58
Artist: Mëstar
Song: Mr Starlight
Album: Shut the Squizwot Factories Down
Label: Arch Hill
Played at: 1:10
Artist: The Beach Boys
Song: Wouldn't It Be Nice
Composer: Asher, Love, Wilson
Album: Pet Sounds
Label: Capitol
Played at: 1:26
Artist: Muse
Song: Starlight
Composer: Bellamy
Album: Black Holes and Revelations
Label: Warner
Played at: 1:42
Artist: Joan Armatrading
Song: Starlight
Composer: Joan Armatrading
Album: Starlight
Label: 429 Records
Played at: 1:58
Artist: Very Unique Experience
Song: Starlight
Composer: Latimer
Album: Everyone
Label: Vue
Played at: 2:04
Artist: Flanders and Swann
Song: The Gasman Cometh (Live)
Album: The Best of British Comedy: 60 Golden Comedy Classics
Label: Disky
Played at: 2:25
Artist: Weezer
Song: Starlight
Composer: Rivers Cuomo
Album: Hash Pipe
Label: Geffen
Played at: 2:37
Artist: Ann Howard Jones & Moira Anderson
Song: I Can Give You The Starlight
Played at: 2:58
Artist: Miles Davis
Song: Stella by Starlight
Composer: N. Washington, V. Young
Album: '58 Sessions Featuring Stella by Starlight
Label: Columbia
Played at: 3:58