Standing Room Only for Sunday 28 June 2015
12:42 Contract disputes over Eight Gigabytes of Hardcore Pornography
There's a heated debate over the Silo Theatre production of Eight Gigabytes of Hardcore Pornography's decision to change the ending of Australian writer Declan Greene's play so the actors only strip to their underwear rather than completely.
Greene's play is supposed to end with the actors stripping naked - that's how it's been performed in Australia and that's what the contract Silo signed agreed to specifies. Silo Theatre is using the dispute as a selling point, reviewers are divided, and industry websites like Theatreview are hearing from people with polarised views. Lynn Freeman speaks to Declan Greene, Silo Theatre's Artistic Director Sophie Roberts, and Michael Hurst who was a speaker at a recent Equity NZ workshop about nudity and simulated sex on stage and screen.
1:10 At the Movies with Simon Morris
Simon Morris previews the New Zealand International Film Festival with festival director, Bill Gosden, who picks out some highlights, some headline-grabbers and some personal favourites from the 150-plus titles on offer.
1:35 The future of The Arts Centre of Christchurch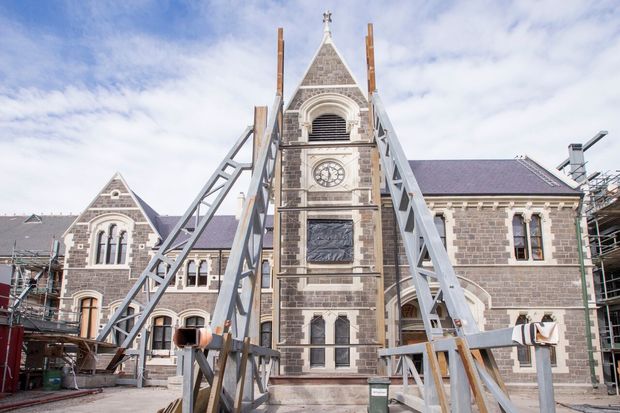 Photo: Moda Fotographica
The man who's leading the charge to rebuild Christchurch's historic arts centre, André Lovatt has ambitious plans beyond restoring the bricks and mortar. He's spearheading the 290 million dollar rebuild of New Zealand's largest collection of heritage buildings. It is classed as one of the largest heritage restoration projects in the world. All but one of the 23 heritage buildings were substantially damaged in the 2010 and 2011 earthquakes. André Lovatt's efforts in overseeing the rebuild and launching fund raising campaigns have been recognised with a 2015 Blake Leader Award.

1:48 Towards a New Zealand dramaturgy
Auckland writer Dione Joseph is on a mission.
She wants to know what we mean when we talk about dramaturgy in New Zealand and she's been interviewing actors, directors, dancer and that rare beast - dramaturges - to find out. She tells Justin Gregory there's no easy answer.
2:04 The Laugh Track – Beth Stelling
Beth Stelling is a Los Angeles based stand-up who has appeared on many late night TV shows and toured throughout the US. She's just recorded her first standup special for Comedy Central. This year she's taking her show to Australia, Ireland, and New Zealand.
2:35 The Umbrella Movement
A 4m high wooden figure holding a bright yellow umbrella became a symbol for the thousands of Hong Kong protesters last year. Umbrella Man led to the Umbrella Movement, referring to the canopies protestors used to protect themselves from pepper spray. The young art-school graduate who made the statue could never have imagined that it would lead to a movement and beyond. Sampson Wong who's the Convenor of the Umbrella Movement Visual Archives and Research Collective and director of the Hong Kong Urban Laboratory.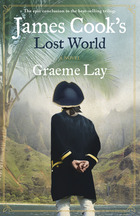 2:42 James Cook's Lost World
Graeme Lay has written a trilogy of novels charting Captain James Cook's life. There are a lot of gaps to fill in - not about the voyages which were thoroughly documented, but about his personal life.
James Cook spent most of his life at sea, leaving his wife and children in England, waiting and worrying about him during his long absences. In this third novel, the seafarer tries to settle down on land....but just can't.
2:50 A design for life
Sennep - taking its name from the Norwegian word for mustard - is an interactive design studio that was stared over a decade ago by Creative Directors Matt Rice and Hege Aaby. Matt and Hege will be speaking at the Semi-Permanent design conference in Auckland. Standing Room Only's Shaun D Wilson got Hege on the line and asked what a digital studio like Sennep actually does.
3:05 The Drama Hour
It's 800 years since the signing of the Magna Carta (the Great Charter) at Runnymede. The Drama Hour celebrates the anniversary with The Great Charter by Matthew Solon. A play that reimagines the event but set in the future and concerning the ownership of the worldwide web and digital rights.
3:50 Prodigious composer Salina Fisher
Composer Salina Fisher must be running out of room on her mantelpiece to hold all the awards she's won, and she's still only in her early 20s. She won the NZSO Todd Young Composer award in both 2013 and 2014. She's the 2015 Auckland Philharmonia Rising Star and her commission for the Mimosa Ensemble is about to be heard throughout the country. When Salina's not writing new music she's performing as a violinist, as a member of the National Youth Orchestra and a casual player in the New Zealand Symphony Orchestra. The NZSO Youth Orchestra is about to premiere her latest work, Rainphase.
Music played in this show
Artist: Biffy Clyro
Song: The Captain
Composer: Simon Neil
Album: Brit Awards 2010
Label: Rhino  Played At: 12:12
Artist: Dominik Hauser
Song: Main Theme (From "Captain America" Cartoon Series)    
Played At: 12:38
Artist: The Lonely Island ft. Michael Bolton
Song: Jack Sparrow
Composer: A. Samberg, A. Schaffer, J. Taccone, M. Woods
Album: Turtleneck & Chain
Label:  Universal
Played At: 12:59
Artist: Flying Lotus/Captain Murphy ft. Snoop Dogg
Song: Dead Man's Tetris
Composer: Steven Ellison, Snoop Dogg
Album: You're Dead!
Label: Warp
Played At: 1:10
Artist: Captain Sensible
Song: Wot
Composer: Captain Sensible
Album: Captain Sensible: The Collection
Label: Spectrum
Played At: 1:45
Artist: Captain & Tennille
Song: Love Will Keep Us Together
Composer: Neil Sedaka, H. Greenfield
Album: Captain & Tennille's Greatest Hits
Label: A&M
Played At: 1:58
Artist: The Wiggles
Song: Oooh! It's Captain Feathersword
Composer: The Wiggles
Album: Hot Potatoes! The Best of The Wiggles
Label:  ABC
Played At: 2:04
Artist: Beth Stelling
Song: The Bachelor
Composer: Beth Stelling
Album: Sweet Beth
Label: Rooftop Comedy
Played At: 2:06
Artist: Garfunkel and Oates
Song: Weed Card
Album: All Over Your Face
Played At: 2:28
Artist: Improved Sound Limited
Song: Old Captain Cook
Album: Engelchen Macht Weiter – Hoppe, Hoppe Reiter
Played At: 2:49
Artist: Captain Beefheart & The Magic Band
Song: Chain Puller
Composer: Don Van Vliet
Album: The Best of Captain Beefheart & The Magic Band
Label: EMI
Played At: 2:59
Artist: Elton John
Song: Captain Fantastic and the Brown Dirt Cowboy
Composer: John, Taupin
Album: Captain Fantastic and the Brown Dirt Cowboy
Label: Mercury
Played At: 3:59