Standing Room Only for Sunday 12 July 2015
12:40 Ethics in fashion
An Auckland art project is trying to change our thinking about fashion, by encouraging us to create zero waste garments. For Make/Use a design team based at the Objectspace gallery are designing, making and modifying garments that not only produce no waste, but are fashionable and flattering.
Internationally there's a real push for zero waste design and manufacture of products. Make/Use Project Leader Holly McQuillan says they've come up with several ways to help people interested in making their own zero waste garments.
12:48 Dubbing was his DigiDestiny
American voice actor Joshua Seth has been heard in hundreds of video games, commercials and movies over the years. He's something of a specialist in the only type of foreign film and television that gets dubbed into English rather than subtitled: animation. He revoiced the villain Tetsuo in one of the biggest anime films of all time - the dystopian manga adaptation Akira. But the role that made his name and still brings in fanmail 15 years later was his role as Tai, the main character of the first two series of anime adventure Digimon. Joshua has also voiced parts in movies like The Spongebob SquarePants Movie over the years, though these days he uses his voice as a hypnotist/magician and he's bringing his show to New Zealand as part of Wellington Armageddon.

1:10 Film with Kailey Carruthers
Kailey Carruthers reviews Magic Mike XXL, Terminator Genisys, and Madame Bovary.
1:30 Jiwi's Machines
The exhibits inside MOTAT, the Auckland museum of transport and technology, are all about design and efficiency. Except for their latest acquisition. Joseph Herscher is a kinetic artist who builds Rube Goldberg machines; wonderfully over engineered, incredibly complicated contraptions designed to perform simple tasks. Joseph is filming a web series called Jiwi's Machines at MOTAT and during the day tests his inventions in front of live audiences. Justin Gregory went to meet the man and his machines.
1:47 Stephen R. Bissette: comics pioneer & evangelist
Stephen R. Bissette is a teacher at Vermont's Centre for Cartoon Studies. Highlights of Stephen's comics career include co-creating sweetwise anti-hero magician John Constantine - as part of his, Alan Moore, and John Totleben's run of The Saga of The Swamp Thing, and initiating the 24 Hour Comics challenge - where participants have a day to write, and draw their own stories. Stephen talked to Shaun D Wilson ahead of appearing at Wellington Armageddon Expo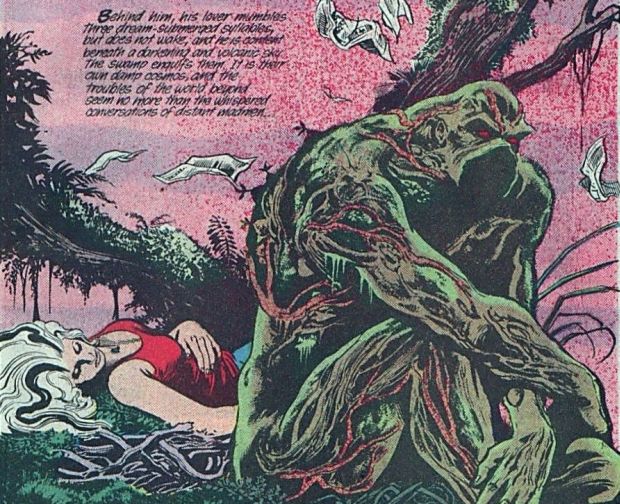 2:04 The Laugh Track – Kirsten Morrell
Kirsten Morrell is best known for her tenure as lead singer for indie-pop group Goldenhorse, and subsequent solo album. She's trained in Opera, performed with the NZSO, and been part of shows including The Gilded Cage: A Steampunk Operetta and New Zealand Opera's 2013 production of Wagner's The Flying Dutchman. Kirsten also works Front of House at TAPAC where she's helping organise and will perform at a fundraising show in October.
2:26 OCBD: Obsessive compulsive bird drawing
Drawing birds takes patience. To really get a sense of their behaviour you can't just draw from a photograph. You have to spend time watching. Artist Niels Meyer-Westfeld moved to New Zealand from Germany, where he had a career as a graphic artist and part time landscape artist. But once he met our birds, he couldn't stop drawing them, which lead to his exhibit Land of Birds at Expressions Gallery and a related book.
2:40 The Book Awards return and The Shadbolt Residency begins
New Zealand's writers were relieved to find out during the week that the New Zealand Book Awards have been resurrected thanks to an anonymous donation. There's more good news: writer Maurice Shadbolt's old home in Titirangi is to become the country's newest writer's residency. The author of Season of the Jew - the first of The New Zealand Wars trilogy, and The Lovelock Version had four wives and no shortage of lovers during his lifetime, 40 years of which he spent at this house. The Shadbolt Residency has been years in the making. Naomi McCleary, who chairs the Going West Trust in partnership with Waitakere Local Community Board, says the house, while not flash, will offer writers plenty of material.
2:50 Australasian theatre – Brett Adam
New Long Cloud Youth Theatre Artistic Director Brett Adam was previously the Head of Directing at Toi Whakaari: NZ Drama School, and prior moving to Aoetearoa he was a Director for Melbourne Theatre Company. We hear about the differences between New Zealand and Australian theatre, and his ambitions for the young company. His first production with Long Cloud, Live Acts On Stage, is by Australian writer Michael Gow.
3:05 The Drama Hour
Pip Hall's The 53rd Victim marks the tenth anniversary of the terror attacks on the London transport system.
Music played in this show
Artist: Kid Creole & The Coconuts
Song: Stool Pidgeon
Composer: Darnell
Album: The Best of Kid Creole & The Coconuts
Label: Island
Played at: 12:12
Artist: Dudley Benson
Song: Ruru (Shuta Hasunuma Remix)
Composer: Hirini Melbourne
Album: Deforestation
Label: Golden Retriever
Played at: 12:38
Artist: Donald Duck
Song: Digital Duck
Composer: Silversher/ Silversher
Album: Disco Donald – Best of Friends
Label: Walt Disney
Played at: 12:58
Artist: Ohope Beach School Choir
Song: Song of The Day Birds
Composer: Greg Malcolm, Jenny Ward
Album: Bird Song
Played at: 1:06
Artist: Childish Gambino
Song: 3005
Composer: D. Glover, L. Goransson
Album: Because The Internet
Label: Glassnote
Played at: 1:30
Artist: The Steve Miller Band
Song: Fly Like An Eagle
Composer: Miller
Album: Greatest Hits 1974-78
Label: Capitol
Played at: 1:41
Artist: Kirsten Morrell
Song: Let Me Go
Composer: Kirsten Morrell
Album: Ultraviolet
Label: Warner Music New Zealand
Played at: 1:58
Artist: Public Image LTD.
Song: Albatross
Album: Second Edition (Metal Box)
Label: Virgin
Played at: 2:06
Artist: Kirsten Morrell
Song: Ghosts
Composer: Kirsten Morrell
Album: Ultraviolet
Label: Warner Music New Zealand
Played at: 2:07
Artist: The Mighty Boosh
Song: Tundra
Composer: Julian Barrett, Noel Fielding
Album: The Mighty Boosh
Label: BBC
Played at: 2:11
Artist: Monty Python's Flying Circus
Song: Dead Parrot Sketch
Composer: Monty Python's Flying Circus
Album: Monty Python's Flying Circus
Label: BBC
Played at: 2:23
Artist: Hirini Melbourne
Song: Kokako (The blue wattled crow)
Composer: Hirini Melbourne
Album: Forest and Ocean
Label: Viking
Played at: 2:37
Artist: Fatcat & Fishface
Song: Penguin
Composer: Kirsten Morrell
Album: Birdbrain
Label: Jayrem 391339
Played at: 2:45
Artist: Noel Gallagher's High Flying Birds
Song: (I Wanna Live in a Dream in My) Record Machine
Composer: Noel Gallagher
Album: Noel Gallagher's High Flying Birds
Label: Mercury
Played at: 2:57
Artist: Tama Waipara
Song: Kiwi
Composer: Hirini Melbourne
Album: He Rangi Paihuarere
Label: Black Media
Played at: 3:58