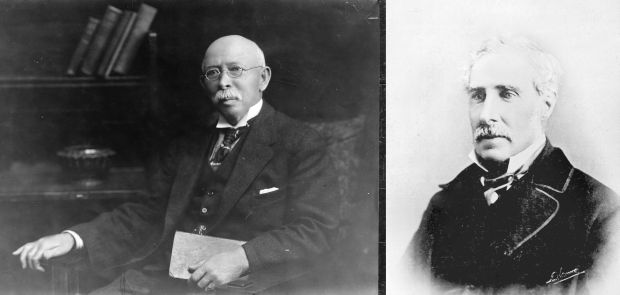 Left: Henry Shaw, Image: Sir George Grey Special Collections, Auckland Libraries, 4-1342
Right: Sir George Grey, Image: Sir George Grey Special Collections, Auckland Libraries, 346_A13114
By the choice of the materials which we place in this Library, we can bring persons from every part of the earth to drink at sources of knowledge, which they can obtain in no other place.
– Sir George Grey
Sir George Grey will be familiar to many New Zealanders as a leading political figure during much of the 19th century European settlement of New Zealand. Twice Governor of this country, he was also an explorer, linguist, solider, writer and philanthropist. While politics left Grey little time to devote to his hobbies, he did manage to amass impressive collections of books and manuscripts over his lifetime.
In 1887 he donated 8,000 volumes to Auckland Public Library. This remarkable gift and subsequent additions to it have made Auckland City Libraries the location of one of New Zealand's three major heritage collections. The Sir George Grey Special Collections: Tā Hori Kerei - Ngā kohinga taonga whakahirahira now boasts 80-thousand books alone. Later benefactors helped enhance and build upon Grey's substantial donation.
A key figure was commercial accountant Henry Shaw. By the time of his death in 1928 at the age of 78, he had given the library some 2,300 volumes. Unlike Grey, however, Shaw collected for aesthetic rather than linguistic reasons. A lifelong bibliophile, Shaw wrote: 'Any man, who is a real lover of books, is bound to spend a lot of time amongst his collections; he cannot help himself, he is drawn to them as with a magnet, and becomes as it were their slave'.
And while he's been described as hardly an enterprising collector, he had vision enough to secure books that he understood to be significant and desirable, such a two-hundred-year-old 'golden' Koran which has recently been the subject of research by Dr Zain Ali, the head of Islamic studies at the University of Auckland.
While both men collected widely, they also understood the significance of collecting religious tomes, including a number of rare manuscripts and bibles. Amongst the treasures are two monumental volumes of a fifteenth century Latin Bible from the Netherlands, a Great Bible of Henry VIII dating from 1541, and a Geneva Bible published in 1560, early in the reign of Elizabeth I.
Lisa Thompson explores the special collections of the Auckland City Libraries, and some of the religious treasures that lie within it.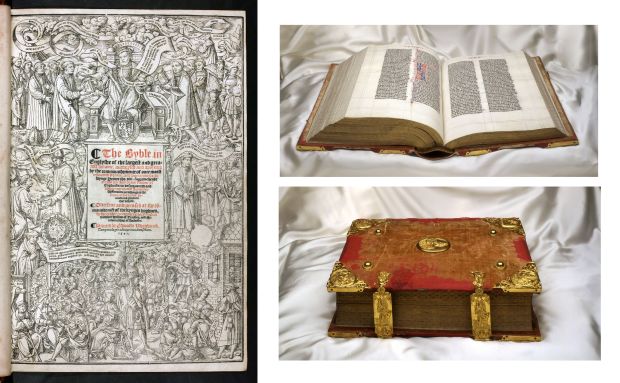 Left: Great Bible of Henry VIII, Image: Great Bible London, 1541 Auckland Libraries. Sir George Grey Special Collections.
Right: The two monumental volumes of a fifteenth century Latin Bible donated by Sir George Grey. The tomes are affectionately known to Library staff as 'the pink elephants'. Image: Bible. Med. MS G.128-131. Auckland Libraries. Sir George Grey Special Collections. 7_C1903.4
While these priceless tomes are kept under special conditions at Auckland Central Library, librarians looking after the collections are only too happy to help members of the public and researchers view them. Regular exhibitions of heritage materials are also held. Allison Dobbie, Group Manager – Libraries, says while it's a balancing act between preservation and accessibility, the following must ultimately be remembered, "…what Grey and the other donors wanted above all was for the treasures they bestowed to be seen".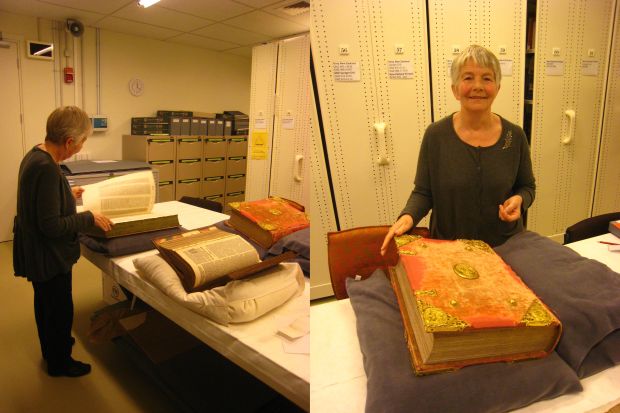 Auckland Library Specialist Manuscript librarian Kate de Courcy with some of the religious treasures of the Sir George Grey Special Collections including one of the "pink elephants". Image: Lisa Thompson