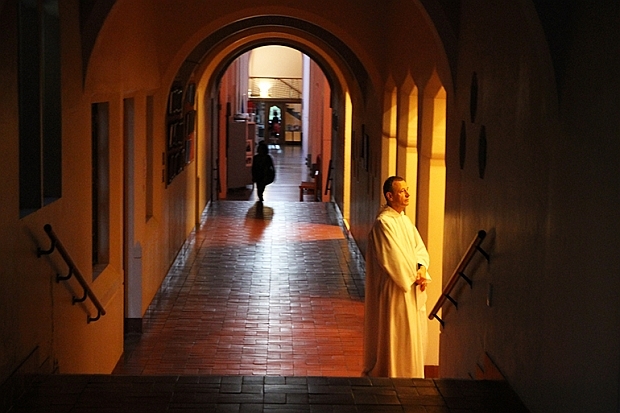 Image: Anglican Taonga.
Nearly 75 years ago in August 1940, French monk Brother Roger founded the Ecumenical religious community in the French village of Taize. The community is made up of more than one hundred brothers from thirty nations, and representing a various range of denominations – including Catholic – and who strive to, through a monastic life, to live a sign of reconciliation and unity, among Christians, and in the human family.
It's no coincidence that Brother Roger first established the community at the outset of World War Two. And shortly after the war, Brother Roger began to invite young people from the countries that had been at war with each other to come visit and pray with him and others for reconciliation and peace.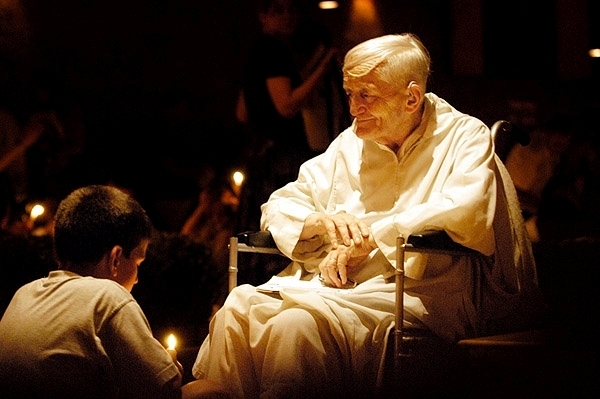 Brother Roger, founder of the Taizé Community, shown at prayer in 2003. Image: João Pedro Gonçalves (CC BY-SA 2.5)
Since its founding, during every northern hemisphere summer, Taize welcomes hundreds of thousands of young folk to take part in daily prayer with the brothers, share in the community life, where each day is made up of prayer, singing, silence, Bible study, and time for personal meditation. In August this year, a similarly large gathering will be held at Taize, marking its seventy-five years of existence, the hundredth year since the birth of Brother Roger, and 10 years since his tragic death through murder!
As part of the build-up to August, three of the Brothers have been travelling the globe, leading youth meetings on every continent, coming to New Zealand earlier this year. During their visit, Mike Gourley met up with Taize Pryor, Brother Alois, and also with a young Kiwi, Luca Duckworth, who has visited Taize twice in her life: as a twelve-year-old and as an adult.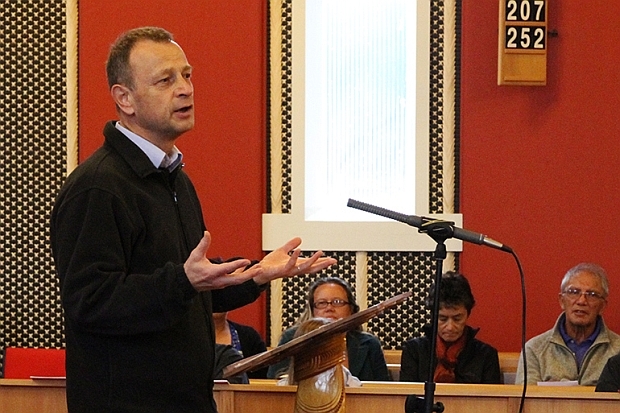 Brother Alois. Image: Anglican Taonga.
Some will be more familiar with the style of music  developed at Taize, music that is quite hymnal, but takes a phrase from scripture and repeats it – a style we might now call looping.
In Wellington, St. Peters on Willi Anglican  holds a regular Taize service on every third Sunday evening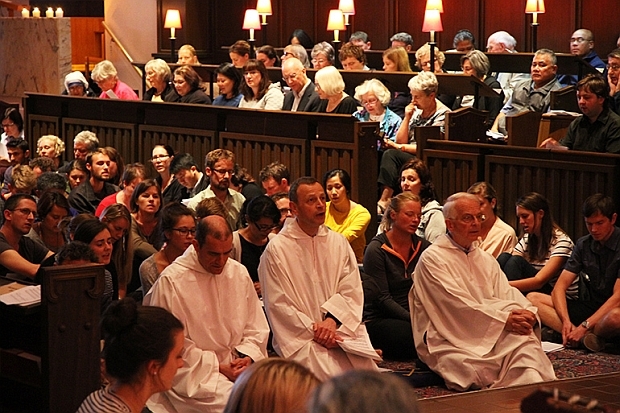 The Taize brothers at Rangiatea in Otaki. Image: Anglican Taonga.

Croix de Taizé. Image: Surfnico. (CC BY-SA 3.0)