Saturday Morning for Saturday 16 May 2015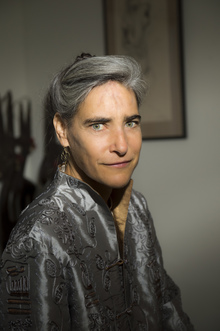 8:15 Sarah Chayes; corruption and security
Sarah Chayes is an expert in kleptocracy, anti-corruption, and civil-military relations, with ten years' experience in Afghanistan. She is a former NPR correspondent, and special adviser to the chairman of the United States Joint Chiefs of Staff, and is currently a senior associate in the Democracy and Rule of Law Program and the South Asia Program at the Carnegie Endowment. She helped set up the Arghand Cooperative in Afghanistan which produces hand-crafted soap, and her new book is Thieves of State: Why Corruption Threatens Global Security (W.W. Norton).
Photo: Kaveh Sardari

9:05 Sara Hossain: murders in Bangladesh
Sara Hossain is a human rights activist and supreme court lawyer with Dr. Kamal Hossain & Associates in Dhaka, Bangladesh. She has written on honour crimes and violence against women, and is an honorary executive director of the Bangladesh Legal Aid and Service Trust (BLAST).  She will discuss the brutal murders of three secular bloggers in as many months in Bangladesh.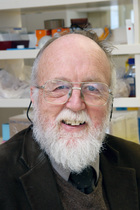 9:40 Roger Lentle: mapping bladder walls
Roger Lentle is Professor of Digestive Biomechanics at the College of Health, Massey University, and an Associate Investigator at the Riddet Institute. His research group, the Digesta Group, are acknowledged world leaders in the study of gut motility, and have created a world-leading two- dimensional software programme that maps movements in the bladder wall. This ground-breaking advance marks a big step forward in discovering how the bladder actually functions, and should help specialists more accurately prescribe medication to help alleviate the problem of overactive bladder syndrome. He last spoke with Kim Hill in February, about probiotics and faecal transplants.
10:05 Playing Favourites with David Allfrey
Brigadier David Allfrey, MBE, retired from the British Army in 2011 to become Producer and Chief Executive of The Royal Edinburgh Military Tattoo. His 33-year military career included command of the Royal Scots Dragoon Guards, and two operational tours in Kosovo. The Royal Edinburgh Military Tattoo is being brought to Wellington by the New Zealand Festival and will run for four nights (18-21 February 2016) ahead of the main Festival. This is the fourth time The Royal Edinburgh Military Tattoo have performed outside of Scotland in their 65-year history.

11:05 Carol Ann Duffy: poems, wives and children
Scottish poet and playwright Carol Ann Duffy, DBE, FRSL is Professor of Contemporary Poetry and Creative Director of the Writing School at Manchester Metropolitan University, and was appointed Britain's poet laureate in May 2009. She is best known for her 1999 collection, The World's Wife (Picador Classic), and she has written many other children's books, and collections of poetry for children and adults including Mean Time (1993), Feminine Gospels (2002), Rapture (2005), New and Collected Poems for Children (2009), and The Bees (2011). She is visiting New Zealand for the 2015 Auckland Writers Festival which is on this weekend at the Aotea Centre. Both of her performances with Fiona Samuel and Rachel House of The World's Wife are sold out, but tickets are still available for her In Conversation session with John Campbell from 12:00 on Sunday 17 May.
11:45 Children's Books with Kate De Goldi: Lissa Evans
New Zealand writer Kate De Goldi is the author of many books, most recently The ACB with Honora Lee. She is chairing a session with writer Kim Thuy (4.30pm, 16 May), and speaking at the Great Kiwi Classic: Owls Do Cry event (4:30pm, 17 May) at the Auckland Writers Festival. Kate will discuss the books of Lissa Evans, including Small Change for Stuart, also known as Horten's Miraculous Mechanism (2011, Doubleday) and Big Change for Stuart, also known as Horten's Incredible Illusions (2012, Doubleday).
This Saturday's team:
Producer: Mark Cubey
Associate producer: Melanie Phipps
Wellington engineer: Carol Jones
Auckland engineer: Jeremy Ansell
Research by Infofind
Music played in this show
Artist: B.B. King
Song: The Thrill is Gone
Album: The Ultimate Collection
Label: Geffen
Broadcast: 8:55
Artist: Procol Harum
Song: Conquistador
Album: The 1972 single from the album Procol Harum Live: In Concert with the Edmonton Symphony Orchestra
Label: Chrysalis, 1972
Broadcast:10:15
Artist: The Royal Scots Dragoon Guards
Song: Hector the Hero
Album: Parallel Tracks
Label: Scottdisc, 2002
Broadcast: 10:30
Artist: The Massed Bands of the Royal Marines
Song: Invincible
Album: Mountbatten Festival of Music 2013
Label: Chevron Recordings
Broadcast:10:45
Artist: Labrinth
Song: Jealous
Album: Take Me to the Truth
Label: Syco, 2014
Broadcast: 10:55
Artist: Boz Scaggs with Lucinda Williams
Song: Whispering Pines
Album: A Fool to Care
Label: FourTwoNine, 2015
Broadcast: 11:40