Saturday Morning for Saturday 23 May 2015
8:15 Rob Edwards: Trident security
Rob Edwards is a journalist for the Sunday Herald in Edinburgh. He broke the story about the claims by Royal Navy whistleblower William McNeilly about the security and safety of the Trident nuclear programme.
8:30 Mary Norris: commas and punctuation
Mary Norris has been working at The New Yorker since 1978, and has been a query proofreader at the magazine since 1993. She has written widely for the magazine, and is best known for her pieces on pencils and punctuation. Her first book is Between You and Me: Confessions of a Comma Queen (Text Publishing). To discuss this interview visit our forum.
9:05 Clive James: life, mortality and poetry
Clive James, CBE, Officer of the Order of Australia, is a writer and television presenter. He is the author of more than forty books, which include essays, criticism, travel writing, translations, novels, autobiography and poetry. He also writes songs (with Pete Atkin), and his latest collection of poetry is Sentenced to Life (Picador).
Photo: Claerwen James
9:45 Liana Machado: brain electrification
Dr Liana Machado is a professor at the Department of Psychology, University of Otago. She specialises in researching the underlying mechanisms of the brain and how those mechanisms can be degraded by disease and aging. Recently she studied the benefits of exercise for brain function, and is currently investigating whether electrification of the brain can accelerate learning.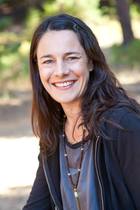 10:05 Playing Favourites with Marianne Elliott
Marianne Elliott is the National Director of ActionStation, and La Directora at the Mexican restaurant La Boca Loca in Wellington. As a human rights lawyer, she worked for the United Nations in Afghanistan, and wrote about her experiences in the 2012 memoir, Zen Under Fire (Penguin). With her partner Lucas Putnam and Nicola Edmonds, she has written La Boca Loca: Collected Recipes from the Taqueria (La Boca Loca), which won two awards this month for their printer at the Pride in Print Awards. She will speak at the TEDxWellingtonWomen event on 30 May. Other programmes on Radio New Zealand featuring Marianne Elliott include Afghanistan Stories, Spectrum, and Nine to Noon.
11:05 Jennifer McLagan: getting bitter
Chef and writer Jennifer McLagan worked in London, Paris, and her native Australia, and has lived in Toronto for 35 years. Her books include Cooking on the Bone: Recipes, History and Lore (2005), Fat: an Appreciation of a Misunderstood Ingredient (2008), and Odd Bits: How to Cook the Rest of the Animal (2011) and she has been interviewed on Saturday Morning about Fat and Odd Bits. Her new book is Bitter: A Taste of the World's Most Dangerous Flavour, with Recipes (Quarto).
11:45 Kate's Klassic: One Hundred Years of Solitude
Kate Camp has published five collections of poems, most recently Snow White's Coffin (VUP). She will discuss One Hundred Years of Solitude, the 1967 novel by Colombian author Gabriel García Márquez.
This Saturday's team:
Producer: Mark Cubey
Associate producer: William Ray
Wellington engineer: Carol Jones
Research by Infofind
Music played in this show
Artist: Howard Keel
Song:  Bless Yore Beautiful Hide
Album: Seven Brides for Seven Brothers – Original Motion Picture Soundtrack
Label: Premiere, 1956
Broadcast: 9:45
Artist: Bostich + Fussible
Song: Norteña del Sur
Album: Nortec Collective Presents:  Bostich + Fussible, Tijuana Sound Machine
Label: Nacional, 2008
Broadcast: 10:15
Artist: Larry Norman
Song:  Why Should the Devil Have All the Good Music
Album: Only Visiting This Planet
Label: Verve, 1972
Broadcast: 10:30
Artist: Bic Runga 
Song:  Something Good  
Album: Beautiful Collision
Label: Columbia, 2002
Broadcast: 10:45
Artist: Leonard Cohen
Song:  So Long, Marianne
Album: Songs of Leonard Cohen
Label: Columbia, 1967
Broadcast: 10:55
Artist: The Jam
Song:  The Bitterest Pill (I Ever Had to Swallow)
Album: The 1982 single, from the compilation Snap!
Label: Polydor
Broadcast: 11:40
Artist: Alabama Shakes
Song:  Don't Wanna Fight
Album: Sound & Color
Label: Rough Trade
Broadcast: 11:45