Saturday Morning for Saturday 28 March 2015

8:15 Tim Naish
Professor Tim Naish is the Director of the Antarctic Research Centre at Victoria University of Wellington. He will discuss the new findings this week on the decrease in volume of Antarctic ice.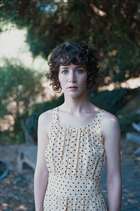 8:30 Miranda July
Miranda July is a writer (No One Belongs Here More Than You), filmmaker (The Future, and Me and You and Everyone We Know), and artist whose participatory work includes the messaging app, Somebody. Her debut novel is The First Bad Man (Canongate).
Photo: Todd Cole

9:05 Jim Kebbell
Jim Kebbell is a former Catholic priest who set up a co-operative housing project and market garden business with his wife Marion Wood, before starting Commonsense Organics. They now have five stores in the Wellington region, and open their first store in Auckland store next week.
9:45 Art with Mary Kisler
Mary Kisler is the Senior Curator, Mackelvie Collection, International Art, at the Auckland Art Gallery Toi o Tamaki. She will discuss work by the 18th century artist William Hodges, including the painting Dusky Bay New Zealand (April 1773), recently added to the Fletcher Collection, and on display at Waikato Art Museum until 21 June 2015. Images under discussion can be viewed in our online gallery.
10:05 Playing Favourites with Alan Cumming          
Alan Cumming, OBE, is best known as an actor for stage and screen, and is a broadcaster, director, designer, producer and musician. He recently published a family memoir, Not My Father's Son (Canongate). He is currently performing as the MC in Cabaret on Broadway, and will visit New Zealand for three sessions at the 2015 Auckland Writers Festival (13-17 May).
Photo: Kevin Garcia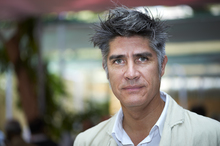 11:05 Alejandro Aravena
Alejandro Aravena runs the Elemental architecture practice in Chile. He is a member of the Pritzker Prize Jury and was the recent winner of the Zumtobel Award for his post-tsunami planning work in Constitucion. He is visiting New Zealand to deliver the 2015 Futuna Lecture Series, with the last lecture at Futuna Chapel, Wellington, on 29 March.
11:45 Poetry with Gregory O'Brien
Painter, poet, curator and writer Gregory O'Brien is the author of a number of books. His new collection is Whale Years (AUP), and he is a participant in the Art4Vanuatu online auction (all proceeds go to the Red Cross Cyclone Pam appeal). He will discuss Charles Brasch: Selected Poems (Otago University Press), edited by Brasch's literary executor, Alan Roddick.
This Saturday's team:
Producer: Mark Cubey
Wellington engineer: Brad Warrington
Auckland engineers: Jeremy Ansell, Brian Mahoney
Research by Infofind
Music played in this show
Artist: Freddy Mercury and Montseratt Caballe
Song: Barcelona
Album: The 1987 single from Queen: Greatest Hits III
Label: Parlophone
Broadcast: 10:15
Artist: The Choir of King's College, Cambridge, with the English Chamber Orchestra conducted by Sir David Willcocks
Song: Zadok the Priest
Album: The World of Handel
Label: Decca, 1963
Broadcast: 10:30
Artist: Liza Minnelli
Song: Ring Them Bells
Album: Liza With a Z
Label: CBS
Broadcast: 10:50
Artist: Elaine Stritch
Song: The Ladies Who Lunch
Album: Company - Original Broadway Cast
Label: Sony
Broadcast: 11:05
Artist: Courtney Barnett
Song: Depreston
Album: Sometimes I Sit and Think and Sometimes I Just Sit
Label: Milk Records, 2015
Broadcast: 11:40