Saturday Morning for Saturday 29 November 2014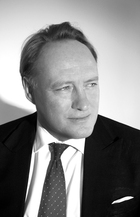 8:15 Andrew Roberts
Andrew Roberts is a British historian, public speaker and Doctor of Philosophy, living in New York. He has written or edited twelve books, most recently Napoleon the Great (Allen Lane, ISBN: 978-1-846140273), the result of years of study including visits to St Helena and 53 of Napoleon's 60 battlefields.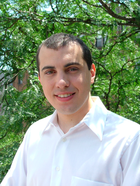 Photo:Nancy Ellison
9:05 Andreas Antonopoulos
Entrepreneur, writer and public speaker Andreas Antonopoulos has founded three bitcoin businesses and launched several community open-source projects. He is a keynote speaker at Bitcoin South, New Zealand's first Cryptocurrency Conference (Queenstown, 29-30 November).
9:30 John Darnielle
John Darnielle is a musician and author, best known for performing and recording as The Mountain Goats. His debut novel has just been published: Wolf in White Van (Scribe, ISBN: 9781925106237).
Photo by DL Anderson

10:05 Playing Favourites with Peter Schwerdtfeger
Distinguished Professor Peter Schwerdtfeger is Director of the Centre for Theoretical Chemistry and Physics, New Zealand Institute for Advanced Study, at Massey University, Albany. This week, he was awarded the Royal Society of New Zealand's Rutherford Medal, its highest honour, for his world-leading contributions to fundamental aspects of chemical and physical phenomena in atoms, molecules and condensed matter.
11:05 Andris Apse
Andris Apse is arguably New Zealand's most acclaimed landscape photographer. He draws from his work of the last thirty years, much previously unpublished, for the new book, Spirit of the South (Penguin, ISBN: 9780143571865), a photographic tribute to the mainland, with essays by Alison Ballance, Anton Oliver, Fiona Farrell and Kennedy Warne. View selected images from the book in this gallery.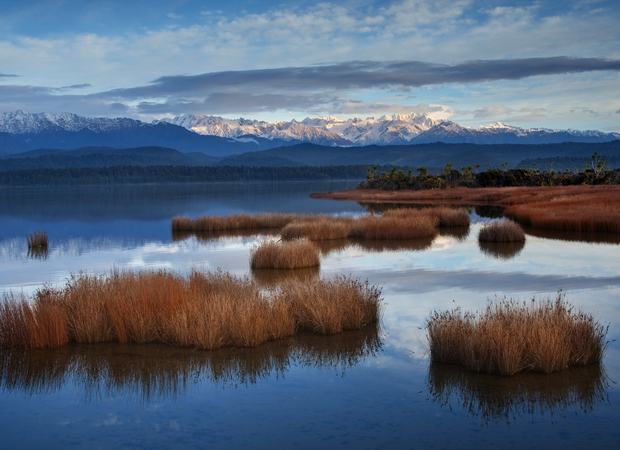 Okarito Lagoon South Westland West Coast. Photo: Andris Apse
11:30 Memet Bilgin
Turkish Canadian performer Memet Bilgin has a computer programming background and was a member of the Turkish national sailing team before forming the aerial duo Wings of Desire, combining dance, mime and aerial acrobatics. He performs two acts, Sanddorn Balance and Spinning Top on Driftwood, in the Spiegelworld show Empire, a blend of comedy, acrobatics, vaudeville and burlesque in a touring Spiegeltent. Empire is currently playing in Wellington (to 21 December), after shows in Australia and Christchurch, then plays in Auckland (6 January to 15 February 2015).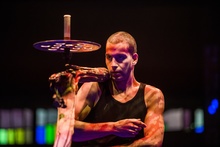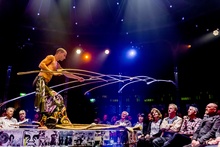 Photos: Danielle Colvin
11:45 Children's Books with Kate De Goldi
New Zealand writer Kate De Goldi is the author of many books, most recently, The ACB with Honora Lee (Random House). She will discuss four picture books:
I Am the Wolf... and Here I Come! by Benedicte Guettier (Gecko Press, ISBN: 978-1-877579-42-4);
Follow the Firefly by Bernardo Carvalho (Book Island, ISBN: 978-0-9941098-2-8);
The Rabbit and the Shadow by Melanie Rutten (Book Island, ISBN: 978-0-9941098-0-4); and
So Many Wonderfuls by Tina Matthews (Walker Books, ISBN: 978-1-922077-51-6).
This Saturday's team
Producer: Mark Cubey
Wellington engineer: Carol Jones
Auckland engineer: Tony Stamp
Research by Infofind
Music played in this show
The Mountain Goats: The Best Ever Death Metal Band in Denton
From the 2002 album: All Hail West Texas
(Merge)
Played at around 9:30
The Mountain Goats: Cry for Judas
From the 2012 album: Transcendental Youth
(Remote Control)
Played at around 9:55
AC/DC: It's a Long Way to the Top (If You Wanna Rock'n'Roll)
From the 1976 album: High Voltage
(Epic)
Played at around 10:15
Pink Floyd: Money
From the 1974 album: Dark Side of the Moon
(EMI)
Played at around 10:25
Gillian Fisher (soprano), Michael Chance (countertenor), and The King's Consort, directed by Robert King: Stabat Mater Dolorosa
From the 1988 album: Pergolesi - Stabat Mater
(Hyperion CDA66294)
Played at around 10:40
Oman and Dreadnought: Summer in Space
The 2014 recording from https://soundcloud.com/le_oman
Played at around 10:50
Wiener Philharmoniker, conducted by Georg Solti: Ride of the Valkyries
From the 1965 recording: Die Walkure – Highlights
(Decca)
Played at around 10:55