Saturday Morning for Saturday 1 November 2014
8:15 Steven Pinker
Steven Pinker is a Johnstone Family Professor in the Department of Psychology at Harvard University. He conducts research on language and cognition, writes for many publications, and is the author of ten books, most recently The Sense of Style: the Thinking Person's Guide to Writing in the 21st Century (Allen Lane, ISBN: 978-1-846-14550-6).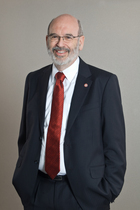 9:05 Sir Peter Gluckman
Professor Sir Peter Gluckman is the Prime Minister's Chief Science Advisor. He is known for his work promoting the use of evidence in policy formation and the translation of scientific knowledge into better social, economic, and environmental outcomes, and his research interests include the developmental origins of health and disease, epigenetics, and evolutionary medicine.
 
9:40 Marieke Hardy
Marieke Hardy is co-curator with Michaela McGuire of the monthly Women of Letters occasion in Melbourne, in which six well- known women each read out a letter to an audience on a topic received in advance, followed by a panel discussion. With a theme of Letter to my Unanswered Question, Women of Letters will be staged in Wellington on 16 November as one of the events at Lit Crawl, a weekend literary festival first staged in San Francisco in 2004, and taking place in New Zealand for the first time (15-16 November).
10:05 The Wellington International Ukulele Orchestra
The Wellington International Ukulele Orchestra was formed in 2005, and currently comprises Age Pryor, Gemma Gracewood, Andy Morley-Hall, Bek Coogan, Carmel Russell, Daniel Yeabsley, Megan Salole, Steve Jessup, Sam Auger, Francis Salole, guest performer Amanda Billing, and (when available) Nigel Collins and Bret McKenzie. The Orchestra has released four EPs, completed a tour of China and Japan in October (click here to see an image gallery), and is about to embark on a New Zealand tour in support of the release of the debut full-length album, Be Mine Tonight, playing in Dunedin (8 November), Invercargill (9 November), Alexandra (10 November), Wanaka (11 November), Ashburton (13 November), Christchurch (14 and 15 November), Palmerston North (21 November), New Plymouth (22 November), Taupo (23 November), Napier (25 November), Tauranga (27 November), Auckland (28 November 10pm; the 7pm show is sold out), NZ Ukulele Festival, Auckland (29 November), Kerikeri (30 November), Wellington (5 and 6 December). A United States tour is planned for January 2015.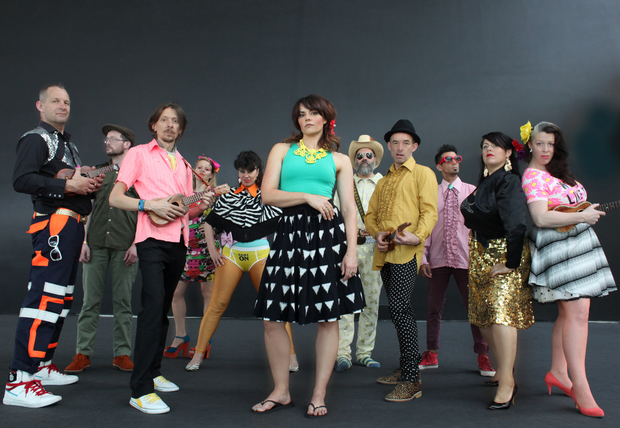 The Wellington International Ukulele Orchestra (from left): Andy Morley-Hall, Daniel Yeabsley, Age Pryor, Megan Salole, Bek Coogan, Amanda Billing, Sam Auger, Steve Jessup, Francis Salole, Gemma Gracewood, Carmel Russell. Photo by Andy Morley-Hall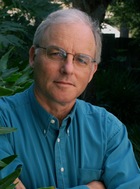 11:05 Richard Louv
Richard Louv is co-founder and Chairman Emeritus of the Children & Nature Network. He is the author of eight books which helped launch an international movement to connect children and their families to nature, most recently The Nature Principle: Human Restoration and the End of Nature-Deficit Disorder (2011, Algonquin, ISBN: 978-1-616201418). He will visit New Zealand to speak at the national event A Place to Live, to be held in Whanganui from 16 to 19 November, building on themes from the 2012 Transit of Venus Forum.
11:40 Energy with David Haywood
David Haywood has a Ph.D. in engineering and lives in Dunsandel. He is currently contributing This Week in Parliament on his Southerly blog at Public Address, and is the author of the collection of humorous essays My First Stabbing, the children's book The Hidden Talent of Albert Otter, and The New Zealand Reserve Bank Annual 2010 (all publicaddressbooks.com). He will continue his discussion of solar photovoltaic energy (you can listen to the first part here).
Music played in this show
The Wellington International Ukulele Orchestra: Wake Up
From the 2014 album: Be Mine Tonight
(WIUO)
Played at around: 10:05
The Wellington International Ukulele Orchestra: Team
Live in the Wellington studio of Radio New Zealand
Played at around 10:30
The Wellington International Ukulele Orchestra: E Ipo
Live in the Auckland studio of Radio New Zealand
Played at around 10:50
The Wellington International Ukulele Orchestra: Howzat
From the 2014 album: Be Mine Tonight
(WIUO)
Played at around: 10:55