Saturday Morning for Saturday 25 October 2014
8:15 James Cameron
James Cameron first received widespread acclaim as a movie director in 1984 with The Terminator, and has gone on to produce and direct many of the most successful films of all time (Aliens, Terminator 2: Judgment Day, Titanic, Avatar). He is the executive producer of a new documentary, Deepsea Challenge 3D, which he produced in association with National Geographic. It chronicles his passion for deep sea diving, as he pilots a solo submersible to the depths of the Pacific Ocean's Mariana Trench, the deepest point on Earth. Deepsea Challenge 3D will have a special preview screening with Skype Q&A session from James Cameron on 27 October (Embassy, Wellington, 3.45pm), and goes on general New Zealand release from 6 November.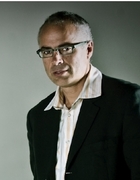 8:35 Tony Blakely
Tony Blakely is professor of Public Health at the University of Otago, Wellington. He is the author, with Alistair Woodward, of The Healthy Country? A History of Life and Death in New Zealand (Auckland University Press, ISBN: 978-1-86940-813-8).
9:05 Lloyd Spencer Davis
Award-winning writer, photographer and filmmaker Lloyd Spencer Davis is Stuart Professor of Science Communication and director of the Centre for Science Communication at the University of Otago. His latest book is Professor Penguin: Discovery and Adventure with Penguins (Random House New Zealand, ISBN: 978-1-77553-725-0).

9:40 Mark Mazengarb and Loren Barrigar
Mark Mazengarb is a New Zealand musician based in New York, who tours full time with American guitarist and singer Loren Barrigar as international guitar duo Loren and Mark. After touring Russia, Germany, Switzerland, and the United States, they are in New Zealand for an extensive North and South Island tour during October and November, in conjunction with Arts on Tour, before returning to the US.
10:05 Playing Favourites with Toa Fraser
Toa Fraser is a playwright, screenwriter, and director of theatre and film (No. 2, Dean Spanley). He directed the pre-European Maori action movie The Dead Lands, which opens in New Zealand on 30 October, and is the writer and director of the new play, Pure and Deep, a sequel to his 1998 debut work Bare. It will play at the Herald Theatre in Auckland from 12 to 23 November.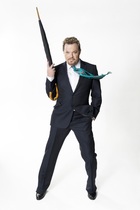 11:05 Eddie Izzard
Eddie Izzard is a stage and screen actor, producer and standup comedian. His standup show Force Majeure has played in 25 countries on five continents since March 2013, including seasons in France performed entirely in French, and in Berlin entirely in German. Izzard brings Force Majeure to New Zealand in 2015 for performances in Wellington (14 February), Christchurch (16 February), Hamilton (18 February) and Auckland (19 February).
11:45 Poetry with Gregory O'Brien
Gregory O'Brien is a painter, poet, curator and writer, and his exhibition of paintings, Whale Years, is showing at Tauranga Art Gallery to 8 February 2015. He will discuss two new books, focused on real life tragedies:
How To Be Dead in a Year of Snakes by Chris Tse (AUP, ISBN: 978-1-869408183), about the murder of a Cantonese gold miner in Wellington in 1905; and
Dear Neil Roberts by Airini Beautrais (VUP, ISBN: 978-0-86473-973-5), about the man who tried to blow up the Wanganui police computer in 1982.
This Saturday's team
Producer: Mark Cubey
Wellington engineer: Dominic Godfrey
Auckland engineer: Jeremy Ansell
Dunedin engineer: Ian Telfer
Music engineer (Loren and Mark): Jason McClelland
Research by Infofind
Music played in this show
Loren Barrigar and Mark Mazengarb: Onward
Recorded in the Wellington studio of Radio New Zealand
Played at around 9:40
Alicia Keys featuring Adam Levine: Wild Horses
From the 2005 live album: Unplugged
(J Records)
Played at around 10:20
George Harrison: All Things Must Pass
From the 1970 album: All Things Must Pass
(Apple)
Played at around 10:35
The Band: It Makes No Difference
From the 1978 film soundtrack album: The Last Waltz
(Warner Bros.)
Played at around 10:45
Laura Cantrell: No Way There From Here
From the 2013 album: No Way There From Here
(Cadiz)
Played at around 10:55
Loren Barrigar and Mark Mazengarb: Under Paris Skies
Recorded in the Wellington studio of Radio New Zealand
Played at around 11:05
The Paragons: The Tide is High
The 1967 single from the compilation album: The Story of Treasure Isle
(Metro)
Played at around 11:35