The Wellington International Ukulele Orchestra (from left): Andy Morley-Hall, Daniel Yeabsley, Age Pryor, Megan Salole, Bek Coogan, Amanda Billing, Sam Auger, Steve Jessup, Francis Salole, Gemma Gracewood, Carmel Russell.
The Wellington International Ukulele Orchestra have a big week next week. Recently returned from concerts in Asia, the ten-piece "choir with ukuleles" and feature guest Amanda Billing (of Shortland Street fame) release their debut full-length album, Be Mine Tonight, and take to the road for concerts in Dunedin, Invercargill, Alexandra, Wanaka, Ashburton, Christchurch, Palmerston North, New Plymouth, Taupo, Napier, Tauranga, Auckland, Kerikeri, and Wellington.
It's not the orchestra's first recording. They have released four EPs since forming in 2005, and while in Tokyo on tour in October, had those recordings and a Japanese-only bonus song (Daydream Believer) compiled for an album release there.
The new album is their first to feature primarily covers of New Zealand songs, including two that they performed live in-studio (E Ipo, and Team by Lorde) for their interview with Kim Hill on Saturday Morning.
As they told Kim, the trip to Asia came about following contacts made at last year's Edinburgh Fringe Festival, and with on-the-ground assistance of ex-pats Kirsten Mason (China) and Brigid Connor (Japan).
They're also taking advantage of American contacts for a short tour next January of the east coast of the United States, with hops to Oklahoma and Texas, before returning for a more extensive tour in 2016.It's a long way from their Thursday morning sessions outside Deluxe Cafe in Wellington.
Two original members won't be on this tour: Nigel Collins is taking a break from the band for other activities, and Bret McKenzie (Flight of the Conchords) is busy with his movie career.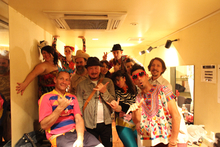 The Wellington International Ukulele Orchestra in China and Japan
See these images and more in our online image gallery.
All photos by Andy Morley-Hall