Saturday Morning for Saturday 31 May 2014
8:15 Pollyanne Peña
Pollyanne Peña is the Centre Coordinator for Shakti Ethnic Women's Refuge, and runs the Wellington Young Feminists. She will discuss the Twitter hashtag on misogyny, #YesAllWomen, which trended worldwide after the killing spree by Elliot Rodger in California this week.
8:30 Janette Sadik-Khan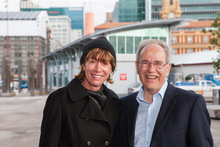 Janette Sadik-Khan was appointed New York City's commissioner of transportation by Mayor Bloomberg, and led many innovative projects including the creation of a pedestrian friendly Times Square, 365 miles of on-street bike lanes, car-free summer streets, and North America's biggest bicycle share system. She is now chairs the National Association of City Transportation Officials in the United States, and visited New Zealand as a guest of Auckland Council.
Photo: Jeanette Sadik-Khan with Auckland mayor Len Brown
9:05 Chris Rainier
Chris Rainier is a National Geographic Society Fellow who has spent his career documenting endangered cultures and working as a photojournalist covering conflict, war and famine in such locations as Somalia, Sudan, Cambodia, Bosnia and China. He co-founded and is the present co-director of the Enduring Voices Language Preservation Project, and is director of the Last Mile Technology Project which brings solar power, internet, media training and technology to under-represented cultures. He is lead judge for the Nikon Photo Contest at the 2014 Auckland Festival of Photography, will present at the Festival's Talking Culture Cultural Memory Symposium (31 May), give two solo talks (30 May and 2 June), and participate in the Festival's portfolio reviews (2 June).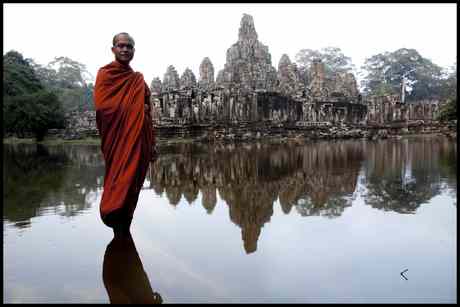 Photo: Cambodian monk by Chris Rainier
9:45 Classical Music with Davinia Caddy
Dr Davinia Caddy is a senior lecturer at Auckland University's School of Music, and the author of How to Hear Classical Music (Awa Press). Her ten-part reading of How to Hear Classical Music will play in the Readings programme at 10.45am weekdays from Monday 23 June on Radio New Zealand National. Today she will discuss timbre in music.
10:15 Playing Favourites with Clemency Montelle
Dr Clemency Montelle is Senior Lecturer of Mathematics at the University of Canterbury, a Principal Investigator at the Marsden Fund (2011-2013), and a Rutherford Discovery Fellow (2013-2017), reading original texts in the Exact Sciences in Greek, Latin, Sanskrit, Arabic, and Cuneiform.
11:05 Lorrie Moore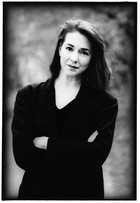 Lorrie Moore is an American short story writer (Self-Help, Like Life, Birds of America) and novelist (Anagrams, Who Will Run the Frog Hospital?, A Gate at the Stairs), and is Gertrude Conaway Vanderbilt Professor of English at Vanderbilt University, Nashville, Tennessee. Her first new collection of stories in fifteen years is Bark (Faber, ISBN: 978-0-571-27391-1).
11:45 Poetry with Gregory O'Brien
Painter, poet, curator and writer Gregory O'Brien, MONZ, is the author of a number of books. His most recent collection is Beauties of the Octagonal Pool (AUP, 2012). He will discuss the new collections Horse with Hat by Marty Smith (VUP, ISBN: 978-0-86473-927-8), and Edwin's Egg & Other Poetic Novellas by Cilla McQueen (Otago University Press, ISBN: 978-1-877578-13-7), whose exhibition, Intuition, is currently at Southland Museum (to 22 June).
Music played during the programme
Details of tracks and artists will be listed on the Playlist section of this page shortly following broadcast.
This Saturday's team
Producer: Mark Cubey
Wellington engineer: Damon Taylor
Auckland engineer: Ian Gordon
Christchurch engineer: Andrew Collins
Research by Anne Buchanan, Infofind
On Saturday 31 May 2014 during Great Encounters between 6:06pm and 7:00pm on Radio New Zealand National, you can hear a repeat broadcast of Kim Hill's interview from 24 May with Sheila Natusch. Previous interviews with Sheila are available on this Collections page.
Music played in this show
Playlist
Boston Symphony Orchestra conducted by Sergey Koussevitzky: Ravel: Bolero
From the album: Pictures at an Exhibition
(Naxos Historical, Cat. No. 8.110154)
Played at around 9:45
Concentus Musicus Wien, conducted by Nikolaus Harnoncourt: Brandenburg Concerto No. 5, 1st movement, Allegro (BWV 1050)
From the album: Bach: Brandenburg Concertos
(Teldec, Cat. No. 685738940264)
Played at around 9:55
Pierre Schaeffer : Etudes de bruits, No. 1: Etude aux chemins de fer
From the album: Pierre Schaeffer, Electronic Music
(INA GRM, Cat No. INAG6027-29)
Played at around 9:58
Playing Favourites with Clemency Montelle
Taverner Consort and Taverner Choir conducted by Andrew Parrott: Spem in Alium
From the album: Tallis - Latin Church Music
(EMI)
Played at around 10:15
Hariprasad Chaurasia: Raga Jhinjhoti
From the compilation album: Maestro of the Indian Flute
(Saregama)
Played at around 10:25
Klein Four: Stefanie (Ballad of Galois)
From the album: Musical Fruitcake
(CafePress)
Played at around 10:40
Kiri Te Kanawa and the London Symphony Orchestra conducted by Andrew Davis: Im Abendrot (At Sunset)
From the album: R. Strauss – Four Last Songs
(CBS)
Played at around 10:55