Saturday Morning for Saturday 7 June 2014
8:15 Mary Quin
Mary Quin was appointed inaugural chief executive of research and development body Callaghan Innovation in May 2013, after 20 years working overseas in senior executive roles in companies such as Eastman Kodak Company and Xerox. She recently returned to New Zealand from New York, where she gave evidence in the trial of Abu Hamza al-Masri, the Islamic cleric behind the 1998 attack on her tour group, which she wrote about in her 2004 book, Kidnapped in Yemen (Random House, ISBN: 978-1-86941-622-8).
9:05 Nomi Prins
Nomi Prins is a senior fellow at public policy think tank Demos, journalist and author whose work focuses on corporate governance, economic policy, Wall Street and the political/regulatory environment. Before becoming a journalist, she served as a managing director for Goldman Sachs in New York and ran the analytics group at Bear Stearns in London. Her new book is All the President's Bankers: the Hidden Alliances That Drive America's Power (Nation Books, ISBN: 978-1-56858-749-3).
9:45 Art Crime with Arthur Tompkins
Arthur Tompkins is a District Court Judge, and member of Interpol's DNA Monitoring Expert Group. He has a special interest in crimes involving artistic masterpieces, and will discuss Francisco Goya's portrait of the Duke of Wellington.
10.05 Playing Favourites with Carl Wilson
Toronto writer Carl Wilson is the music critic at Slate, and a contributor to many other publications. His 2007 title about Celine Dion in the 33 1/3 series about record albums has just been issued in an expanded edition: Let's Talk About Love: Why Other People Have Such Bad Taste (Bloomsbury, ISBN: 978-1-4411-6677-7).
11:05 Christina Smith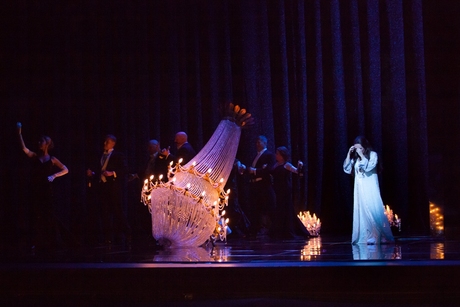 Set and costume designer Christina Smith was lauded last year for her New Zealand Opera Madame Butterfly set, and she has just designed A Streetcar Named Desire by Tennessee Williams, and Shakespeare's As You Like It for Black Swan State Theatre Company in Perth. Her set and costumes for Verdi's La Traviata, built from her designs at NZ Opera's Technical Centre in Onehunga, have just debuted in Adelaide, and can be seen in the NZ Opera production in Auckland (from 19 June), and Wellington (from 11 July).
11:45 Children's Books with Kate De Goldi
New Zealand writer Kate De Goldi is the author of many books, most recently, The ACB with Honora Lee (Random House). She discusses three books for 8-11 year olds by American writer Kevin Henkes:
Sun and Spoon (1997, HarperTrophy, ISBN: 978-0-06-128875-3);
Olive's Ocean (2003, HarperTrophy, ISBN: 978-0-06-053545-2); and
Junonia (2011, Greenwillow Books, ISBN: 978-0-06-196419-0).
Music played during the programme
Details of tracks and artists will be listed on the Playlist section of this page shortly following broadcast.
This Saturday's team
Producer: Mark Cubey
Wellington engineer: Carol Jones
Research by Anne Buchanan, Infofind
Music played in this show
Playlist
Tabou Combo: Ce Pas
The 1969 recording from the compilation album: Haiti Direct - Big Band, Mini Jazz & Twoubadou Sounds 1960-1978
(Strut)
Played at around 9:40
Celine Dion: My Heart Will Go On (Love Theme from "Titanic")
The 1997 single from the album: Let's Talk About Love
(Epic)
Played at around 10:05
Celine Dion: Because You Loved Me
The 1996 single from the album: Falling Into You
(Epic)
Played at around 10:15
Elliott Smith: Miss Misery
The 1997 recording from the 2007 compilation album: New Moon
(Kill Rock Stars)
Played at around 10:25
Tom Waits: Jockey Full of Bourbon
From the 1985 album: Rain Dogs
(Island)
Played at around 10:40
Aaliyah: Are You That Somebody
From the 1996 album: I Care 4 U
(Snapper)
Played at around 10:50
Lorde: Team
From the 2013 album: Pure Heroine
(Universal)
Played at around 10:55
Renata Scotto with The Philharmonia Orchestra conducted by Riccardo Muti: Aria from Act Three of La Traviata
From the 1982 album: Verdi – La Traviata
(EMI)
Played at around 11:05