Nine To Noon for Wednesday 11 July 2012
09:05 Labour MP Maryan Street reveals the details of her voluntary euthanasia bill
MP Maryan Street discusses her End of Life Choice bill which would legalise voluntary euthanasia. It will go into the ballot for members' bills next week.
09:25 Emissions trading and climate change - where are we at with research?
Dr Harry Clark, Director of the NZ Agricultural Greenhouse Gas Research Centre.
09:45 Australia correspondent Karen Middleton
Frantic campaigning over the carbon tax, Julia Gillard spends the week in the enemy territory of Queensland and debate rolls on about immigration and what to do about the now daily arrival of boatloads of asylum seekers.
10:05 Feature guest - biologist Daniel Chamovitz
The director of the Manna Center for Plant Biosciences at Tel Aviv University in Israel and author of What a Plant Knows. The book explores the latest research in plant biology, arguing that  plants have senses and humans have much more in common with sunflowers and oak trees than they may realise.
What a Plant Knows, by Daniel Chamovitz, Scribe Publications.
10:35 Book Review with Mary McCallum
Mansfield with Monsters by Katherine Mansfield with Matt and Debbie Cowans
Published by Steam Press
ISBN: 9780987663504
10:45 Reading: Hard Up (NZ) Limited, by Susy Pointon (Part 3 of 5)
The money-making project selected by the reluctant participants in a Business Enterprise Scheme fires their collective imagination... but is it really a goer?
11:05 Marty Duda's Artist of the Week - Kelly Hogan
Singer Kelly Hogan has a new album out called I Like To Keep Myself In Pain.
Tracks
1. One Man's Trash (Is Another Man's Treasure) (4:36) - The Jody Grind taken from 1990 album, "One Man's Trash Is Another Man's Treasure" (DB)
2. Please Don't Leave Me Lonely (4:06) - Kelly Hogan taken from 2001 album, "Because It Feel Good" (Bloodshot)
3. We Can't Have Nice Things (3:22) - Kelly Hogan  taken from 2012 album, "I Like To Keep Myself In Pain" (Anti-)
4. Golden (3:31) - Kelly Hogan taken from 2012 album, "I Like To Keep Myself In Pain" (Anti-)
11:30 Law commentator Ursula Cheer
Two New Zealand defamation cases, both of which indicate an increasing relaxation or opening up of the law in ways that will benefit media.
11:45 Arts commentator Courtney Johnston
Circuit, a new website for New Zealand's moving image artists; Michael Parekowhai's Venice Biennale project comes to Christchurch; and a conservation project unveiled after 34 years.
The Circuit website - New Zealand film and video artists
Courtney's selection of videos on Circuit:
Steve Carr's 'Dive Pool'
Steve Carr's 'Tyson'
Steve Carr's 'Tablecloth pull'
Steve Carr's 'Burn-out'
Alex Monteith's 'Composition with RNZAF Red Checkers'
Alex Monteith's 'Composition with RNZAF 3 Squadron Exercise Blackbird for three-channel video installation'
Daniel von Sturmer's 'Materials from another medium (Sequence Two)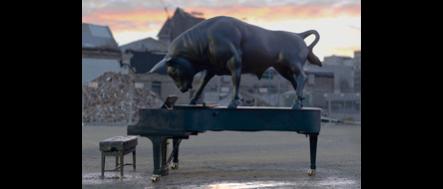 Michael Parekowhai 'Chapman's Homer' 2011. Bronze, stainless steel. Courtesy of the artist and Michael Lett, Auckland
On First Looking at Chapman's Homer
Gallery: Christchurch Art Gallery installs Michael Parekowhai's "On first looking into Chapman's Homer"
Michael Parekowhai's 'On First Looking into Chapman's Homer', Christchurch Art Gallery
Donna Robertson's photos of the installation of 'On First Looking into Chapman's Homer'