Nine To Noon for Tuesday 10 July 2012
09:05 A new report into stabilising the quake-hit ChristChurch Cathedral
Great Christchurch Building Trust, chaired by former MPs Jim Anderton and Philip Burdon, commissioned a report from structural engineers Adam Thornton, Robert Davey and Stefano Pampanin, after it was decided the cathedral should be demolished down to about two to three metres high.
09:25 The NZ Olympic team psychologist on preparations for the London Games
Dr Gary Hermansson is about to jet off to his fourth Olympic Games as the official NZ team psychologist. The professor of sport psychology has also been the Team Psychologist for the last four consecutive Commonwealth Games and worked for the Black Caps and NZ equestrian teams.
09:45 US correspondent Luiza Savage
The US weather and the US economy: no good news in either area.
10:05 Professor Peter Piot - Microbiologist who co-discovered Ebola, and led UNAIDS
Professor Peter Piot is a clinical microbiologist who co-discovered Ebola in 1976. He went on to be a pioneer in AIDS research. He's the former undersecretary general of the UN, and former Executive Director of UNAIDS.
Professor Piot is currently the director of the London School of Hygiene and Tropical Medicine. He's just written a memoir: No Time to Lose: A Life in Pursuit of Deadly Viruses.
10:35 Book Review with Gail Pittaway
Disgrace by Jussi Adler-Olsen
Penguin Group (NZ)
ISBN: 9780718156893
10:45 Reading: Hard Up (NZ) Limited, by Susy Pointon (Part 2 of 5)
Read by Aaron Alexander.
Pinky faces the prospect of having to reveal his hopes and dreams, and hear from fellow unemployed participants on a WINZ Business Enterprise Scheme.
11:05 Business commentator Rod Oram
The scandal about fixing global interest rates and what it means for New Zealand.
11:20 Brian Gill - Land vertebrates curator at Auckland Museum
Brian Gill is the Land vertebrates curator at Auckland Museum; he has just published a book of his favourite discoveries.
The Owl that Fell from the Sky - Stories of a Museum Curator, by Brian Gill, published by Awa Press.
Gallery: Images from The Owl that Fell from the Sky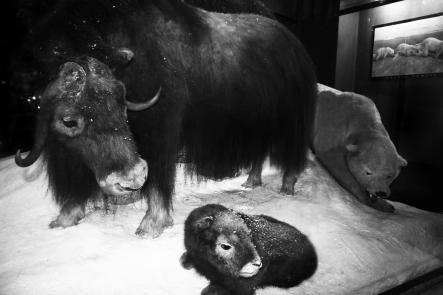 Mr Mackechnie's Arctic group of musk oxen and polar bear. Auckland Museum; photograph by Fiona Kirkcaldie, 2011.
11:45 TV review with Nick Grant