Nine To Noon for Monday 9 July 2012
09:05 Waitangi Tribunal begins hearing a bid to block asset sales
Maori Council co-chair Maanu Paul on the two claims brought by Maori Council president Sir Graham Latimer, the council itself and 11 others. The Council will argue that water rights grievances need to be settled before up to 49 percent of state owned enterprises – starting with Mighty River Power – are sold.
09:15 Otago University's new alcohol implementation group
Professor Jennie Connor is the chair of the university's alcohol implementation group, which has been set up to try to reduce drinking among students.
09:30 The director of the Peter Jackson documentary West of Memphis
Amy Berg directed Sir Peter Jackson's documentary West of Memphis that tells the story of three US teenagers released last year after being convicted of the murder of 8 year old boys. The film was produced by Jackson and his partner Fran Walsh , who also financed the defence of Damien Echols, Jason Baldwin and Jessie Misskelley.
The film will screen at this year's NZ International Film Festival which starts in Wellington this month.
09:45 Europe correspondent Seamus Kearney
10:05 Iain Banks - Scottish writer
Iain Banks gained attention and notoriety when his his debut novel, The Wasp Factory, came out in 1984. Since then he has written almost 30 books ranging from fiction, and science-fiction under the monica Iain M Banks, to a book about his love of whisky. His latest novel is called Stonemouth.
Stonemouth by Iain Banks, published by Little Brown.
10:35 Book Review with Tina Shaw
Convicts:New Zealand's Hidden Criminal Past by Matthew Wright
Penguin Group (NZ)
ISBN: 9780143567646
10:45 Reading: Hard Up (NZ) Limited, by Susy Pointon
Read by Aaron Alexander.
Told with wit and insight, Hard Up (NZ) Ltd, paints a portrait of life on the benefit in a small New Zealand town.
11:05 Political commentators Stephen Franks and Mike Williams
11:30 Guest chef Alex Mackay with Everyday cooking, and wine commentator John Hawkesby
Alex Mackay started off his cooking career in Wellington and has worked as a chef at Michelin-starred restaurants in France, Italy and the UK. Having run Raymond Blanc's cookery school and founded the internationally acclaimed Baou d'Infer cookery school in Provence, he now teaches alongside Delia Smith in England.
Cookbook for Everybody, Everyday,  published by Bloomsbury.
Recipes:
Sweet Potato, Bacon and Tapenade Tart
Rib-Eye Steak with Tapenade, Red Pepper and Broad Beans
Tapenade
11:45 Off The Beaten Track with Kennedy Warne
The latest offering in the NZ Cycle Trails network – the Motu Trails, in the Bay of Plenty, which opened a couple of months ago. There are three interconnecting trails that take a rider between Opotiki on the coast and Matawai in the Raukumara Range.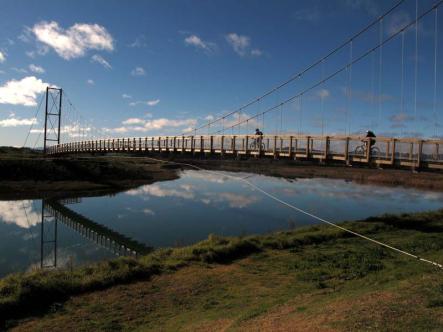 Newly opened Pakowhai suspension bridge over the Otara River, Opotiki.
Music played in this show
Playlist
9:49am
Giulia y los Tellarini: 'La Ley Del Retiro'
from the 2008 album 'Eusibo', and appears on the soundtrack to Woody Allen's 2008 movie 'Vicky Christina Barcelona'
11:30am
Daniel Martin Moore" 'Set Things Aright'
from his 2011 album 'In The Cool of the Day'