Afternoons with Jesse Mulligan for Monday 4 May 2015
1:10 Your Song
Hey World (Don't Give Up) by Michael Franti.  Chosen by Michael Tavares

1:20 New Zealand Retro: Giving 
Judge Carolyn Henwood     
Raynor Henson from the NZ Fire Service
Tim Jago from Muriwai Volunteer Lifeguard Service 
Archival audio supplied by Ngā Taonga Sound & Vision.
2:10 Baby Giraffe - Nat Sullivan
We get a progress report from Auckland Zoo on latest giraffe calf – a 1.8m tall female.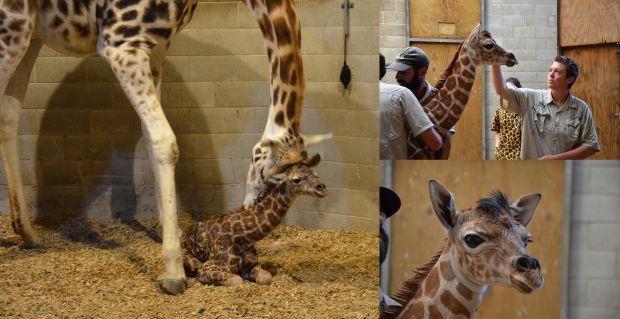 Images courtesy of Auckland Zoo.
2:20 Sharks! - Riley Elliot
A shark scientist is on a mission to dispell the myths around sharks. Riley Elliot is doing a PhD in shark research at Auckland University, and when he's not in the water himself, he's campaigning to save sharks from being harvested, overfished and killed.
2:30 NZ Reading - The Conductor
Shostakovich wakes to an empty home after a family row and meets Sollertinsky, Artistic Director of the Leningrad Philharmonic, who tells him the Germans are evacuating their own diplomats from the city.  Karl Eliasburg, the second best conductor in Leningrad, eats a meagre breakfast with his elderly mother and buys a newspaper to read the review of the Philharmonic's concert.  The critic Druskin says it was saved by the conductor Mravinsky 
2:45 Feature album
Heroes.  David Bowie
3:10 Feature interview - Matthew Parker
Ian Fleming, the assistant to the director of British Naval Intelligence in 1943, visited Jamaica to deal with U-Boat raids in the Caribbean. He vowed to return after the war to swim in the sea and write books. And so he did. James Bond Books.  Goldeneye: Where Bond Was Born: Ian Fleming's Jamaica by Matthew Parker is an account of Fleming's life on the island, full of love affairs and loss, that 007 himself might have envied
3:30 Voices - Daniela Maoate-Cox 
Hundreds of Cook Islands soldiers enlisted for the First World War but their contribution has never been officially recognised by the New Zealand government they worked for 
3:45 The Panel Pre-Show
What the world is talking about.  With Jim Mora, Noelle McCarthy, Wendyl Nissen and Scott Yorke
MUSIC DETAILS
Monday 4 May
YOUR SONG:
ARTIST:  Michael Franti  
TITLE:  Hey World (Don't Give Up Version)
COMP:  Franti,Spearhead
ALBUM:  All Rebel Rockers
LABEL:  LIBERATION    400127
RETRO:
ARTIST: The Beatles   
TITLE:  With A Little Help For My Friends
COMP:  John Lennon / Paul McCartney
ALBUM:  Sgt Peppers Lonley Heart Club Band
LABEL:  PARLOPHONE    746442
FEATURE ALBUM:
ARTIST: David Bowie
TITLE:  Heroes
COMP:  Bowie, Eno
ALBUM: Heroes
LABEL:  EMI    521908
ARTIST: David Bowie
TITLE:  Beauty And The Beast
COMP:  Bowie
ALBUM: Heroes
LABEL:  EMI    521908
PANEL HALF-TIME:  
ARTIST:  Jack Haley, Bert Lahr, Judy Garland, Ray Bolger & Buddy Ebsen
TITLE:    If I Only Had A Brain
COMP:  Arlen, Harburg
ALBUM: The Wizard Of Oz
LABEL:   RHINO    271999