Hundreds of Cook Islands soldiers enlisted for the First World War but their contribution has never been officially recognised by the New Zealand government they worked for. Daniela Maoate-Cox investigates.
At the age of 15 Howard Marsters marched into an army recruitment office in Auckland eager to sign up for the Vietnam war and follow in the footsteps of his great uncles who served in the First World War.
Unfortunately for Howard the recruitment officer was a fellow Rarotongan who knew he was underage and told him to get out of his sight.
But four decades later Howard has clocked up 21 years in the territorials and is proudly delving into the history of his relatives who inspired him to join.
Just under 500 Cook Island men, most of them in their teens, enlisted for the First World War serving as labourers and ammunition bearers in France, Sinai Peninsula in Egypt, and Palestine as part of the Maori contingent.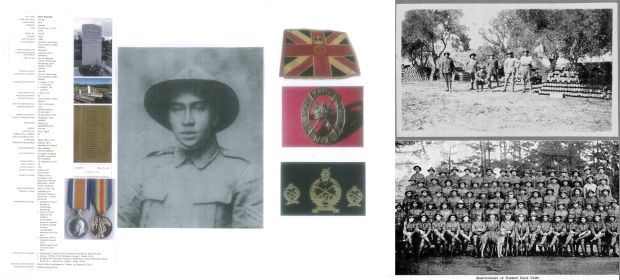 Left: Record of service for Beni Banabi collated by Howard Marsters - Supplied by Howard Marsters, Top right: Rarotongan soldiers standing next to artillery shells, about 1916-18 credit- Image from Turnbull Library Pictures, Bottom right: untitled
But their contribution has never been officially recognised by the New Zealand government they fought for and Howard has spent the past half decade finding out more about the men who went, to get them the recognition they deserve.
"A lot of them were around late teens, early twenties, and the thing is those who went overseas even though they went as youngsters they came back as grown men but some of them wanted to go back on a second tour and I believe they did. Even though they came from a warm climate in the pacific they couldn't handle the heat and a lot of them came back with their lungs saturated in sand."
"Grandpa Beni, he only served one year in Palestine and was shipped back to Auckland with tuberculosis and died of the sickness."
Private Beni Banaba was just 25 when he enlisted.
Howard's other relative Grandpa Carl Marsters was a Warrant Officer Second Class and Company Sergeant and Howard said he was the longest serving Cook Islander, especially skilled with languages.


Left: Carl Marsters' service record and medals collated by Howard Marsters - supplied by Howard Marsters, Right: Parchment record of Carl Marsters' war service. supplied by Howard Marsters
"He did over two and a half years over there," he said. "A lot of the soldiers couldn't speak English properly and he could relate from Arabic, to Cook Island (Maori) and English. It's probably why he became what he was because he had to interpret."
The soldiers were given a heroes welcome and acknowledged by the governor general at the time when they returned from the war he said but have not been recognised in official commemorations since.


Left: Headstones of Cook Islands' soldiers at the Returned Services Association in Rarotonga photo: Helene Kay, Right: RSA WW1 Headstones in Rarotonga, photo: Helene Kay
"Every Anzac that I've marched I've never heard any recognition of these guys," he said.
"Maybe it's about time that they were recognised as part of the contingent that actually served under the British flag."
Remembering those men who served is the driving force behind the Cook Islands Soldiers of World War One Committee who organised this year's commemorative events in conjunction with the Cook Islands High Commission to New Zealand.
They're a team of volunteers and one of them, Helene Kay, has been digging through archives, photos, and old military records to find out where they went and why.
She said the men signed up for the same reasons as everyone else and they deserve to be recognised.
"A lot of people don't know the Cook Islanders served in World War One. We looked at the 1916 census and did the math and 18% of Cook Island men went to the war," she said.
"I think in terms of recognition at the Dawn Service they deserve a mention...It would be nice that they as part of the Maori Contingent and the New Zealand armed forces get recognised as a unit in themselves."
Some of them ended up working with the Maori contingent digging tunnels in France such as Angene Angene who helped dig the Arras tunnel.    
"He was in France and got very sick with pneumonia. After he recovered, he and two other Cook Islanders went with the contingent of Maori to help the New Zealand tunnellers at Arras. There are etchings on the walls from our guys that were there," Helene said. "A lot of people did [that] graffiti I guess, tagging. It's another research project in itself."
Helene said the research has been a labour of love and the committee as only scratched the surface but eventually hope to publish a book with the information gathered.
Anyone with information or stories to share can email the Cook Islands World War One Committee at ciswwo100@gmail.com.