Afternoons with Jesse Mulligan for Friday 1 May 2015
1:10 Your Song
All Night Long by Lionel Ritchie.  Chosen by Bec Deacon of Mapua
1:20 NZ Live - Hannah In The Wars
Hannah Curwood live in the Dunedin studio.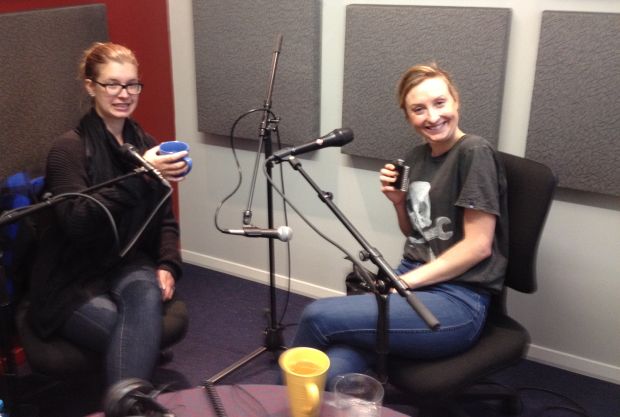 2:10 Full flight circle for Southland man
John McDougall was on the first passenger flight out of Invercargill in 1944 - now more than 70 years later he's booked to fly on the first international flight out of the city.
2:20 Save The Crystal Palace - David Steemson  
She's eighty six years old and looking a bit down at heel.  But a group of  film makers is hoping they can resurrect  Mt Eden's old Crystal Palace Picture Theatre, if they can only find her a Champion.  David Steemson reports.
2:30 NZ Reading - Milk by Susy Pointon
Can you find love in a milking shed? Tanya escapes her past and drags her kids and alcoholic ex north to the Hokianga, where she soon finds herself living and working on a dairy farm. 
2:45 Feature album
Tom Petty.  Full Moon Fever.
3:10 Food, Wine and Movies
Geoff Scott's Chocolate Fudge Slice
Belinda Jackson's wine picks:
Escarpment The Edge Pinot Gris 2013 $14.99
This is from one of New Zealand's leading wine personalities and the man behind much of New Zealand's success with Pinot Noir, Larry McKenna. As with all of Larry's Escarpment wines, this Pinot Gris is from Martinborough. It's a serious style - just off dry with aromas and flavours of white peach, apricot, quince and pear. A textural, satisfying wine and amazing value for money.
Taylors Promised Land Shiraz Cabernet 2013 $17 but under $15 on special
A nice little winter warmer for those who prefer their reds smooth with a good dollop of sweet, ripe fruit. This is a very easy to enjoy style - bright cherry red with a leafy aroma and also ripe plums then this mouthful of smoothness - quite dense, dark fruits that coat the mouth. A real crowd-pleaser.
Saint Clair Pioneer Block 3, 43 Degrees 2014 Marlborough Sauvignon Blanc $27ish
Aromas were escaping out of the bottle before I even poured the wine into a glass! Lime zest, lemon barley, pineapple aromas, then a big succulent mouthful of juicy fruit balanced with a fresh acidity. This is a big version of Marlborough Sauvignon Blanc! Not a wine to hang on to for too long in my opinion, rather it's great to enjoy while bursting with aroma and flavour.
Sarah McMullan reviews: It Follows, Lucky Them and Cobain: Montage Of Heck.
3:45 The Panel Pre-Show
What the world is talking about.  With Simon Mercep, Julie Moffett, Catherine Robertson and Steve McCabe.
MUSIC DETAILS
Friday 1 May
YOUR SONG:
ARTIST:  Lionel Richie
TITLE:  All Night Long
COMP:  Richie
ALBUM:  Can't Slow Down
LABEL:  MOTOWN   106059
FEATURE ALBUM:
ARTIST: Tom Petty
TITLE:  Free Falling
COMP:  Jeff Lynne / Tom Petty
ALBUM: Full Moon Fever
LABEL:  MCA    116253
ARTIST: Tom Petty
TITLE:  I Won't Back Down
COMP:  Jeff Lynne / Tom Petty
ALBUM: Full Moon Fever
LABEL:  MCA    116253
ARTIST: Tom Petty
TITLE:  Running Down A Dream
COMP:  Mike Campbell / Jeff Lynne / Tom Petty
ALBUM: Full Moon Fever
LABEL:  MCA    116253
ARTIST: Tom Petty
TITLE:  Zombie Zoo
COMP:  Jeff Lynne / Tom Petty
ALBUM: Full Moon Fever
LABEL:  MCA    116253
PANEL HALF-TIME: 
ARTIST:  James Brown   
TITLE:   Don't Be A Drop Out
COMP:  Burt Jones
ALBUM: James Brown Sings Raw Soul
LABEL:   King 6056