She's 86-years old and looking a bit down at heel. But a group of film makers is hoping they can resurrect Mt Eden's old Crystal Palace Picture Theatre, if they can only find her a champion. 
The Crystal Palace was built in 1928 for the Hippodrome Theatre Company and opened in 1929 with the Crystal Wintergarden cabaret downstairs and the theatre above. Initially it was designed for live shows but that soon gave way to silent movies followed quickly by the talkies.
By August 1929 the Crystal Palace was the first suburban cinema to be equipped for sound, vast wooden-cased speakers imported from the United States. They're actually still there.


Left: detail of the ceiling. Right: detail of the floor
In its heyday the building was lit up like a chandelier and came with a waterfall curtain and chaser lights. The local power supplier had to install an extra substation to cope. On opening day the Mayor of Mount Eden had to conduct the ceremony twice because so many people turned up.
The downstairs cabaret was a popular dance venue, particularly when Epi Shalfoon and his band played there every Saturday night for almost twenty years. Shalfoon died there on the dance floor in 1953.
Filmmaker Robin Gee has spent several weeks camping at the Crystal Palace, inviting folk in to tell their stories about the old place. All this is in preparation for the start of filming. 
Robin is part of Auckland's Monster Valley Creative Agency which is producing the short documentary, as part Loading Docs 2015. That's an initiative supported by the Film Commission and New Zealand on Air to raise the profiles of kiwi documentary makers. Robin's team is one of ten making the docos, which will be released in July.
Robin Gee says there are many stunning art deco, glass and decorative features hiding away behind a 1970's makeover waiting to be revealed, as is the original orchestra pit. He says the building needs someone to champion its cause and he hopes the documentary will ignite the cause. He says suburban cinemas may no longer be popular but the Crystal Palace has always kept its cool by reinventing itself
Related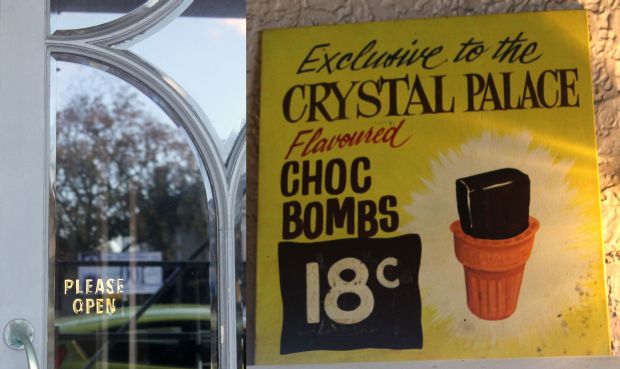 Left: detail of door. Right: From the old days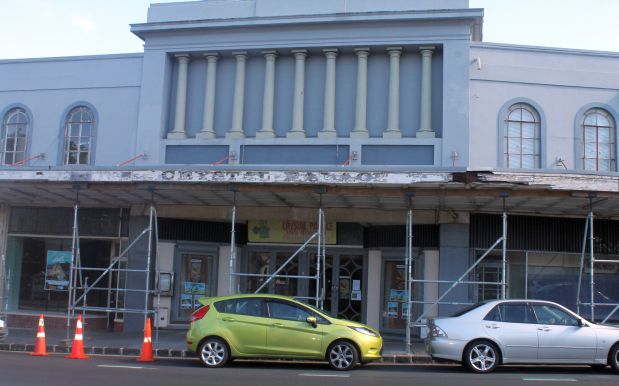 Archival audio supplied by Ngā Taonga Sound & Vision.