Afternoons with Jesse Mulligan for Tuesday 2 December 2014
1:10 Best song ever written
Hallelujah, performed by KD Lang.  Nominated by Jacqui Craig of Te Atatu
1:20 The Critics
1. TV review - Irene Gardiner
2. Books - Graham Beattie
3 Music - Antonie Tonnon
4. Web - Ben Gracewood
2:10 The Hobbit Review- Sarah McMullan
It's the third and final installment of Peter Jackson's Hobbit series. The Hobbit: The Battle Of The Five Armies screened at The Roxy Cinema in Miramar this morning, with a live feed to the London premiere. Sarah McMullan was in Wellington at the screening.
2:20 Being There - Hugh Anderson
Hugh Anderson is a man who went from being a farm boy in Ohinewai to one of New Zealand's most successful international motocross riders. He won four Grand Prix world championships, 25 Grand Prix titles, held 47 podium positions, and became the sixth most successful rider in the history of the world championship series. And now, he's put pen to paper and written his story. The book is called Being There.
2:30 NZ Reading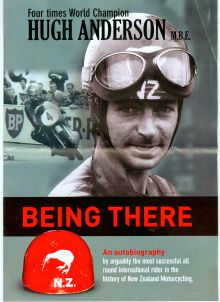 Emmett Skilton with 'Who's That Dancing With My Mother?' by Lloyd Jones
2:45 Feature album
G I R L by Pharrell Williams (2014)
3:10 Feature guest
Seattle Community activist Craig Thompson.
Near downtown Seattle, a prosperous American city, home of Boeing and Microsoft , there is an encampment of homeless people in a strip of Forrest known as The Jungle.
The homeless have gathered there since the  early 1930s. On a day known as "Giving Tuesday" .. a day to acknowledge the less fortunate, we'll talk to a community activist about who lives near "The Jungle".
3:30 Wellington Underwater Harbour Cleanup
Every fine Wellington weekend, the waterfront is full of folk enjoying the harbour. What they don't see, though, is the rubbish that gets thrown or blown into the sea. But once a year, the city's dive community gets together for an underwater clean up, to bring up some of the litter that accumulates on the sea floor. And as Alison Ballance discovers when she takes her kayak along to join in, they're finding everything from skateboards to traffic cones and laptop computers.
Stories from Our Changing World.
3:45 The Panel Pre-Show with Zara Potts, Jim Mora, Ali Jones and Neil Miller