Afternoons with Jesse Mulligan for Thursday 22 March 2012
1:10 Best Song Ever Written
1:15 Your Place
2:10 Feature stories
2:30 Reading
2:45 Feature Album
3:12 Arts Report
3:33 Southern story: Hakatere Conservation Park
Hakatere Conservation Park is one of our largest – 60,000 ha of mountain, tussock, forest, rivers and lakes between the Rakaia and Rangitata rivers in South Canterbury.
It's home to rare and endangered plants, birds and lizards, the important O Tu Wharekai wetland restoration project, and has a rich history as a high-country run.
In 2007 the Department of Conservation took on the mantle of protection and restoration of the park, but they can't do it alone.
The Hakatere Heritage Buildings Committee set up in 2010 to 'preserve the history and flavour of the high country'.
Central to this is the restoration of a cluster of buildings at Hakatere Corner that will act as the gateway to the park: shearers quarters, cookhouse, and an old stone cottage awaiting an engineer' report.
Hakatere Park Visitors' Centre is set to open in Spring 2012, meanwhile the HHBC are raising funds. On 1 April there's the Barossa Back-country Bike Bonanza - a two hour family ride.
For details visit: http://www.hakatereheritage.co.nz or email lewshaw@xtra.co.nz
Produced by Sage Forest.
Gallery: Hakatere Conservation Park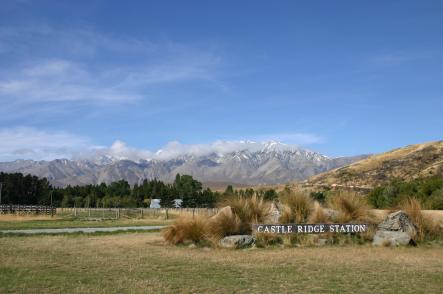 A view of Hakatere Basin.
3:40 Our Changing World
4:06 The Panel