Afternoons with Jesse Mulligan for Thursday 31 March 2011
1:10 Best Song Ever Written
Don't You Forget About Me by Simple Minds, as chosen by Debbie Glover of Te Kuiti.
1:15 Your Place: Mayfield
John Moore ,talks about irrigation systems and water supply; Ted Ralston was born in Dunedin, but moved to Mayfield when still very young. Like John Moore, he is also retired, and somewhat an expert in the history of the place; A newcomer to the town is Bill Baldwin who first arived in the district 10 years ago, to a sheep and beef station known as Clondyke.
2:10 Feature stories
Children from around Auckland are being asked to take part in a new study into how much time they spend watching TV and playing video games - the first of its kind in New Zealand. Recruiting has begun for Auckland University's SWITCH programme which aims to cut the amount of screen time and improve children's health. Louise Foley is the co-investigator with the university's clinical trials research unit. 0800 SWITCH or email switch@ctru.auckland.ac.nz.
When two men were spotted in a row boat in the middle of the night in Oamaru Harbour nearly 100 years ago there was immediate suspicion that they might be smugglers. In fact they were members of the ill-fated Terra Nova Expedition coming ashore to break the news to the world that their Antarctic expedition had ended in tragedy and that their leader Robert Falcon Scott was dead. Now a letter has emerged shedding light on that important event. It's just been given to North Otago Museum in Oamaru. Its director is Rowan Carroll.
2:30 Reading
Part Nine of Maurice Gee's novel Plumb, read by Barry Empson.
2:45 Feature Album
System Remix - current highflyer from Kiwi band, Shapeshifter
3:12 Arts Report
Roxy Cinema: a high level of detail and artistry has gone into creating the Roxy Cinema in Miramar, Wellington. Located in the film industry hub it's also headed by Oscar-winning editor Jamie Selkirk and Weta Workshop Manager,Tania Rodger. Together with a creative team of artists they're bringing glitz and glamour back into cinema-going.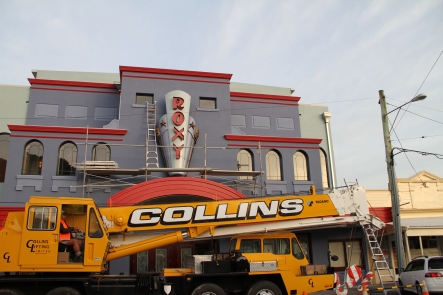 Roxy Cinema sign is lifted after delivery from Weta Workshop, Friday 25 March 2011. Photograph by Kat Horton.
3:35 Our Changing World
How a sleep model developed by Waikato University physicists can help understand what happens in brains as we sleep.
4:06 The Panel
Simon Pound and Irene Gardiner