VoxPop app
VoxPop app for iPhone and Android
Launched in November 2017, VoxPop is a new take on the traditional 'vox pop' street interview used to gauge public opinion on topical issues.
Instead of reading out emails or tweets, with VoxPop RNZ can play the voices of listeners on air.  
For listeners, it's like having a recording studio in your phone. Record whatever you want to say, submit your recording for publication, and we may include your opinions on RNZ shows and on our website.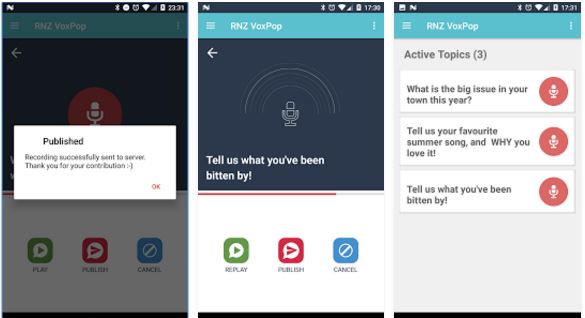 VoxPop is the result of a technology joint venture between RNZ, journalist Peter Fowler and Dublin-based developer Andrew McMillan to pioneer speech recognition technology for terrestrial and digital media. VoxPop was built by Mr McMillan and Aveclabs Limited. While RNZ cannot offer technical support for this third-party app, we are proud to have partnered with the creators of VoxPop to bring this innovation into the hands of our listeners.
For information on policies regarding the collection, use and disclosure of users' personal information, please consult the VoxPop Privacy Policy.
The VoxPop app can be downloaded from the Google Play store and from the iTunes App Store.
Looking for the RNZ app for iPhone and Android instead? It's here. 
Want your own branded VoxPop?
VoxPop has attracted interest from radio stations around the world as a new and exciting way to interact with terrestrial and digital audiences. The near real-time voice-to-text transcription means its easy to sort through recordings and read what people are saying rather than having to listen to every single one.
Whether it's for competitions, games, feedback or part of your news gathering operation, VoxPop can be customised to your needs.
Contact peter.fowler@radionz.co.nz to find out how VoxPop can enhance the experience of your audience and even offer revenue opportunities through sponsorship.      
Ways to Listen
On the radio
Internet