Monday, 1 September 2014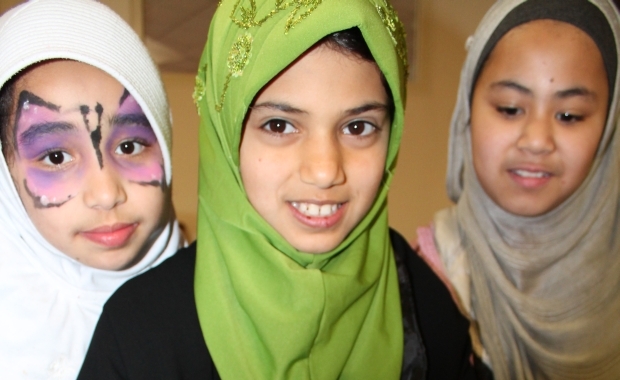 "I think they should feel; like how people die, how people feel scared, how much people get killed ... they should help as much as they can. Some houses have been bombarded, some people sleep on the street and could just get killed... there isn't much water there. They need food and clothes." – 11-year-old Sara from Gaza
3:30 PM.Islam Awareness Week 2014 focuses on charity - raising awareness of the lives of people across the globe in need, mindful of the current humanitarian crisis in Gaza. Lynda attends open day at the… Read more Audio
Islam Awareness Week at the Kilbirnie Masjid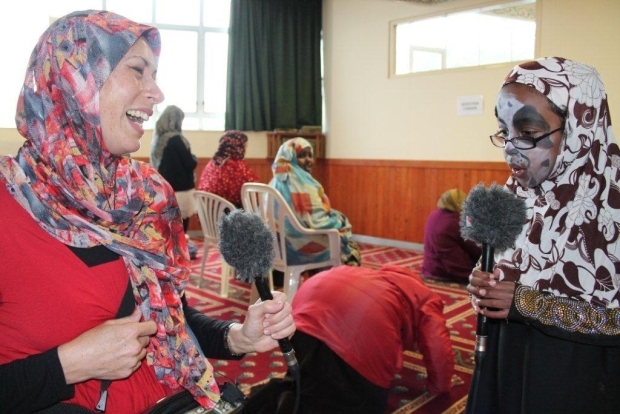 At the official launch of Islam Awareness Week at the Kilbirnie Masjid (Mosque) in Wellington, I'm greeted by 11-year-old Sara Alzaanin reciting from the Qur'an perfectly. The passage focuses on zakat, or charity; it's one of the five compulsory Pillars of Islam, and is a fitting subject given the crises in the Middle East.
As part of Islam Awareness Week, mosques across the country are holding open days. This year's open days are all focused on charity – raising awareness of the lives of people in need across the globe, and particularly mindful of the humanitarian crisis in Gaza.
Sara's been living in New Zealand since she was seven. Meeting her, she struck me me as just another regular Kiwi kid attending primary school – except that across the globe Sara's family are refugees in their own city. Sarah was born in Palestine where her extended family live right in the heart of Gaza City, but recently fled their homes because of shelling. She's fearful for her grandparents, aunties, uncles and cousins.
Community leader Leila Adams says the Muslim communities here have felt the weight of the various crises in the Middle East during this year's Ramadan. People are suffering, she tells me, and not just in Gaza, but Christians in Iraq and and refugees in Syria. "We gave much to charity this year, there's hope in that."
Dr Asif Koya from IMAN or the International Muslim Association of New Zealand, tells me that the community is focused on fundraising for humanitarian aid, not focused on the various political factions presently fighting in the Middle East.

Asma and her friend with their gifts of welcome at the Masjid entrance.
Gallery: Open day at the Kilbirnie Masjid
The open day seems very popular and busy with both the curious and surely almost every Muslim family in Wellington. Upon arrival I'm greeted with fresh dates, proffered by Asma and other women and a quote from the Qur'an attached to a scroll and flower: "He who eats his fill while his neighbour goes to bed without food is not a believer".
These gifts are for every member of the public who enters. I'm overwhelmed by the scent of cardamom-flavoured coffee (offered by the students of the Saudi Arabia Students Association, Victoria University), the delicious aromas of the halal food stalls, toys, hand crafts... and children everywhere! It's absolutely festive.
In the spirit of embracing the public, the community have even opened their prayer rooms (normally segregated into men's and women's prayer areas) so that people of both genders can observe the rituals together. The local Islamic community spent the day keenly and openly sharing both belief and practice and answering any question no matter how challenging. I chatted with an articulate young woman who was wearing a niqab about her dress (niqab is a form of hijab with a partial veil so only the eyes show). She informed me that she doesn't feel subjugated in the slightest – it's her personal choice to dress as she does.
Young Sara who recited so beautifully at the launch is also here, busy being an ambassador with her "Helper" name tag. She has just finished reciting from the Quran for the crowd and is now selling popular loom bracelets to other children, in an effort to fundraise for humanitarian aid for Gaza.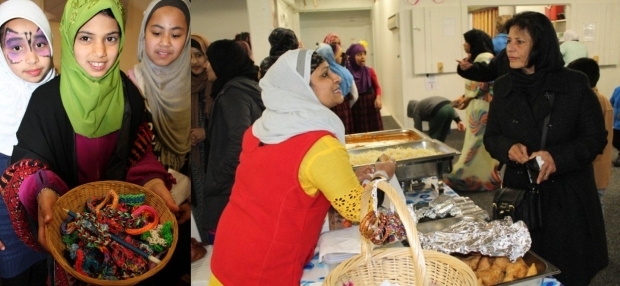 Sara's mother Dr Eman Alzaanin is by her side and immensely proud of her daughter. I asked Dr Alzaanin about Gaza and she told me she holds her breath every time she reads the news. She and her husband are losing sleep and are terrified that the next text message from Gaza will be to say their family have been killed in the shelling. She appeals for peace to prevail with the help of the international community. She appeals to our sense of charity for all those affected.
Chatting to the public that have come along it seems that quite a few Christians and people of other faiths are among those attending the open day. One asks me if I'd attended the 24-hour Musicathon at St John's Church in Wellington raising funds for Water in the West Bank, and I'm reminded that different communities are holding events like this all over our country in the hope of peace and the need of charity. Hopefully this might provide some comfort for Sara and her family – these acts of charity that begin right here, at home.