The Weekend with Emile Donovan for Saturday 17 January 2015
08:13 Startups: beyond the beginning
What do Startups need to thrive and survive? We speak to Startup creators and supporters Masha Kupriyenko (In Good Company), Silvia Zuur (Enspiral and Chalkle), Matt Kennedy (Twingl and Trailblazer), and investor Dave Moskovitz.
08:38 Regional Panel – Hawkes Bay & Gisborne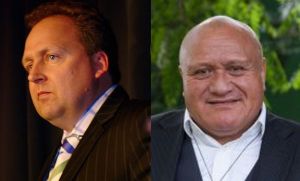 Radio New Zealand's reporter for the region Peter Fowler explains what he sees as the two biggest stories happening in Hawkes Bay and Gisborne.
We also hear from Napier Councillor Henare O'Keefe, Xero's Rod Dury, and Gavin Murphy from the Eastland Group which owns Eastland Port and Gisborne Airport.
Image: Rod Drury and Napier Councillor,  Henare O Keefe
09:06 Hay fever and environmental allergies
Studies have shown allergies can progress from one form to another in what has been dubbed the 'atopic march' something about a quarter of children in the Western world are affected by. Children with a skin allergy or eczema for instance are more likely to go on to have asthma and hay fever.
Anecdotally, lots of people are saying this summer has been atrocious for hay fever. However, some people, including doctors disagree. For them every summer is bad.
Lynn Freeman speaks to hay fever sufferer Lee McCauley, Professor Graham Le Gros the Director of the Malaghan Institute for Medical Research, CEO of Allergy New Zealand Mark Dixon, and Dr James Chisnall who is a General Practitioner specialising in allergies.
09:30 Future techs
Lynn Freeman, Ben Kepes, Aspect of Gaming's Theo Martin, Xero's  Andy Lark, Shaun D Wilson, and Meredith Haggerty from WNYC's TLDR podcast discuss recent technology trends and how they will develop over 2015.
10:07 Gardening – foraging
The Weekend's gardening series wraps up with a conversation about foraging, which could be argued is the opposite of gardening.
Lynn Freeman is joined by My Kitchen Rules winners Belinda MacDonald and Neena Truscott, as well as Cantabrian photographer and writer Peter Langlands, a long time forager.
10:27 Musical Dynasties – The Grenell Family
The Grenells are bursting with musical talent. We talk to dad John Grenell and his children Amiria, Denver, Oakley, and Redford about their careers and growing up on the Grenell family farm.

The Grenell family in concert at the Nelson Arts Festival 2014. Credit: Talitha Walterfang
10:50 Ecuador: ecotourism
Armando Castellanos has spent years studying the Andean bespectacled bear and the Mountain tapir.  He's set up the Andean Bear Conservation Project to help pay for his research and he also hopes tourists will want to come and pay to see his satellite collared bears and tapirs in the wild.
Gallery: Tapirs
11:06 Airbnb
Airbnb is a travel phenomenon. Kiwis have proved keen to sign on, either by offering their homes to overseas travellers though the website, or booking accommodation for their travels in peoples' homes rather than hostels and hotels. It's a handy site for people wanting to make some cash from their spare rooms. But how does Airbnb ensure the safety of its hosts and travellers? We also talk to Laura Tulloch who runs a facebook page and support network for New Zealanders who are opening up their homes to visitors under the Airbnb umbrella.


Eva Ross (Airbnb Operations Lead), Sam McDonagh (Airbnb Country Manager)
11:30 Malaysia: Tiger Conservation
We're in Malaysia to hear about desperate efforts there to save the endangered Malayan tiger from poachers and habitat destruction. Lynn Freeman joins members of the WWF Malayan Tiger Conservation Project as they talk about not losing hope as tiger numbers decline and position the all important camera traps to identify poachers. They even come across fresh tiger paw prints.
Gallery: Cat walk in Malaysia
11:50 Rugby World Cup.
Jeremy Taylor drops by to talk about the book for Germinal Press he's writing ahead of the Rugby World Cup.
Music played in this show
ARTIST: Dusty Springfield
TITLE: Spooky
COMPOSER: Buie, Cobb, Middlebrooks ...
ALBUM: Dusty Springfield: At Her Very Best
LABEL: Universal PLAYED AT: 09:32
ARTIST: Taylor Swift
TITLE: Clean
COMPOSER: Taylor Swift, Imogen Heap
ALBUM: 1989
LABEL: Big Machine PLAYED AT: 09:40
ARTIST: John Grenell
TITLE: Welcome To My World
COMPOSER:  Winkler, Hatchcock
ALBUM: Welcome To My World: The Original Sound Track (A Musical Tribute To Gentleman Jim Reeves)
LABEL: BMG
ARTIST: Departure Lounge ft. Mara TK
TITLE: Man I Used To Be
COMPOSER:O. Grenell, S. Van Beek, Mara TK
ALBUM: In Session
LABEL: Central Records
ARTIST: Amiria Grenell
TITLE: Fear of Flight
COMPOSER: Amiria Grenell
ALBUM: Three Feathers
LABEL: Central Records
ARTIST: John Grenell
TITLE: Aupouri Angel
COMPOSER:  Neil Hersey
ALBUM: Radio New Zealand Session 1994
ARTIST: Shapeshifter
TITLE: Electric Dream
COMPOSER:  Shapeshifter
ALBUM: Soulstice
LABEL: Truetone
ARTIST: The Swan Sisters
TITLE: Cup of Tea (In Session on NZ Live on Radio New Zealand National)
COMPOSER:  The Swan Sisters
ARTIST: Oakley Grenell
TITLE: Thinkin'
COMPOSER: O.Grenell, S.Popham and K.Popham
ALBUM: The Deep
LABEL: Central Records
ARTIST: Mountains of Murray
TITLE:  Son of Daiyo
COMPOSER: Mountains of Murray
ALBUM: Vibrating Jelly Emerald Probe
LABEL: Muzzer Records
ARTIST: Bunyip
TITLE: Routes
COMPOSER: O. Grenell, R. Grenell, Sasha Marks
ARTIST: Amiria Grenell
TITLE: I Saw a House
COMPOSER: Amiria Grenell
ALBUM: Three Feathers
LABEL: Central Records
ARTIST: John Grenell
TITLE: Born For You
COMPOSER: Moody, Thompson
ALBUM: John Hore Sings Great Country Hits
LABEL: BMG
ARTIST: Sandie Shaw and The Smiths
TITLE: Hand In Glove
COMPOSER: Marr, Morrissey
ALBUM: Hello Angel
LABEL: Rough Trade PLAYED AT: 11:49
ARTIST: Solange
TITLE: Don't Let Me Down
COMPOSER: Dev Hynes, Solange Knowles
ALBUM: True
LABEL: Terrible Records PLAYED AT: 11:59