The Weekend with Emile Donovan for Sunday 11 January 2015
8:18 Youth drug use - The Wireless
Research has shown a clear link between the age at which someone first tries drugs, and the likelihood they'll engage in so-called anti-social behaviour. Worryingly, both internationally and in New Zealand, the age at which people use drugs for the first time is dropping.
The Ministry of Youth Development reports that young men are more likely to report drinking large amounts of alcohol than young women, and they're also more likely to experience a substance use disorder.
The Wireless' Megan Whelan speaks to Jackson Wood, CareNZ's Kathryn Leafe and from Community Action on Youth and Drugs Nadia Freeman and Richie Hardcore.
8:35 Regional Panel - Nelson
We're lingering a while in the top of the South Island for the latest in our regional profiles. Alison Hossain is Radio New Zealand's Nelson reporter and she and Lynn Freeman spoke to Nelson Mail Editor Paul McIntyre, Dot Kettle who's the head of the local Chamber of Commerce and former speech writer for former Prime Minister Dame Helen Clark, and to Peter Yealands, a Marlborough wine maker.
09:06 Media: byting back
Glenn Williams, Cate Owen, and Vaughn Davis discuss what technology media will take advantage of, and be pushed into in 2015.
09:30 Sport: leadership
Women's Lacrosse coach Kari Jones, Men's Netball coach Junior Tana, and White Ferns captain and Olympic basketball representative Suzy Bates discuss their approaches to leading a team.
10:07 Home ownership
With summer here most people don't worry too much about the power bills. Come winter, that monthly bill can be crippling. If you're working on your house over the summer, it's a good time to take some measures that will cost up front but will save money longer term.
Christian Hoerning (right) is the Senior Technical Advisor with the Energy Efficiency and Conservation Authority.
10:25 Musical Dynasties - Tami Neilson and the Neilson Family
2014 was a big year for Canadian-New Zealand country singer Tami Neilson. She released an album, toured with the Topp Twins, won the Silver Scroll for songwriting, and had her second child.
The Silver Scroll was a shared win with Tami's brother Jay. The Weekend thought it was about time to hear from him, as well as his and Tami's parents Ron and Betty. Growing up they all toured together in the Neilson Family band. Now the Neilsons are a Musical Dynasty.

Left to right: Todd Neilson, Tami Neilson, Ron Neilson, Betty Neilson and Jay Neilson
10:47 Weta
Weta are extraordinary creatures – but they tend to stay in the shadow of endemic birds and other species that have beauty on their side, and don't tend to freak people out by getting into cupboards and gumboots. Massey University's Dr Steve Trewick talks about weta. He and Mary Morgan-Richards co-wrote the book New Zealand Wild Life, Introducing the weird and wonderful character of natural New Zealand.
Steve also recently established an online tool for finding out about weta species and diversity.

Left: Underside of H. pallitarsis female, Middle: Female eating the nuptial gift whilst sitting on a palm frond at night, Right: Male tree weta (Hemideina crassidens). The arrow points to his ear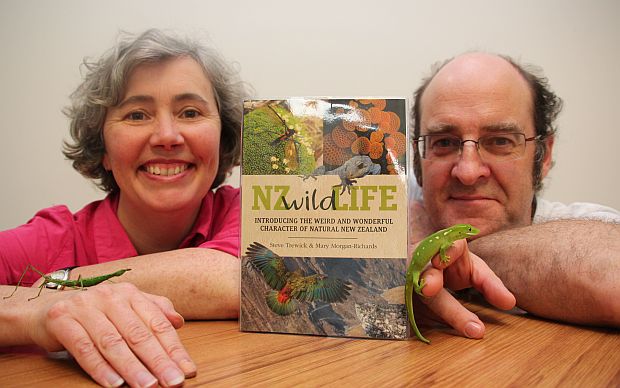 Steve Trewick and co-author Mary Morgan Richards
11:06 Animal Behaviour – pet adoptions
Thousands of kittens and puppies, cats and dogs are settling in to their new homes around the country, after being adopted over the summer holidays. That unconditional love of a pet though comes with a price tag and it's also going to be time consuming. We're talking about the pitfalls and pleasures of pet adoptions with Auckland Animal Behaviourist Dr Elsa Flint. We also tour the Wellington SPCA and find out about the adoption process.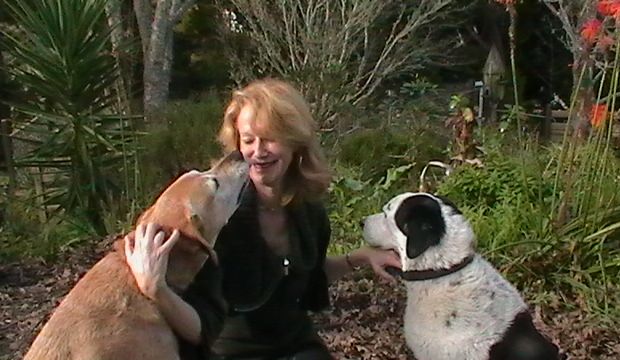 Elsa Flint, animal behaviourist
11:33 Galapagos: Ecotourism
Galapagos is one of the most highly regulated examples of ecotourism around - the many cruise ships are kept to strict timetables and the numbers of people on the islands at any one time are restricted. But getting better quarantine facilities to keep out predators and diseases is on the wish list of many wanting to protect the islands from these threats.
Lynn Freeman joined the throng of visitors, and guides siblings Gil and Tui de Roy who were born on the islands.
Gallery: The Galapagos
11:40 Entrepreneurial spirit
Dan Radcliffe will be representing New Zealand at the Entrepreneur of the Year awards in Monaco later this year.  His company is International Volunteer HQ.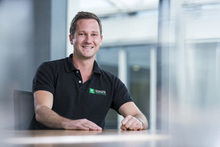 Music played in this show
ARTIST: Natasha Khan & Jon Hopkins
TITLE: Garden's Heart
COMPOSER: Natasha Khan & Jon Hopkins
ALBUM: How I Live Now (Motion Picture Soundtrack)
LABEL: Just Music PLAYED AT: 08:34
ARTIST: Fleetwood Mac
TITLE: Hold Me
ALBUM: Mirage
LABEL: Warner PLAYED AT: 9:33
ARTIST: The Neilson Family
TITLE: Cookin' (Live at Artworks Theatre)
ALBUM: Unreleased
ARTIST: Dolly Parton & Kenny Rodgers
TITLE: With Bells On
COMPOSER: Parton
ALBUM:  Once Upon a Christmas
LABEL: RCA
ARTIST: Tami Neilson
TITLE: Walk (Back To Your Arms)
COMPOSER:  T. Neilson, J. Neilson
ALBUM:  Dynamite
LABEL: NEILSON
ARTIST: Gamelan Taniwha Jaya & Johnny Marks
TITLE: Walk (Back To Your Arms)
COMPOSER: T. Neilson, J. Neilson
ARTIST: The Neilsons
TITLE: Windows To The Past
COMPOSER:  T. Neilson, R. Neilson
ALBUM:  The Neilsons
LABEL: Platter Matter
ARTIST: Tami Neilson with Jay Neilson
TITLE: South of Blue
COMPOSER:  T. Neilson, J. Neilson
ALBUM:  The Kitchen Table Sessions
LABEL: ODE
ARTIST: Tami Neilson
TITLE: Cry Over You
COMPOSER:  T. Neilson
ALBUM:  Dynamite
LABEL: NEILSON