Sunday, 22 February 2015

Mo ngā Uri, Mo Ka Uri a Muri ake nei

For us, and those who follow us

Nā Ranui Ngarimu nō Ngai Tahu, Ngāti Mutunga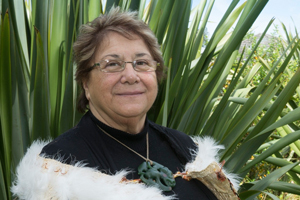 Ranui Ngarimu.  Photo courtesy of Waitaha Cultural Council Trust.
The bi-ennial National Kapa haka competition Te Matatini is under two weeks away, and soon thousands of people will descend upon Christchurch. The event is hosted by Waitaha Cultural Council Trust along with support from Te Rūnanga o Ngai Tahu and Christchurch City Council.  The logistics, accommodation and planning of the event at Christchurch's Hagley Park is three years in the making. Chairperson of the Waitaha Cultural Council Trust, Ranui Ngarimu says it's also about saying thankyou to iwi who showed their support to Christchurch following the 2011 earthquakes. 
Auckland based company Kiwa Digital has created a four-part series of bi-lingual graphic novellas that tell traditional māori stories. Launched at the end of January, the first book Te Orokotimatanga o te Ao tells the story of The Creation. Māori Develoment Advisor Nikora Wharerau and Illustrator Munro Te Whata talk about the creative process of research, story-boarding, production to launching it online, and how digital publishing could be used to tell the stories of other iwi and hapū.
In a recording from 1970, Wiremu Parker (1914 - 1986) presents coverage of the kapa haka festival held in Tauranga Moana.
At a couple of summer festivals, Justine Murray asks a few concert-goers who they will be supporting at Te Matatini, the National Kapa Haka festival.