Sunday, 19 October 2014

'He aroha whakatō, He aroha puta mai'
'If kindness is sown, then kindness you shall receive.'

Nā Sonia Kaurauna nō Tuhoe.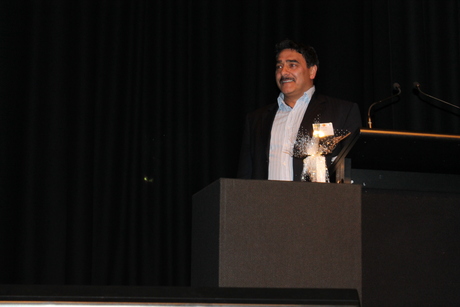 Arapata Hakiwai at the Sir Apirana Ngata Memorial Lectures, 2014. 
Lawnmower operator Pat Hakaraia recalls when he helped train actors Rāwiri Paratene, Sonny Arahanga and Rob Mokaraka to operate his ride-on mowers for the short film, The Lawnmower Men of Kapu. Pat's cousin and film producer Libby Hakaraia roped Pat and his wife  Tania Hakaraia in to help out. This year the Otaki couple were part of the organising committee to run this year's Inaugural Māoriland film festival.
I just saw myself as a staunch supporter of what Libby and Tainui were doing, I felt that, for people  here in Otaki we don't have a lot of opportunities, and so if we can encourage our younger generation to step up to have a look at what goes on in this  (film) industry and find their  little part they can play,  then this is gotta be good for everyone in this town.

- Pat Hakaraia
This week, the trio will attend the world's largest indigenous film festival, ImagineNATIVE in Toronto, Canada.  Pat will select a number of short films to feature in the children's programme at next year's Māoriland film festival. Tania will find out more about the operational systems of ImagineNATIVE and Libby will be a part of the prize jury. Justine Murray talks to the Hakaraia whanau a few weeks out from their trip.

Pat, Tania and Libby Hakaraia.
Arapata Hakiwai is the Acting Chief Executive and Kaihautu of Te Papa Tongarewa; he formed part of this year's line up at the Sir Apirana Ngata Memorial Lectures at Te Papa. Arapata discusses the impact of the work carried out by Ngata, which included the maintenance and restoration of thirty Whare Tipuna and the establishment of the Board of Māori Ethnological Research.
His active involvement in the country is a marked symbol of Ngata's belief of the importance of language, culture and māori identity. In many ways Ngāti Pōrou's position and stance regarding tribal tāonga in contemporary times is an extension to what Apirana Ngata envisioned for Ngāti Pōrou in māoridom, during his time. Ngata saw the value of culture and tāonga such as wharenui, waiata and artefacts as something that helped to uplift the people.

- Arapata Hakiwai
Ramai Hayward (1916 – 2014) was a filmmaker, producer and actor; in 1940, she starred in the film Rewi's Last Stand directed and produced by her husband Rudall Hayward (1900 – 1974). The couple would work on many projects ranging from documentaries to educational and travel films.  In an archival segment from 1973, Ramai discusses her career with Selwyn Murupaenga, why she much preferred working behind the camera and why it is important to make sacrifices,  to pursue what you love.
People say well why haven't  you got a motor car? Well, I mean whenever I've had enough money Rudall says come on, he says I'll buy you a little motor car and I said no I can use that for a little film, and so the film comes before the motorcar. You have to make sacrifices.

– Ramai Hayward, 1973 on Te Puna Wai Kōrero.
Waiata featured:   'Hands Up' performed by Moana and the Tribe from the album Rima (2014). 'Te Mauri o nga Waka' performed by Whirimako Black from the album Hohou Te Rongo/Cultivate Peace (2003).