Sunday, 7 September 2014

'Kia Horapa te reo'
 

'Let Te Reo Māori be spoken in everyday situations.'
                 Na Enoka Murphy nō Ngāti Manawa, Ngāti Ruapani


Principal of Tolaga Bay Area School, Nori Parata.
Every Friday, selected students from five East Coast schools travel to the Eastern Institute of Technology (E.I.T) Tairāwhiti in Gisborne to take part in a Training Academy, some students travel up to three hours one way. One such school is Tolaga Bay Area School. The academy was a finalist at this year's Prime Ministers Awards, Justine visits the school to talk about the school's achievements with Principal, Nori Parata.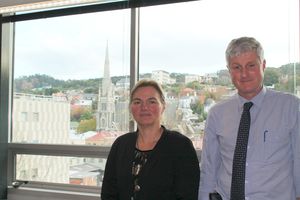 Dr Joanne Baxter and Dr Peter Crampton.
Justine Murray visits Otago University and talks with Associate Professor Dr Joanne Baxter (Ngāi Tahu, Ngāti Apa ki Te Rā Tō) and Professor Dr Peter Crampton about the noticeable increase of Māori studying in Health Sciences, and intiatives where final year students get to work in five week rotations with selected iwi health providers.
Enoka Murphy has many philosophies when it comes to Te Reo Māori. He wants people to speak it all the time, and to never feel like you have to put the language in your 'back pocket'. Given it's an election year, Justine Murray asks Enoka what the incoming government needs to do to support the language. Despite following politics in detail, Enoka admits he has never actually voted, he explains his reasons with Justine Murray.
Waiata featured: 'Arohaina Mai' performed by Te Hokowhitu a Tu from the album Ake Ake Kia Kaha e! Songs of the 28th Māori Battalion (2006). 'Tangihia' performed by Tama Waipara and Hinewehi Mohi from the album Fill Up the Silence (2013). 'This' performed by Ed Sheeran from the album Plus (2011), 'Purerehua' and 'Kōrero Māori e' performed by Hirini Melbourne from the album He Waiata ma te katoa (2004).