Sunday, 20 July 2014

"Kia tika te reo, Kia rere te reo, Kia Māori te reo"
"Let the Māori language be accurate, let it fly and let it be Māori"
This week's whakatāuki is explained by Gareth Seymour nō Ngāti Hikairo and Juanita Teepa nō Ngāi Tūhoe, Ngā Puhi.
This Sunday listen to the final segment of the 1981 six-part series Whaikorero. The panel Wiremu Parker (1914 – 1986) ) nō Ngāti Pōrou, Tamati Kruger nō Tuhoe and Ruka Broughton (1940 – 1986) discuss the recorded whaikōrero of Reverend Father James Durning SM, at the opening of the Wharetipuna (meeting house) Aotea at Mākirikiri, Dannevirke, 1967.
Nick Tupara trained at Toihoukura The School of Māori Visual Art and Design at Gisborne, his background is in carving but after some encouragement from his peers he decided to practise Taa Moko, he's worked as a Taa Moko practitioner for twenty years.  A few months ago Nick opened Tupara,  his downtown store in Gisborne a whanau operated business that sells a range of māori art by local artists, Justine Murray visits the store and chats with Nick about his plans of diversifying the business.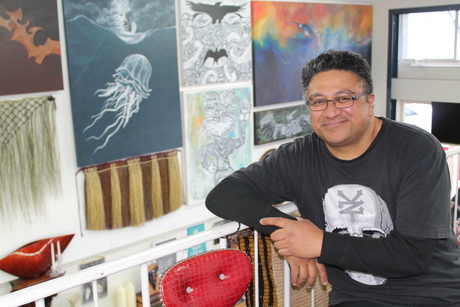 Nick Tupara at his Gisborne māori art whanau business, Tupara.
Acting Chief Executive of Te Taura Whiri i te Reo Māori (The Māori Language Commission) Pita Paraone explains the concept of Te Kupu o te Wiki – Word of the Week, that will launch during Māori Language Week, 2014.
Waiata featured: 'Born of Greatness' performed by WVVLC from their album Waitahanui WVVLC (2003 )and 'I nga wa o mua Taumaha ai' performed by Ria Hall from the album Tipi Haere to Reo (2010).