Sunday, 16 February 2014

Ko te reo te mauri o te mana māori
The language is the very essence of being Māori
This week's whakatāuki is explained by Glenis Phillip-Barbara nō Ngāti Pōrou
Glenis Phillip-Barbara is charged with the task of heading the new māori language research centre, He Puna Whakarauora. She talks about the functions of the unit that includes a nationwide approach in analysing the role te reo māori has in the community and the whanau.
Shane Te Ruki knew he wanted to wear a facial Moko from a young age, inspired by the carved panels in the wharenui at his Marae, Te Kōpua.  For the next few months he is the resident Kaumatua at the National Museum, Te Papa Tongarewa where he gave a presentation about the history of Taa Moko, its origins and its place in te ao Māori, part of which features in this weeks show.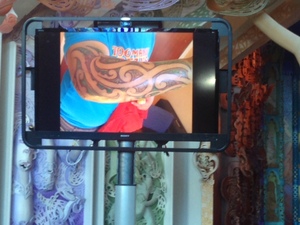 Shane Te Ruki nō Ngāti Pōrou, Ngāti Maniapoto.


Nikki King and Te Hou Winitana run Hula Active in communities in Lower Hutt.
Nikki King and Te Hou Winitana took their performing arts skills to a whole new level when they came up with a concept that combined polynesian dance moves with a cardio workout; the result is Hula Active. The high-energy, one-hour session has grown with classes held in Lower Hutt and Porirua.  Social media promotion and word of mouth is spreading about the workout that requires its participants to wear a pareu/lava-lava and to pay just two dollars, Justine Murray gets the down low about Hula Active.
Waiata featured:  'Shine on' performed by Ladi 6 from the album Kiwi Hit Disc 162; 'Rore' (Taunga Vaipae) from the album Cook Islands National Arts Theatre.