Sunday, 9 February 2014

Kia mau koe ki nga tapu ō nga matua tipuna
Hold fast to tapu, the sacredness of your ancestors
Whakatauki explained by Dayle Takitimu nō Ngāti Pōrou, Te Whānau a Apanui.
Every Waitangi day it's the same, images on screen and in print focussing on the disruption and the anger at Waitangi. Yet, according to Te Whānau a Apanui, Ngāti Pōrou lawyer Dayle Takitimu that, kind of emotion has its place at Waitangi at Te Tii marae on Waitangi day. For some though, it's a matter of manners and showing respect. Yet, if you can't express yourself upon the marae-atea where according to tikanga Māori, anything goes, where do you go?  begging the question, Are Māori too polite for their own good?
While hikoi has its place as a symbolic tool of protest, Dr Maria Bargh is an advocate for the longer term actions that Māori nations throughout the country are engaged in.
Te Ao Pritchard of Te Ata Tino Toa talks through why the tino rangatiratanga flag is so significant to the nation.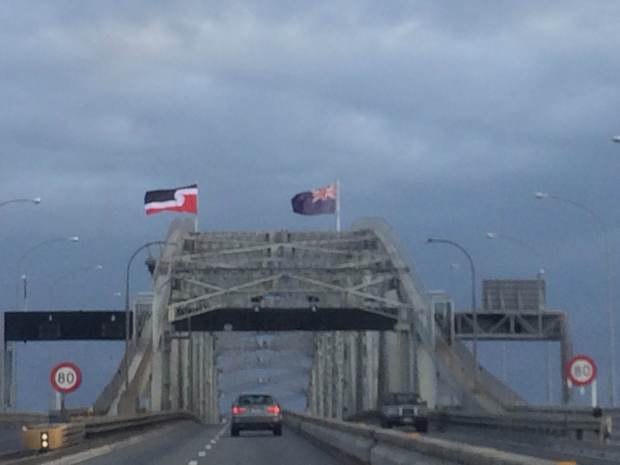 Auckland Harbour Bridge, Waitangi Day 2014 Photo Credit: Potaua Biasiny -Tule
Lineni Tuitupou has created quite a following on facebook with her 15 second phone recorded memes where she riffs on anything from stalking your boyfriend to differences between Māori, Pākehā and Tongan parenting. Maraea Rakuraku spends time with Tuitupou and gains insight into the 20 year olds creative process.    
Waiata featured: Phillistines performed by Sheba Williams from the album Tu Kotahi Freedom fighting Anthems (2008),   Make dem bun performed by Skrillex and Damian Marley from the EP Make dem bun (2012)