Sunday, 16 September 2012

6:30 PM.Later this year, over a dozen street names in the Turangi Township will be replaced with the correct Maori spellings and whakapapa pertinent to the rohe. Maraea Rakuraku finds out more with Tina Porou… Read more Audio
E hoa ma kia kaha ra tātou ki te whangai nei i nga tini purakau pēnei i nga atua, pēnei i nga tupuna kia pakari rawa te tu ai tēnei whakatupuranga
We need to ensure that we keep our traditional stories alive about our ancestors, so that our future generations will know about them.
This week's whakatāuki is explained by Kimo Winiata nō Ngāti Raukawa.
On a visit to Porangahau, Hawkes Bay Morehu Smith gives an account of a landmark in her area that Justine Murray finds astonishing.
It was the execution of the Public Works Act confiscating the lands of Turangitukua hapu that created the central plateau township of Turangi in 1962.  At the time Tūwharetoa Iwi were promised naming rights of the streets in part compensation.  In 1998 that arrangement is cemented in a Waitangi Tribunal Settlement.  Fast forward to 2012 and the street signs are finally undergoing a makeover that; includes correcting misspelt Māori words and names. Tina Porou recalls the period of the initial confiscation and the sadness of her Turangitukua people before, John Rudd, Manager of Parks and Districts outlays the Taupo District Council position.
According to Heemi Kara nō Tūhoe, Orongomai marae, Wellington owes its formative years to Jock McEwen (1915-2010).  Justine Murray spends time with the kaumatua who details the history of the marae and relationship to its surrounds.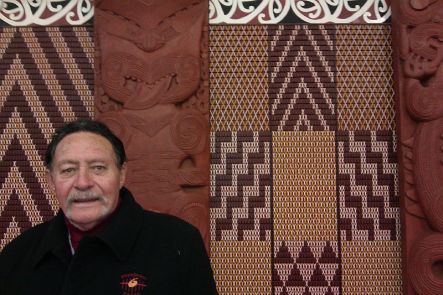 Heemi Kara nō Tuhoe.

The Wharenui Kahukura at Orongomai Marae, Upper Hutt.
Waiata featured:  Taku Rakau e performed by Whirimako Black and Richard Nunns from the album Te More (2012), Hinepukohurangi performed by Maisey Rika from the album He Rangipaihurere (2012), The Bridge performed by Deane Waretini from the album Now is the hour (2012)