Sunday, 23 September 2012

5:00 PM.Spearheaded by Tama Huata five years ago, the Waiata Maori music awards celebrate traditional and contemporary Maori music while recognising the achievements of waiata Maori. Justine Murray presents… Read more Audio
Me kaua koe e whakawaa i te tangata waiho ma te atua e mahi tēra
Don't judge people, leave it for God to pass judgment
This week's whakatāuki is explained by Esther-Jordan Muriwai nō Ngāpuhi.
Te Ahi Kaa presents coverage from the 2012 Waiata Māori Music Awards  with Awanui Reeder who received the Best Māori Male Solo Artist, Best Song by a Māori Artist for If Things Were Different and Best Māori Songwriter award for 2012, and Peata Melbourne whose album He Rangi Paihuarere was named Best Traditional Māori Album. Organiser Tama Huata explains the nomination process, and Waikato based group Tasty Brown gives an impromptu a cappella version of their waiata, Hello.
See the list of winners of the Waiata Maori Music Awards 2012.
Water is vital for life.  However, these days it's becoming more apparent it's a commodity which is bringing the world of Te Ao Māori (the Māori world) in conflict with Te Ao Pākehā (the Pākehā world). Maraea Rakuraku reports on the WAI Summit held at Turangawaewae marae, Ngaruawhia (September13, 2012).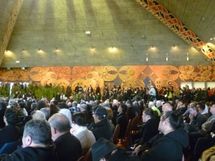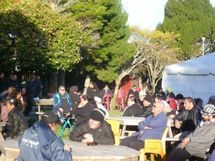 The Wai Hui held at Turangawaewae marae, Ngaruawhia (September13, 2012).
Esther-Jordan Muriwai has never let a diagnosis of Bronchiectasis hold her back from giving things a go.  As well as undertaking a tohu (qualification) in Mātauranga Māori, Esther-Jordon was a contestant at the Miss Aotearoa 2012 beauty pageant held in Napier, which is where Justine Murray meets her.

Esther-Jordan Muriwai, runner up at this year's Miss Aotearoa.
Waiata featured:  If things were different performed by Awanui Reeder and Maisey Rika and Matahiapo performed by Awanui Reeder from the EP Native Intel (2011).