Sunday, 31 May 2009

6:00 PM.Ki-o-Rahi is a sport played in France and yet virtually unknown here in Aotearoa, Maraea Rakuraku investigates. Read more Audio, Gallery
31 Haratua (May) 2009
'He iti wai kōwhao waka e tahuri te waka.'
It may only be a small storm, yet a successful outcome is imminent.
Explanation by Corey Stickle.
For the past 50 or so years the sport ki-o-rahi has been played in France and yet it is relatively unknown in its country of origin, Aotearoa - New Zealand. That's all about to change due to the work of both Harko Brown,nō Waikato, and Dr Ihirangi Heke, nō Ngati Wairere, who are committed to profiling hakinakina Māori - Māori sports.
Brown recently wrote a book called Ngā Taonga Tākaro: Māori sports and Games (2008, Penguin Publishers) and submitted a Waitangi Tribunal Claim about the loss of traditional Māori sports through colonisation. Heke on the other hand, has built an academic career around physical education and sport, which combined with a love of kaupapa Māori, is a natural fit with tākaro Māori. Utilising tikanga Māori in its practise Heke and Brown hope to revitilise the sport seem to be falling on fertile ground as Maraea Rakuraku found when she attended a workshop in Napier, where Sean Thompson, Jim Taotahi and Tane Edwards learned and played the sport ki-o-rahi under the tutelage of Heke.
Taniwha aiming at tupu.
View through te ara.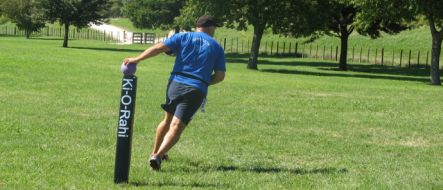 Ki oma touching to pou and going in for a try.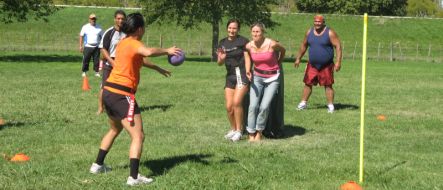 Taniwha using the ki to hit the tupu guarded by ki oma.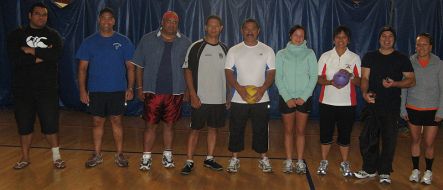 Te ropu o ki-o-rahi.
It seems Western Springs College in Auckland has proven to be a hotbed of musical creativity, having been attended by Supergroove, Karl Steven and Che Fu aka Che Ness and members of Nesian Mystik. Ten years on the six -piece - made up of Feleti 'Sabre' Strickson-Pua (raps), Donald 'Oldwun' McNulty (raps), Junior 'Junz' Rikiau (raps, drums, ukulele), David 'Dmon' Atai (guitar, vocals), Heath 'Notiq' Manukau (turntables) and Te Awanui 'Awa' Reeder (vocals) - continues to produce albums that bring their particular nesian flavour of hiphop, rhythm and blues to the New Zealand music scene. Reeder nō Ngai te rangi talks with Justine Murray about the groups recent successes at the Pacific Music Awards, plans for the next album and the life he leads outside of the band as host of the Māori youth radio programme Te Puutake).
According to late Ngati Apa, Barry Barclay (1944 - 2008) there was no such thing as an innocent camera, meaning everything filmed was intentional, therefore making the person carrying the camera accountable to whatever or whomever they were filming. This was an attitude Barclay carried throughout his professional career and former partner Heather Randerson hopes to emulate in the Hokianga Film Festival taking place this weekend at Moria Marae, Whirinaki. Kicked off in 2005 the biennial festival will focus on "camera and community" and the capacity of Northland communities to look inward for sourcing quality stories and producing film. Randerson talks with Justine Murray about Barclay, his legacy, the purpose of the festival and the documentary directed by Graham Tuckett, Barry Barclay: A camera on the shore that will premiere.
Waiata featured include:
Mr Mista from the album Elevator Musiq by Nesian Mystik
It's on from the CD-Single - Nesian Mystik It's on by Nesian Mystik