Sunday Morning for Sunday 23 August 2015
7:08 Current affairs
Professor David Fergusson, who is retiring from the groundbreaking Christchurch Health and Development Study; Rev Andrew McDonald counts his blessings as the Church of the Good Shepherd in Tekapo marks its 80th anniversary; environmental concerns are raised as Pacific nations go ahead with sea bed mining; and Winnie Laban discusses the Te Awe Wellington Maori Business Network and Wellington Pasifika Business Network showcase in the Capital next week. Plus: The Week in Parliament.
Photo: Rev Andrew McDonald, and the Church of the Good Shepherd by George Empson.
8:12 Insight
More and more companies are getting out of paying debts by turning to liquidation, only to rise from the ashes of failure, as an almost identical business. Workers and contractors say they're losing tens of thousands of dollars to phoenix companies, which in many instances are illegal. Experts say official investigations into the wrongdoing are being hampered by rogue insolvers. In this week's Insight, Lauren Baker examines the rise in abuse of phoenix company law and measures being considered to curb the problem. Produced by Philippa Tolley.
8:40 Guy Perry – City Health
Guy Perry is an architect and the executive Director of Asia Pacific at AECOM, a global architecture and design company. He is a world expert in designing healthy cities. He talks to Wallace about how and where we live can have a massive effect on our wellbeing and longevity.
9:06 Mediawatch
On Mediawatch: claims and counter-claims over media bias, and the rise of opinions in the news. Also: Using the news to hype radio shows; hyperlocal news online in New Zealand; and alarming claims that screens can change kids' brains.
Produced and presented by Colin Peacock and Jeremy Rose.
9:35 John Pilger – Julian Assange
The internationally renowned investigative journalist and filmmaker discusses WikiLeaks founder Julian Assange and his bid for his own freedom – and for freedom of information. John Pilger also gives us his take on Jeremy Corbyn's bid for leadership of the UK Labour Party.
10:06 Sy Montgomery – Octopus Love
Sy Montgomery is a naturalist, documentary scriptwriter and the author of 20 books. Her latest is The Soul of an Octopus, which is a touching and incredible look at the intelligence and consciousness of these amazing sea creatures.
10:30 Tony Burton – Flag Fiend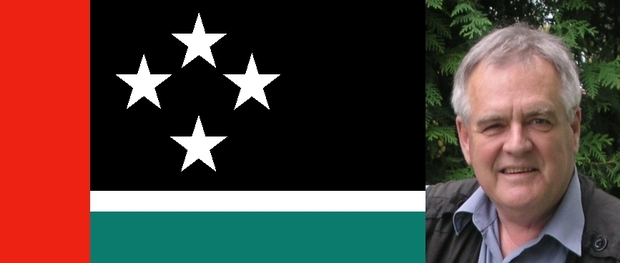 Australian Tony Burton is a vexillogolist – someone who studies flags. He's the editor of Crux Australis, author of Flag Design: An Illustrated and Practical Guide, and he's playing host to other flag enthusiasts at the International Congress being held in Sydney between 31 August - 4 September. The leading flag designer explains what we should be looking for in our new flag.
10:50 Liam Bowden – Deadly Ponies
NZ Fashion week events are happening around Auckland next week, but 2015 is particularly special year for the local accessories label Deadly Ponies – it's been 10 years in the business. Wallace talks to creative director Liam Bowden.
11:05 Ron Palenski – Heart of Rugby
For most New Zealanders, rugby is much more than 15 men throwing a ball around for 80 minutes on a field – instead it is a part of our identity and psyche. Ron Palenski has written a definitive history of rugby and he discusses the cultural significance of the sport that has helped shape our nation.
11:25 John Weir – Labour of Love for James K Baxter

James K Baxter (left) and John Weir.  Photo taken in 1967 at St Bede's College, Christchurch, by John Hogan S.M.
John Weir still grieves for his mate, the poet James K Baxter who died in 1972. It began when John sent one of his poems to James and asked if he could dedicate it to him. James replied that John's poem came to him "like water from a dry ground". And so the friendship which John describes "deep, profound and special" began. Victoria University Press has just published Complete Prose of James K. Baxter – edited by Dr John Weir. It is an enormous undertaking – four hardback volumes in a box set that John began working on 40 years ago. The volumes take in Baxter's journals, reviews, letters, stories, an unpublished novel, letters to the editor, interviews, and meditations.
Music played in this show
Artist: Donald Byrd
Song:You and the Music
Album: Places and Spaces
Label: Blue Note
Broadcast time: 8:40
Artist: Whiskeytown
Song: Sit and listen to the rain
Album: Pneumonia
Label: Lost Highway
Broadcast time: 10:45
Artist: DJ T-Rock & Squashy Nice
Song: Hip Hop Body Rock
Album: Rock & squash techniques
Label: Rock & squash records
Broadcast time: 11:20