Sunday Morning for Sunday 16 August 2015
7:08 Current affairs
Octovanius Mote represents resistance groups in Indonesia-ruled West Papua and he's calling for NZ to support his country in next month's Pacific Islands Forum; Barry Guy on Saturday night's Bledisloe Cup decider; Dr Peter Dearden and his proposal to sequence 100 so-called Taonga Genomes – the genetic blueprints of New Zealand's most treasured native species. Plus: The Week in Parliament.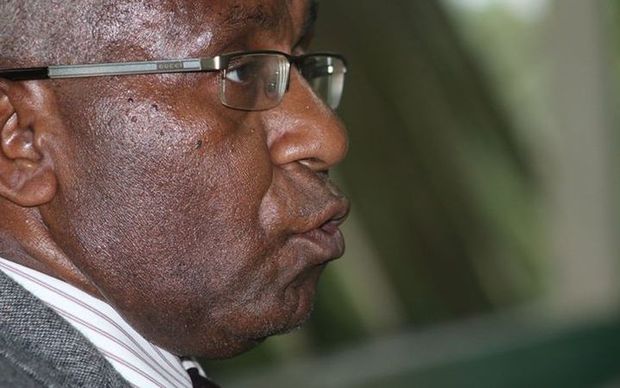 8:12 Insight State Housing and Oz Providers
The date is looming for the first lot of state housing to be sold off or leased to charities, iwi and business. At least one community housing provider in Australia has expressed interest in taking part. In this week's Insight, Philippa Tolley reports from Queensland on why Australian providers would be interested and explores how they operate at home.
8:40 Peter Campbell – Cancer Genes and Treatment
Dr Peter Campbell is Head of Cancer Genetics and Genomics at the Sanger Institute, a research body focused on understanding the role of genetics in health and disease. He trained at Otago University and he talks to Wallace about some of the astonishing advances taking place in both the diagnosis and treatment of cancer.

Dr Peter Campbell (right) visits the Otago Zebrafish Facility with former University of Otago pathology department head, Dr Colin Geary
9:06 Mediawatch
Mediawatch looks at the new TV3 news show that's picked up where Campbell left off, and a claim that too many pale males are hogging primetime.  Also: Sky TV copping flak for some recent failures, and why local fans of The Daily Show are bitter about our broadcasters.
Produced and presented by Colin Peacock and Jeremy Rose.
9:40 Bridget Tunnicliffe – Netball World Cup
Radio NZ sports reporter Bridget Tunnicliffe reports from Sydney on the eve of the final of the Netball World Cup.
9:45 Shanti Freed – Inflatable Art
A gigantic inflatable artwork has been unveiled in New Plymouth as part of the Taranaki International Arts Festival. More than a hundred square meters in size the 'Exxopolis' is a network of winding tubes and soaring domes. The experience of standing inside has been compared to a combination of being inside a church merged with a network of human blood vessels.  Wallace speaks to Shanti Freed, the exhibition manager for Architects of Air.
10:06 Harko Brown – Nga Taonga Takaro
Harko Brown is organising the New Zealand team for the World Indigenous Games to be held in Brazil at the end of October. It's no ordinary sports competition – team members will be performing kapa haka, weaving and taking part in korero with other indigenous peoples, as well as demonstrating a number of nga taonga takaro – or traditional Maori games – which reflect Maori philosophies and values.
10:25 Ronnie Burkett – Puppet Cabaret
Canadian Ronnie Burkett is a star of the puppetry world – he's been working with marionettes since the tender age of seven. He's about to bring his critically acclaimed show The Daisy Theatre to New Zealand and he tells us about the fascinating process of creating a cabaret show with puppets.
11:05 Bill Bryson – A Walk on the Big Screen
One the world's most popular writers, Bill Bryson's book A Walk in the Woods has just been made into a feature film starring Robert Redford and Nick Nolte. Bill Bryson discusses the story, the film and what it's like to have one of the greatest movie stars portraying you on the big screen.
11:25 Liam Scarlett – Ballet's Hot Property
British choreographer Liam Scarlett is one of ballet's hottest properties. He's been called the 'great white hope' of British ballet and is the British Royal Ballet's first Artist in Residence. In what's been described as a major coup for the Royal New Zealand Ballet, he's choreographed its latest production – A Midsummer Night's Dream. Liam Scarlett joins Wallace live from Wellington ahead of the premiere.

Liam Scarlett in rehearsal
11:40 Greg Haver – David Bowie Is
Greg Haver is a musician and award-winning producer, having worked with the likes of The Manic Street Preachers, Super Furry Animals and Catalonia. He's also a major David Bowie fan and he's on the show to review the David Bowie Is exhibition, currently on in Melbourne.