Sunday Morning for Sunday 15 February 2015
7:08 Current affairs
In this hour: Sri Lanka's newly appointed minister of Tourism and Sports Navin Dissanayake is visiting New Zealand for the Cricket World Cup 2015 opening ceremonies in Christchurch and to watch the opening game between Sri Lanka and New Zealand. Plus: Professor David Isaacs on the conditions at the detention centre in Nauru; The Week in Parliament, and the latest from Nigeria where presidential elections are being held this weekend.
8:12 Insight - French, Republican and Muslim
As France struggles to figure out how to combat Islamist radicalism and promote integration, politicians there have called for France's Muslims to  "choose the Republic", in essence to be more like Ahmed Merabet – the police officer killed responding to the attack on the Charlie Hebdo offices. Insight follows the BBC's Helen Grady as she meets Muslims in France and speaks to them about their response to the Charlie Hebdo attack. Do they feel they need to do more to be French, or does the Republic's strong insistence on secularism make them feel that there is little place left for French Muslims?
Produced by Philippa Tolley.
8:40 Citizenfour – A panel discussion
The Oscar nominated and BAFTA winning documentary Citizenfour tells the story of Edward Snowden - a former NSA employee turned whistle-blower.  Radio New Zealand National held a screening of the film in Auckland earlier this week and followed it with a panel hosted by Wallace Chapman and featuring: Mediawatch's Colin Peacock; former Listener editor Finlay McDonald; documentary filmmaker Annie Goldson; and, Sandra Kailahi – a freelance journalist and director.
9:06 Mediawatch
Mediawatch looks at investigating potential miscarriages of justice and claims of wrongful conviction - and asks why Sky TV is suddenly offering live sport to people who aren't subscribers. Also: a paper that didn't practice what it preached on privacy, and the remarkable reaction to taxpayers' money for Auckland's controversial convention centre.  
Produced and presented by Colin Peacock and Jeremy Rose.
9:40 Hannah Fry – Love and Mathematics
Just in time for Valentine's Day weekend – Dr Hannah Fry tells Wallace the mathematical equation for love. Her new book The Mathematics of Love offers a unique perspective on matters of the heart.  As a mathematician, Dr Fry answers such burning questions as: What is the chance of finding love? How long will it last? And what are your chances of divorce?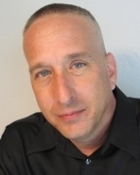 10:06 Joseph Hickman – Murder at Camp Delta
Former Guantanamo staff sergeant Joseph Hickman has spent most of his life in the military – first as a marine, then as a soldier in the army and National Guard.  His book Murder at Camp Delta reveals the horrifying details of what goes on in the controversial detention facility. He speaks to Wallace about why he gave up his distinguished military career to reveal what he saw there.
10:40 Alan Davies – Telling Stories
Alan Davies is a standup veteran of 25 years. He starred in the crime show Jonathan Creek which ran for 14 years, and is a permanent panelist of the QI show hosted by Stephen Fry. Alan Davies is bringing his new show Little Victories to NZ for a series of gigs across the country in July.
11:05 Tame Iti and Birgit Krippner – Cross-cultural Collaboration
Tuhoe painter Tame Iti and Austrian photographer Birgit Krippner are exhibiting their art together in a new exhibition at Wellington's Suite gallery. Tame Iti will show paintings and sculpture alongside Birgit Krippner's recent photos of him and his whanau, mostly shot around Ruatoki.  Wallace talks to Tame and Birgit about their art, their inspiration, and their special collaboration.The exhibition by Tame Iti and Birgit Krippner runs at Suite's new gallery at 241 Cuba St, Wellington from Thursday, 19. At the same time, Ans Westra's photos from Ruatoki will show at Suite's former gallery at 147 Cuba St.
Gallery: Iti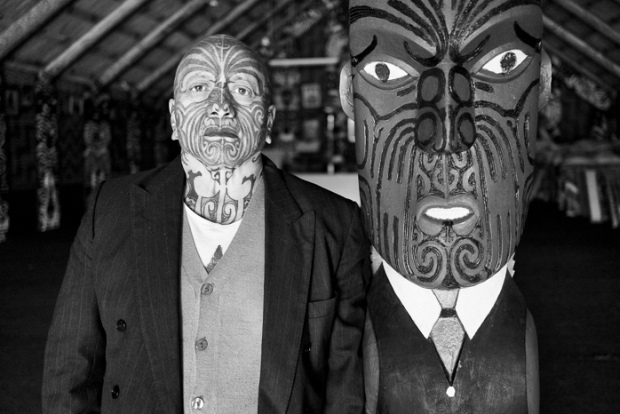 Tame Iti. Photo: Birgit Krippner.
11:30 Alexander Rose – 10,000 Year Clock
Wallace talks to Alexander Rose, director of the Long Now Foundation, about a huge clock being built to go inside a mountain in Texas. It is designed to tick for 10,000 years and every so often it will chime a melody - but never the same one twice. It will mostly ring when somebody winds it, but sometimes it will ring itself - and nobody will be there to hear it.  Alexander Rose tells Wallace about the project that's designed to make us think about the generations to come, and our responsibility to them.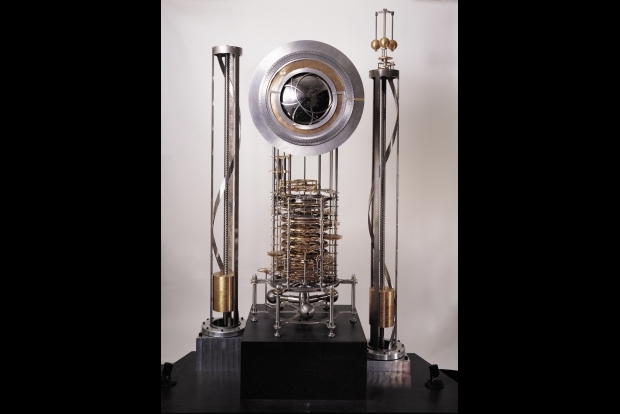 Photo by Rolfe Horn courtesy of The Long Now Foundation.
11:40 Don McGlashan – Lucky Stars
Don McGlashan has written or played some of New Zealand's most well-known songs – 'Anchor Me', 'There is no depression in NZ', 'Bathe in the River', and 'Dominion Road'. He has fronted NZ bands like The Front Lawn, Blam Blam Blam and the Mutton Birds.  Now he's on the 2015 Winery Tour and is soon to release an album, Lucky Stars. Don talks to Wallace about his music – and plays a couple of songs from the new album.