Sunday Morning for Sunday 22 February 2015
7:08 Current affairs
In this hour, Wallace Chapman talks to Silvina Echarte Acevedo, the legal adviser heading the Uruguayan Ministry of Public Health's defence against Philip Morris. The tobacco giant is suing Uruguay over public health moves to cut smoking. The director of Action on Smoking and Health New Zealand, Stephanie Erick, discusses the impact of the company's actions in Uruguay and Australia on New Zealand's bid for standardised cigarette packaging. Also – The Week in Parliament, Fiji's casino bid bites the dust, and tackling youth unemployment in Auckland.
8:12 Insight The Cost of Family Violence
Family violence investigations take up more police time than any other offending and the cost to individuals is extreme. The Minister of Justice, Amy Adams, says on average in this country 14 women, 7 men and 8 children are killed in domestic violence related incidents every year. She speaks of New Zealand having one of the highest rates of domestic violence in the OECD. But after so many years of awareness raising and taking action why has very little changed? Philippa Tolley investigates what can be done and what, if anything, is being planned.
8:40 Merrill and Malik Fernando –Time for Tea
Merrill Fernando founded tea brand Dilmah in the 1950s, producing single origin Ceylon tea in Sri Lanka. He's in New Zealand, with his sons Malik and Dilhan, whom he named the brand after. Merrill, 84, and son Malik discuss the importance of single origin tea, why hand picking is so important and the secret to brewing the perfect cup. 
9:06 Mediawatch
Mediawatch looks at a media outlet that's offering itself to the public, but will the public actually want it? Also: A headline-making unpaid bill; the media interest in a troubled sportsman; and how Fifty Shades of Grey dominated the submissive media.
Produced and presented by Colin Peacock and Jeremy Rose.
9:40 Ragen Chastain – Life, Liberty and the Pursuit of Happiness are not Size Dependent
Self-described size diversity activist, Los Angeles based Ragen Chastain is a writer, blogger and professional choreographer and is in training to be an ironman athlete. She's also had to face fat shamers – people who have a negative view of larger people. Ragen documents her experiences in her blogs Dances With Fat and Iron Fat and her book Fat: The Owners Manual - Navigating a Thin-Obsessed World with Your Health, Happiness and Sense of Humor Intact.

Ragen Chastain does the splits on Wall Street. Photo: Substantia Jones for the Adipositivity Project.
10:06 Rhonda Samoa – The Precariousness of Work
Rhonda Samoa is a truck driver, a graduate of the New Zealand Film School, and the sister of Mark Samoa who was killed in a work accident on the Wellington waterfront in 2013. Rhonda knows a thing or two about the precariousness of work in the 21st Century, having been made redundant twice in the last six years, but she remains optimistic about the ability of workers to negotiate safe and fair work conditions as long as they stick together.
Photo: Rhonda Samoa at the Paremata Jetty following one of her regular 12 hour shifts.

10:20 Guy Standing – The Precariat Charter
Guy Standing, professor of development studies at the University of London, is the author of The Precariat Charter: from Denizens to Citizens, a follow up to his bestselling The Precariat Charter. Professor Standing argues that 800 years after the Magna Carta the time has come for a new charter representing the interests of those facing job insecurity and disenfranchisement internationally.
10:50 McWorkers of the World Unite
McDonalds, like Coca Cola, has become a symbol of globalisation. It's an example of a corporation successfully working with business people across the world to provide services to the world's consumers. But its workers have also become a symbol of what Guy Standing, and others, call the precariat: Non-unionised, young people – often tertiary educated – earning little more than the minimum wage, and with little job security. Anggie Godoy and Genoby Jaimes hope to change that. They both work in McDonalds restaurants in Los Angeles and were in New Zealand recently – with Hannah Joravsky of the Fight for $15 and a Union Campaign – to learn from New Zealand McDonalds' workers who were the first anywhere in the world to successfully negotiate a collective contract.

Genoby Jaimes (left) and Anggie Godoy of the Fight for $15 and a Union Campaign.
11:05 Josey Baker – The Toast Craze
Many of us eat it every day, but toast is set to be the "in" food for 2015. Josey Baker – head baker and owner of The Mill, a coffee shop/bakery in San Francisco – started putting artisan toast on the menu in early 2014. Since then the city has experienced a toast craze. Josey Baker's book Bread gives an insight into turning the staple into a fad.
11:28 Matt Thomson – Craft Whisky
Wine was popular, then New Zealand saw a surge in craft beer. Now craft whisky is trending internationally. Matt Thomson from award winning distillery Thomson Whisky in Auckland explains the growing popularity of the spirit, where it originated and how to craft the perfect drop.
11:42 David George Gordon – The Bug Chef
David George Gordon, nicknamed The Bug Chef, is the author of the best seller The Eat-a-bug Cook Book. He believes that bug-eating (entomophagy) could be among the best ways to combat world hunger and helping to curb climate change. While some might get squeamish at the thought of eating bugs, David creates palatable culinary masterpieces using spiders, crickets, ants and scorpions.
Recipe: Huhu Grubs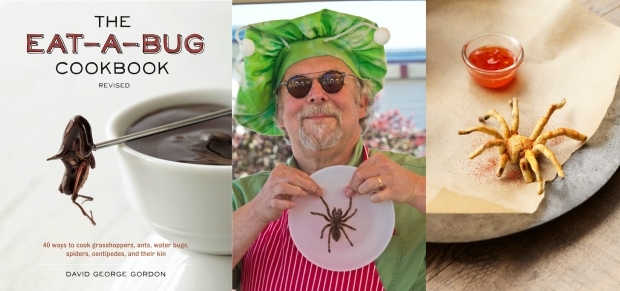 The Eat-a-Bug Cookbook. Centre: David George Gordon. Photo by Joel Rogers. Right: Deep Fried Tarantula Spider. Photo by Chugrad McAndrews.
Music played in this show
Song: Michael Jackson - Rock with You
Composer: Rod Templeton
Album: Off the Wall - Michael Jackson
Label: Epic Records
Broadcast Time:  8:38
Song: Pitch Black – South Of The Line
Album: Rude Mechanicals
Label: Remote Recordings
Broadcast Time: 9:37
Song: Lost in the Supermarket - The Clash
Composer: M Jones. S Strummer
Album: London Calling
Label: Columbia
Broadcast Time:  10:06
Song: Dynamite
composer T Neilson/D Davidson
Album: Tami Neilson: Dynamite
Broadcast Time: 10:35