Sunday Morning for Sunday 1 February 2015
7:08 Current affairs
This week – the case of the world's first climate change refugee and how climate change is a humanitarian crisis; the Mithaka people of Queensland go to the UN in a bid to protect their traditional lands; and Spanish plans to invade Australia in 1739 are uncovered.
8:12 Insight
Queenstown's reputation as a party town is undisputed and with more licensed premises per capita than any other place in New Zealand, it's on the front line when it comes to selling alcohol. Radio New Zealand's tourism reporter, Steve Wilde, takes a look at drinking in Queenstown and asks whether the bar industry has too much power.
Produced by Philippa Tolley.
8:40 Jesse Greenslade – Bully Blues
Jesse Greenslade was bullied on his first day at primary school – and this continued for the next 11 years. Jesse talks to Wallace about his experience, and about the book he has written for young children, called First Week Blues, about a little penguin who is bullied by other birds when he starts school.
9:06 Mediawatch
Mediawatch looks at how details of a child's death in Whanganui didn't come out for days, and the questions that has raised about what people really need to know about such a tragedy. Also: Coverage of foreign fishing in our waters; more odd ointment advice; and the reaction to controversial comments made by a top author.
Produced and presented by Colin Peacock and Jeremy Rose.
9:40 Summer Star Trek
One of this summer's outdoor theatre highlights could be Summer Star Trek. It's the second annual outing for this fresh-air rendition of a classic Star Trek episode, with venues in Lower Hutt and central Wellington. This year the focus also falls on the fans – Trekkies are getting the chance to put themselves into the story.  James Bayliss, who plays Captain Kirk, and the show's director, Shannon Friday, beam into the studio.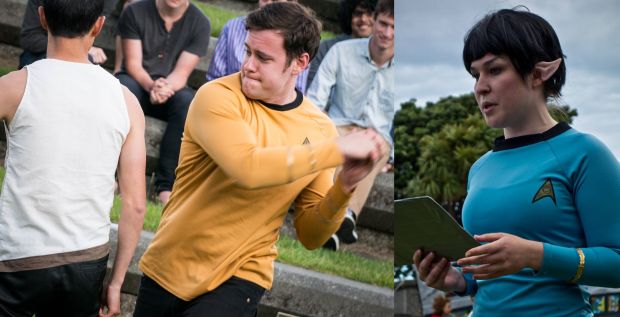 9:50 Soapathon
With characters established but no story-line until the day, Jennifer O'Sullivan tells Wallace about 13: The Soap – an improvised soapathon. Featuring in the New Zealand Fringe Festival, it's an attempt to perform an entire school year's worth of melodrama, set in the mid 90s, in 13 and a half hours of theatre. 
10:06 Yuval Ben-Ami – Lorde in the Holy Land
Yuval Ben-Ami is a Tel Aviv-based journalist, musician and self-described Lorde addict. He's in the midst of a project that aims to create a bi-lingual, bi-national, Hebrew-Arabic tribute to the Kiwi singer's music. Yuval Ben-Ami is blogging about the experience on the +972 website and has a You Tube channel featuring Hebrew versions of some of Lorde's hits.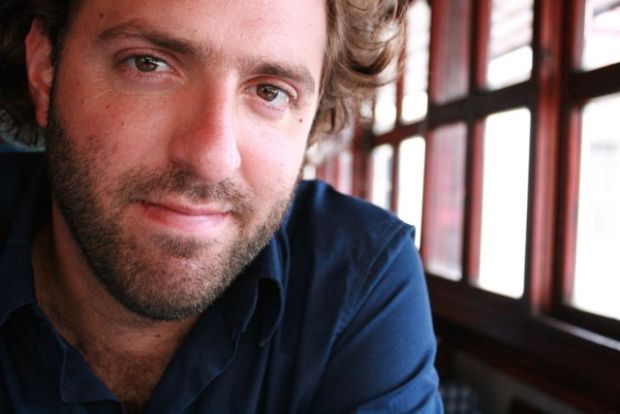 10:30 Janet Biehl – Rojava Revolution
Earlier this week Kurdish militias drove Islamic State forces out of the northern Syrian town of Kobane. The militias are part of what some are calling the Rojava Revolution. Popular assemblies have been set up, there are women and youth councils, there's a feminist army, the YJA, and education for all is prized. Inspired in part by the vision of social ecologist and anarchist Murray Bookchin the autonomous region of Rojava in the North of Syria has adopted the vision of libertarian municipalism calling for Kurds to create self-governing communities. Writer Janet Biehl was part of a delegation that visited the region last year and is the author of the forthcoming Ecology or Catastrophe: the life of Murray Bookchin.
11:05 Dave Luddy – Australian Open
Our tennis correspondent Dave Luddy is covering the Australian Open in Melbourne.
11:10 Peter Grose – A Good Place to Hide
During the Second World War a cluster of isolated French villages hid Jews in danger and sought them safe passage away from the Nazis. This little-known story is told by author and journalist Peter Grose in his book, A Good Place to Hide.
11:40 Michael Palin – Globe-trotting to NZ
Michael Palin is coming to New Zealand in February to talk about his adventures criss-crossing the globe and his time with Monty Python.
Music played in this show
Artist: Kate Bush
Song: Never be Mine
Composer: Bush
Album: Directors Cut 2011
Label: Fish People
Artsit: Kajagoogoo
Song: Too Shy
Album: White Feathers 1982
Composer: Nick Beggs/Lamahl
Label: Gloucester Place People
Artist: Kevin Field
Song: Dangerous to Know
Composer: Field/Gorgani/Kevin Trail/Nathan Haines
Album: Field of vision 2011
Label: Haven Music/Warner Music