Sunday Morning for Sunday 14 December 2014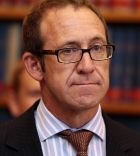 7:08 Current Affairs
This week, Wallace Chapman talks to Labour Party leader Andrew Little about the year's events, and what's on his agenda for 2015. Plus – freelance NZ journalist Yasmine Ryan on the elections in Tunisia; and Daniel Sauter from Urban Mobility Research in Switzerland talks about promoting a culture of walking in cities.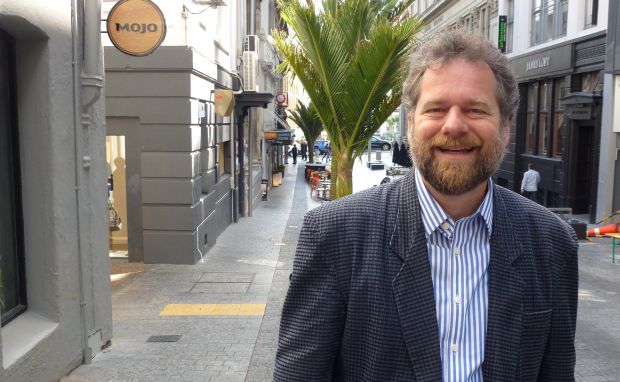 Daniel Sauter standing in O'Connell Street in Auckland's CBD, the latest of the city's "shared spaces" where cars and pedestrians share the same roadway.
8:12 Insight: Ebola – Searching for Annie
In the Liberian capital Monrovia, Ebola is still having a devastating impact on the people. The BBC's Gabriel Gatehouse follows the case of a patient called Annie, who was discovered in a crowded shared house in harrowing conditions. Along the way, he meets the medics and families on the front line of the Ebola crisis.
8:40 Katrina Day – Parts for Ladies
An aspiring actor from New York City and a graduate from the famed Tisch School of the Arts, Katrina Day has shone light into the otherwise little known world of casting calls – and in some cases, the astonishing sexism on display. Katrina's Tumblr blog, documents her experience, and the experience of others, facing sexism in the acting industry. Day shares character breakdowns in casting calls for women that are particularly sexist, fat-shaming or stereotypical.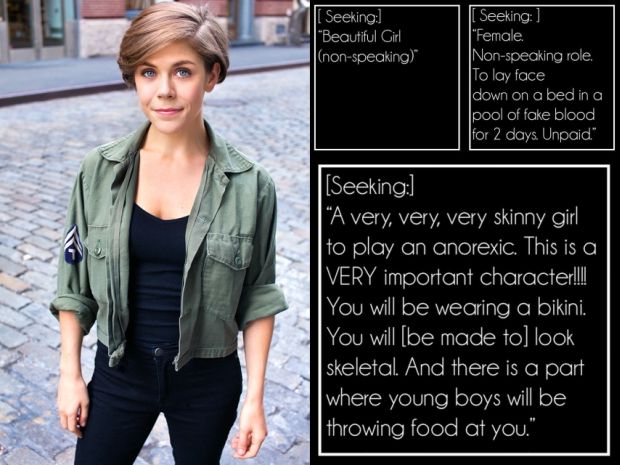 9:06 Mediawatch
Mediawatch asks why some scientists say they're dissuaded from speaking out in the media. Also: How two scandal-tainted politicians got very different treatment in two newspapers last weekend; and a case of ending up alone at the microphone.
Produced and presented by Colin Peacock and Jeremy Rose.
9:40 Wayne Brittenden's Counterpoint
In the month marking the 100th anniversary of the legendary First World War Christmas truce, Wayne looks at how the warrior bishops on both sides managed to get the message of peace and goodwill so wrong. Wallace follows up with California-based author, theologian and minister, Dr David Usher.
10:06 Naomi Klein – This Changes Everything
Naomi Klein, author of the international bestsellers, The Shock Doctrine and No Logo, talks to Wallace about her latest book, This Changes Everything. She's calling for politics to be transformed to deal with the impact of the changing climate.
10:35 Jonathan Spyer – Israel and the Middle East
Journalist and analyst Dr Jonathon Spyer is a former official of the Israel Government's press office and advised Cabinet ministers on international affairs. His journalism is published in major outlets like the Jerusalem Post, The Guardian and the Middle East Review of International Affairs. He holds a PHD in International Relations from the London School of Economics and currently he is a senior research fellow at the Center for Global Research in International Affairs in Israel. He's been in New Zealand this week, speaking at the Institute of International Affairs about Israel, and rising violence in the Middle East.
11:05 Bikenomics: What's cycling worth?
A report published this month estimates cycling contributes $350 billion to the European economy annually and employs more people than mining and quarrying combined. And a University of Auckland study released earlier this year found that every dollar invested in improving cycling infrastructure results in $20 of economic benefits. Sunday Morning producer Jeremy Rose takes a look at the cycling economy both here and abroad and visits Hawke's Bay where cycle tourism is booming.
Gallery: Bikenomics
11:35 Chris and Melissa Bruntlett – Vancouver Cycle Chic
Chris and Melissa Bruntlett sold their car in 2010 and have become two of Vancouver's leading cycling evangelists. They and their two children cycle virtually everywhere in the city and say they've never missed having a car. They blog about their experiences at Moda City and have made a series of award-winning Cycle Chic short films.
---
Sunday Morning is produced by Christine Cessford, Zara Potts, Jeremy Rose and Zoe George
Music: Zen Yates-Fill
Wellington operator: Brad Warrington
Auckland operator: Andre Upston
---
Music played in this show
Artist: Hopeton Lewis
Song: Take it Easy
Composer: Lewis
Label: Private
Broadcast Time: 8:40am
Artist: Trinity Roots
Song: Little Things
Composer: Maxwell/Gooch
Album: True
Broadcast Time: 9:40