Sunday Morning for Sunday 21 December 2014
7:08 Current affairs
Columnist for the NZ Herald and the NZ Listener Toby Manhire and comedian and writer Michele A'Court join Wallace for a critical look at the year in politics.
An update from the Solomon Islands where communities living around the Gold Ridge mine have been warned its tailings dam could overflow, and emergency legislation has gone through parliament to ensure the government there has funding available for the next three months.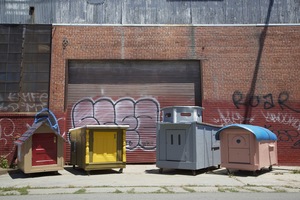 Californian artist Gregory Kloehn, who turned his back on expensive sculptures for the rich and decided to build shelters for the homeless - made completely from recycled materials, he builds tiny houses then gifts them to homeless people in his area.
Tamara Qumseya, a Palestinian from Bethlehem studying for her PHD in cross cultural psychology at Victoria University, talks to Wallace about Christmas in the birthplace of Jesus.
8:12 Insight Living Poverty
Insight speaks to those living in poverty from around the country about what everyday life is like for them and what changes would really make a difference to their lives. In this programme we hear from the people – not the policy makers – from a single father in Nelson to pensioners in Taranaki, a family in South Auckland and whanau in Northland.
Produced by Philippa Tolley.
8:40 Rick Hanson – Hardwiring Happiness
Rick Hanson is a neuropsychologist and the author of Hardwiring Happiness: The New Brain Science of Contentment and Buddha's Brain: The practical neuroscience of happiness. He blogs regularly at Psychology Today and the Huffington Post and will be visiting New Zealand early next year to run a series of workshops on happiness and mindfulness.
Rick Hanson's New Zealand workshops in Auckland, Christchurch, and Wellington
9:06 Mediawatch
Mediawatch looks at criticism of the coverage of the deadly siege in Sydney, and talks to the last remaining Australian correspondent based in New Zealand as she prepares to leave for home. Also: A possible scandal that could be bigger than Dirty Politics – or maybe not . . .
Produced and presented by Colin Peacock and Jeremy Rose.
9:40 Wayne Brittenden's Counterpoint
In the light of the explosive revelations in the recent report on CIA torture, Wayne looks at some of its little-discussed aspects. Wallace follows up with medical ethics expert, Dr. James Welsh.  
10:06 Mike Leigh – Mr. Turner
Mike Leigh on set with actor Timothy Spall during filming of Mr Turner.
British Director Mike Leigh is an auteur of modern cinema. He's been nominated for Academy Awards seven times and his movies, such as Naked, Secrets and Lies, Career Girls, and Vera Drake have garnered universal acclaim – making Leigh's name as a distinctive voice in film over the last 43 years.
His latest movie, Mr. Turner, is out to rave reviews and has won international awards. It's a look at the life of British painter J. M. W. Turner (1775–1851). Mike Leigh joins Wallace to talk about his career and his new film about the artist known as 'the painter of light'.
Mr. Turner opens in NZ cinemas on Boxing Day.
10.20 David Veart – A NZ Toy Story
David Veart by Emily Rafferty.
Auckland writer David Veart has recently released his latest book Hello Girls & Boys! A New Zealand Toy Story. It's the tale of New Zealanders and their toys – from Māori voyagers to 21st century gamers – picking up knucklebones, kites, Buzzy Bees, Tonka Toys and much, much more along the way.
11:05 Reviewers Review 2014
Radio New Zealand's film reviewer and presenter of At the Movies, Simon Morris, talks to Wallace about star power and poses the critical question – do you have to be good-looking to be a superstar? Then RNZ's host of The Sampler, Nick Bollinger, joins Wallace to reflect on the awesomeness of Lorde and the underwhelming return of Prince. Finally, film reviewer for Afternoons on Radio NZ, Sarah McMullan, turns her attention to the small screen for the picks of the year.
References in Sarah McMullan interview: True Detective and Paul Henry
---
Sunday Morning is produced by Christine Cessford, Zara Potts, Jeremy Rose and Zoe George
Music: Zen Yates-Fill
Wellington operator: Dominic Godfrey
Auckland operator: Andre Upston
---
Music played in this show
Artist: Pharell Williams
Song: Happy
Composer: Willams
Album: Girl
Label: Columbia
Broadcast Time: 9:37
Artist: Fabulous Arabia
Song: The Ballad of State Highway 1
Composer: August/Milne
Album: Unlimited Buffet
Label: Economy
Broadcast Time: 10:21
Artist: D'Angelo
Song: 1000 deaths
Composer: D'Angelo
Album: Black Messiah
Label: Sony
Broadcast Time: 10.53
Artist: D'Angelo
Song: Ain't That Easy
Composer: D'Angelo
Album: Black Messiah
Label: Sony
Broadcast Time: 11.30
Artist: Lorde
Song: Yellow Flicker Beat
Composer: Yellich-O'Connor/Little
Album: Soundtrack for The Hunger Games: Mockingjay – Part 1
Label: Republic
Broadcast Time: 11:40