Sunday Morning for Sunday 7 December 2014
7:08 Current affairs
This week – Green Party co-leader Russel Norman and NZ First leader Winston Peters review their year and look ahead. Plus – Fiona Lovatt, a New Zealand school teacher living in Kano, Nigeria, talks to Wallace about the recent car bombing that killed hundreds of people, and about how she's got local blacksmiths making Thermettes; and Andreas Schuller, legal advisor to the Berlin-based European Center for Constitutional and Human Rights (ECCHR) on the UN investigation into war crimes in Sri Lanka.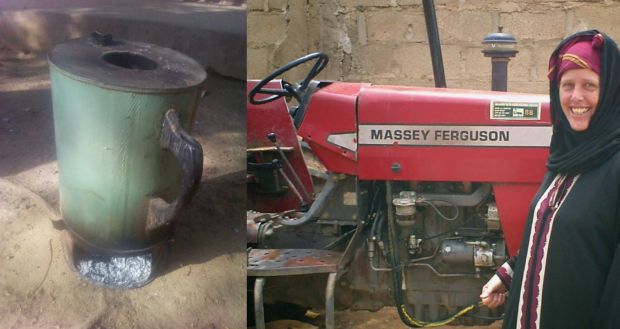 Left: Thermette. Right: Fiona Lovatt
8:12 Insight NZ Muslim Communities and the Shadow of Isis
Parliament is considering anti-terror laws that will give spy agencies unprecedented powers. The law change is aimed at countering the threat from Islamic State supporters. But what effect is this focus having on NZ's Muslim communities? In recent times there have been reports of racial abuse by those who seem to think anyone who is a Muslim is a terrorist. Philippa Tolley speaks to members of the community about the pressure many now feel they are under.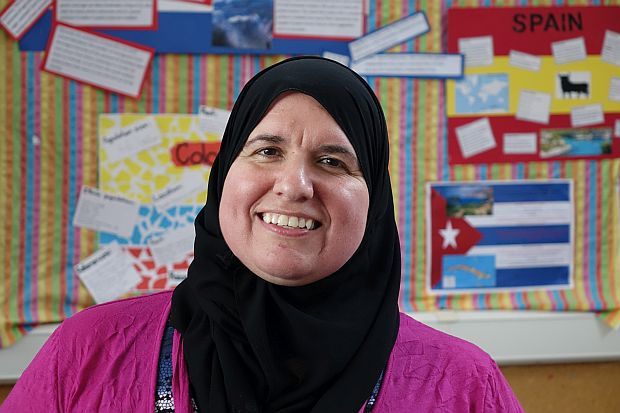 Aliya Danzeisen
8:40 Philippa Howden-Chapman – Science and Housing
This week, Professor Philippa Howden-Chapman won the top award at the 2014 Prime Minister's Science Prize. She's the first social scientist, and first women, to receive the prestigious award. Social housing is the main focus for her team of 28 scientists, who over the last 15 years have conducted large community trials looking at deficiencies in our standard of housing and the effect that has on the health of our vulnerable groups in society.
9:06 Mediawatch
Mediawatch asks if a world record attempt screened live on TV this week was a genuine news event – or just one big advert. Also: The pros and cons of ultra-fast broadband; and the danger of going down in history as heartless when the media get it wrong.
Produced and presented by Colin Peacock and Jeremy Rose.
9:40 Wayne Brittenden's Counterpoint
This week Wayne looks at the case of the Australian mining corporation Oceana Gold suing the El Salvadorian government  over its moratorium on mining. Wallace follows up with Manuel Perez Rochez of the Institute for Policy Studies in Washington DC and Sean Cleary of the Australian Catholic human rights organisation, the Edmund Rice Centre.
10:06 Rape Culture and Consent in New Zealand
Rape culture and the issue of consent has come to prominence in the last 12 months, with the likes of the Roast Busters case, the television film about Louise Nicholas' experiences and the tragic death of Warriena Wright in Surfers Paradise dominating the airwaves. In New Zealand one in five women will be sexually assaulted. One in three girls will have an unwanted sexual experience by the time they are 16. Only one in 100 sexual assaults will result in a conviction. Where does rape culture come from? How do we define consent? Do we need a special court for sex offenders? Does the internet and social media encourage rape culture? Join the panel discussion from 10am.
For help and support for issues raised in this story, and in the panel discussion, or for more information about these issues you can visit:
Rape Crisis 0800 88 33 00
Women's Refuge
Victim Support
Sexual Abuse Help Foundation
Shine  
Shakti NZ
NZ Police diversity liaison officers
11:05 George Monbiot – Trans-Atlantic Trade Trouble
The Transatlantic Trade and Investment Partnership (TTIP) is a trade deal being negotiated between the European Union and the United States and has similarities with the proposed Trans-Pacific Partnership Agreement (TPPA). Supporters of the TTIP say the deal will create jobs and boost the world economy by billions of dollars. However, journalist and author, and columnist for The Guardian in the UK, George Monbiot, says the TTIP, is "a monstrous assault on democracy".
11:25 Brian Turner – Grappling with Ghosts
Brian Turner's first book of poems, Here, Bullet, published on his return from Iraq as an Infantry Team Leader, was named a New York Times 'Editor's Choice' selection for 2007, winning several prestigious awards. His work includes the award winning piece 'The Hurt Locker' – a poem about the pain of witnessing war. Brian Turner has recently published his memoir, My Life as a Foreign Country in which – with visceral, haunting and lyrical writing – he grapples with his war-time experiences.
Music details
Artist: Seu Jorge
Song: Oh! You Pretty Things
Composer: Bowie
Album: The Life Aquatic Studio Sessions
Label: Hollywood
Broadcast Time: 8:40
Artist: Andy Laking
Song: These Curving Streets
Composer: Laking
Album: Here By Fire
Label: Private
Broadcast Time: 9:37
Artist: Bruce Springsteen
Song: American Skin (41 Shots)
Composer:  Springsteen
Album: Live in New York City
Label: Columbia
Broadcast Time: 11:15
---
Sunday Morning is produced by Christine Cessford, Zara Potts, Jeremy Rose, and Zoe George
Music: Zen Yates-Fill
Research: Anne Buchanan
Wellington operator: Dominic Godfrey
Auckland operator: Andre Upston
---