Summer Nights for Friday 10 January 2014
7:10 Ant Hampton - The Quiet Volume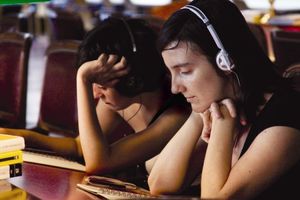 The Quiet Volume created by Ant Hampton is a form of audience-generated theatre, or autoteatro, which takes place in a working library. It explores the particular tension common to any library worldwide: the interplay of silence and intense concentration, within which an experience of reading unfolds. In this interview, Ant discusses the peculiar construct of the library, first pages of books, and our inner monologues of silent reading.
The Quiet Volume can be experienced at the New Zealand Festival, where it is being held at the National Library of New Zealand.
7:30 Live music recording - Sola Rosa
Bringing a touch of summer to the cold winter months, Andrew Spraggon aka Sola Rosa played two funk and soul-filled sets in Wellington and Auckland in July. Vocalists Sam Allen and Cherie Mathieson joined Spraggon to showcase never-before-played songs from his sixth Sola Rosa release Low and Behold, as well as new tracks written since then. Produced and engineered by Andre Upston for Radio New Zealand National
8:12 Windows on the World - The Prophets
Clive Lawton tells the story of two of the most famous of the Old Testament Prophets. In the first of two parts he starts with Isaiah and the story of Jonah and the whale. Or should it be a fish? At one level Jonah is a knockabout tale of strange events, but at its core it is a story of universal assertions and values, surprising in its inclusivity and judgments. Jonah is a cantankerous character who doesn't seem to fit in with God's plans. And yet he is still called upon to be a prophet. Clive then profiles Isaiah, the supreme literary prophet or, possibly, prophets. He also asks how would we relate to such mythical figures if they were still around today and how relevant their thoughts and ideas are in a modern context.
8:40 Culture wars with Kim Choe
Journalist and reviewer Kim Choe [http://www.twitter.com/kimchoe] examines the latest movies, art exhibitions, theatre, and other cultural events on over summer, and looks back at the best of 2013. This week, Kim reviews the films 47 Ronin, Short Term 12, and Ernest & Celestine; along with a preview of theatre in 2014.
9:05 Soundtracks for sunsets
We want to hear your favourite sunset stories, and the music that accompanies them. Where were you when the sun went down? Who was there? What were you doing? And what would be your ideal soundtrack to that moment? It could be an exotic experience or something incredibly ordinary. It might be last night's sunset or one from 20 years ago.
Pick the song you'd most like to listen to as the sun goes down, and join us on Summer Nights to talk about it.
Email summernights@radionz.co.nz with your name, song and phone number, and listen at 9pm on weeknights to hear what people have chosen.
Listen to all the Soundtracks for sunsets choices on Spotify
9:15 Country Life
Mid-Canterbury farmers Jeremy Casey and Kim Solly, who milk 1300 cows near Methven, are conducting a four year trial between conventional and biological farming to find out which system produces healthier soils and greater yields. And the Country Life team meets with Colin Cox, the father of deer farming in New Zealand. He had the flighty beasts behind wires before it was legal, he helped develop the idea of blending possum and merino wool to make the popular snug garments, and now he's invented a possum skin belt to help fight muscular aches and pains.
10:15 Late Edition
A review of the day's leading news stories.
10:30 Dr. Anna Wirz-Justice on sleep
Emeritus professor at the Centre for Chronobiology at the Psychiatric Hospital of the University of Basel, Anna Wirz-Justice, has spent decades studying the science of sleep. She discusses circadian rhythms, whether you can change your natural biological clock, sleep problems, and the use of sleep deprivation as a treatment for some mental health issues.
11.06 Music hour - Melbourne Ska Orchestra
In our recordings from Womad Taranaki 2013 we feature the 26 piece Melbourne Ska Orchestra led by Nicky Bomba and with an 18 piece horn section, a mean rhythm section, percussionist, organist and 4 singers - all celebrating the sound of Ska. Even the rain couldn't dampen their enthusiasm and they had a sea of umbrellas pulsing time to the music.
Music played in this show
Artist: The Cure
Song: Boys Don't Cry
Comp: Dempsey, Smith, Tolhurst
Album: The Cure: Standing on a beach, the singles.
Label: Fiction
Broadcast Time: 19:10

Artist: Vance Joy
Song: Riptide
Comp: Joy
Album: God loves you when you're dancing
Label: Mushroom
Broadcast Time: 20:10

Artist: Stevie Wonder
Song: Signed, Sealed, Delivered
Comp: Syreeta Wright, Lee Garrett, Stevie Wonder, Lula Hardawa
Album: My Cherie amour / signed, sealed and delivered
Label: Motown
Broadcast Time: 20:36

Artist: Mirah
Song: Bones & Skin
Comp: Zeitlyn
Album: (A)spera
Label: K
Broadcast Time: 20:40

Artist: Jim Reeves
Song: Welcome to my world
Comp: Winkler/Hathcock
Album: Bimbo
Label: Castle
Broadcast Time: 21:13

Artist: Bombway Bicycle Club
Song: How can you swallow so much sleep
Comp: Steadman
Album:A different kind of  fix
Label: Island
Broadcast Time: 22:34

Artist: Johnny Cash
Song: I walk the line
Comp: Cash
Album: Johnny Cash: Classic Cash 1988
Label: Mercury
Broadcast Time: 23:07

And our intro music was:
Artist: Gorillaz
Song: To Binge (with Little Dragon)
Comp: Gorillaz, Nagano
Album: Plastic Beach
Label: Parlophone
Broadcast Time: 19:06