Summer Nights for Thursday 9 January 2014
7:10 Comedian Jamie Kilstein
Jamie Kilstein is an American comedian and co-host of the podcast Citizen Radio with journalist Allison Kilkenny. He makes political comedy that subverts entrenched stereotypes around gender, sexuality, class, and race – which has been profoundly unsettling for the comedy fraternity. He talks about becoming political after dropping out of high school, and the backlash he got for suggesting rape jokes weren't funny. Jamie's latest CD is titled What Alive People Do.
Follow Jamie on Twitter.
Watch his stand-up about war and rape culture.
If the discussion around issues of sexual violence in this interview has been distressing to you, resources such as Lifeline and Rape Prevention Education might be helpful.

Jamie Kilstein.
7:30 Musical mystery tour
Journalist Christopher Gilbert makes links between songs spanning decades, genres and ideas, in a journey of music appreciation. This week, Christopher examines the hypothesis that music ain't what it used to be, and points out some innovative, beautiful, and mind-changing examples of music-making from recent years.
Listen to all Christopher Gilbert's choices on Spotify.
8 pm News & Weather
8:15 Windows on the World: Jeremy Irons
The Oscar-winning actor Jeremy Irons is best known for his portrayal of troubled, brooding upper class men. This past year he has made a documentary about the potentially devastating impact of the mountains of toxic waste polluting our planet. He speaks with Stephen Sackur on BBC Hard Talk.
8:40 Comfort food
Laura Vincent is a Wellington cookbook author, food blogger and restaurant reviewer. She blogs at Hungry & Frozen, and her book of the same name was published by Penguin in 2013.
Laura has recipes for brunch, including roasted asparagus with fried egg and capers; breakfast apple crumble; and raspberry, coconut and almond bread and butter pudding.
8:05 Soundtracks to sunsets
We want to hear your favourite sunset stories, and the music that accompanies them. Where were you when the sun went down? Who was there? What were you doing? And what would be your ideal soundtrack to that moment? It could be an exotic experience or something incredibly ordinary. It might be last night's sunset or one from 20 years ago.
Pick the song you'd most like to listen to as the sun goes down, and join us on Summer Nights to talk about it.
Email summernights@radionz.co.nz with your name, song and phone number, and listen at 9pm on weeknights to hear what people have chosen.
Listen to all the Soundtracks to sunsets choices on Spotify
9:15 Our Changing World - Summer Science
How writing can be beneficial for health, how native fish at Zealandia are thriving now that trout are gone, how real forensic science works, and what five decades of research tells us about red-billed gulls.
10 pm News & Weather
10:17 Late Edition
A review of the leading stories from the day's news.
10.30 Puertas Quartet
The Puertas Quartet is a string ensemble made up of two married couples who live 12,000 miles apart. Their second album, Ravel Rachmaninov Tchaikovsky, will be released this month, and they are embarking on a tour of New Zealand from January 11. Two of the group's members, violinist Tom Norris and cellist Andrew Joyce, stop by for a chat about their own musical histories, and the dynamics of playing in a string quartet (with your spouse!). They also give a sneak preview of some of the music on their new CD.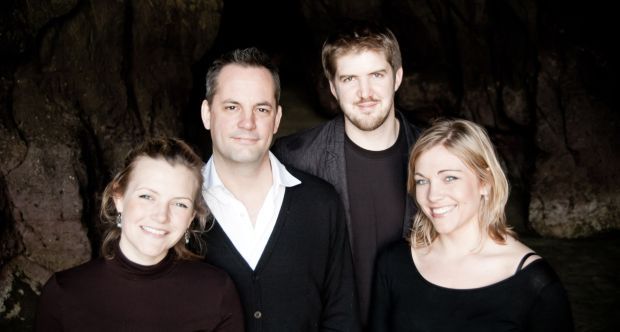 The Puertas Quartet.
11.06 The Music Mix - House of Shem
For Summer, Music 101 are making mixtapes with musicians from around the country. Tonight, Emma Smith is joined by popular reggae group House Of Shem. Father Carl and sons Te Omeka and Isaiah share a selection of reggae from the Pacific and beyond.
Music played in this show
Artist: Bruce Springsteen
Song: Atlantic City
Comp: Springsteen
Album: Nebraska
Label: Columbia
Broadcast Time: 20:07

Artist: Feist
Song: Brandy Alexander
Comp: Feist
Album: The Reminder
Label: Universal
Broadcast Time: 20:11

Artist: Jherek Bischoff
Song: Eyes (featuring David Byrne)
Comp: Bischoff and Byrne
Album: Composed
Label: Brassland
Broadcast Time: 20:40

Artist: Marty Robbins
Song: The Streets of Laredo
Comp: n/a
Album: Two Classic Albums from Marty Robbins
Label: Columbia
Broadcast Time: 21:13

Artist: Puertas Quartet
Song: Vif et agite
Comp: Ravel
Album: Puertas Quartet
Label: Atoll
Broadcast Time: 22:46

Artist: Puertas Quartet
Song: Romance from String Quartet No. 1
Comp: Rachmaninov
Album: Puertas Quartet
Label: Atoll
Broadcast Time: 22:56

Played during Christopher Gilbert's musical mystery tour:
Artist: Yeasayer
Song: Madder Red
Comp: Christ Keating, Tuton, Wilder
Album: Old Blood
Label: Spunk
Broadcast Time: 19:44

Artist: The Books
Song: Take Time
Comp: N/A
Album: The Lemon of Pink
Label: Tomlab
Broadcast Time: 19:48

Artist: Menomena
Song: Wet & Rusty
Comp: N/A
Album: Friend or Foe
Label: Shock
Broadcast Time: 19:52

Artist: Handsome Furs
Song: Serve the People
Comp: N/A
Album: Sound Kapital
Label: Subpop
Broadcast Time: 19:58

And our intro music was:
Artist: Gorillaz
Song: To Binge (with Little Dragon)
Comp: Gorillaz, Nagano
Album: Plastic Beach
Label: Parlophone
Broadcast Time: 19:06