Summer Nights for Monday 13 January 2014
7:08 Saziah Bashir on Muslim feminism
Saziah Bashir talks about the ways in which society silences and shouts down Muslim women – often in the name of "helping" or "saving" them – without actually asking them what they think. She also discusses what feminism means to her as a Muslim woman.
Read an article Saziah has written on the subject – On Femen, Hijab and the Muslim Feminist (or, How I Am Not An Elusive Unicorn).
She has also written on New Year's resolutions for Radio New Zealand's The Wireless, and about racism.
7:30 Insight - Immigrant Labour
One of the most serious cases of alleged exploitation of immigrants in recent times is making its way through the courts at present, but advocates say more needs to be done to protect those who suffer unfair treatment in this country. They say the victims are the ones who lose all in revealing wrong doing. Philippa Tolley looked into the current situation.
8:12 Windows on the World - Antarctica
Today's BBC Window on the World offers an explanation of why the  2013 Australasian Antarctic Expedition ship was unexpectedly trapped in pack ice over Christmas. And we get an account of the expedition's last few days in Antarctica.
8:40 Scary stories - Chateau Tongariro
We visit some of New Zealand's most reportedly haunted locations to find out the stories behind them. This week, we'll hear about the spooky goings-on at Chateau Tongariro.    
9:06 Sports by night - Foosball
We cover the sports that are best played after dark - particularly those that don't require speed or heavy lifting. This week, we speak to professional "foos-caster", and former foosball pro, Jim Stevens.
9:25 Music - Hidden Gems of 2013
Wellington musician and writer Matthew Backhouse explores some of music's hidden gems from the past year.
Listen to all Matthew's choices on Spotify        
Shout it Out - Mikal Cronin
Chrome Country - Oneohtrix Point Never
The Place - Inc.
He's running through my eyes - Julia Holter
Cherry - Chromatics
High-Heeled Clouds - Arp
Send Them Away - Beaches
10:15 Late Edition
A review of the day's leading news stories.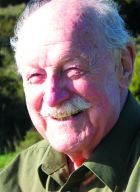 10:30 Author Jack Lasenby
Jack Lasenby (right) is one of New Zealand's most popular children's authors. He talks about the origins of stories, growing up in the shadow of war and the Depression, a childhood in the Waikato, and a life in the great outdoors before he started publishing his books – which include The Lake; Harry Wakatipu; and the Uncle Trev series. Jack has also worked as a teacher and an editor of the School Journal.
Jack Lasenby is a guest at the New Zealand Festival's Writer's Week in March.
11:06 Blues - Stevie Ray Vaughan and Double Trouble
Stevie Ray Vaughan was an innovative and talented guitarist, influenced by bluesmen like Albert King and Buddy Guy, and rock n roll players like Jimi Hendrix and Lonnie Mack. He developed a uniquely eclectic and fiery style that sounded like no other guitarist, regardless of genre. He died tragically aged 35 in a helicopter crash in 1990.
Music played in this show
Artist: Sufjan Stevens
Song: Chicago
Comp: Stevens
Album: Come on feel the Illinoise
Label: Spunk
Broadcast Time: 20:08

Artist: The Supremes/Diana Ross
Song: You can't hurry love
Comp: B Holland, Dozier, E Holland Jr.
Album: Diana Ross and The Supremes
Label: Motown
Broadcast Time: 20:42

Artist: The Beta Band
Song: Dry the Rain
Comp: n/a
Album: The 3 EPs
Label: EMI
Broadcast Time: 20:45

Artist: T. Rex
Song: Rock on
Comp: Bolan
Album: The Slider
Label: Demon
Broadcast Time: 21:22

Music played during Matthew Backhouse's Hidden Gems of music in 2013:

Artist: Mikal Cronin
Song: Shout It Out
Comp: n/a
Album: MCII
Label: Merge
Broadcast Time: 21:27

Artist: Oneohtrix Point Never
Song: Chrome Country
Comp: Oneohtrix point never
Album: R Plus 7
Label: Warp
Broadcast Time: 21:32

Artist: Inc.
Song: The Place
Comp: Inc.
Album:No World
Label: 4AD
Broadcast Time: 21:37

Artist: Julia Holter
Song: He's Running Through My Eyes
Comp: Holter
Album: Loud City Song
Label: Domino Records
Broadcast Time: 21:43

Artist: Chromatics
Song: Cherry
Comp: Chromatics
Album: After Dark 2
Label: Italians Do It Better
Broadcast Time: 21:46

Artist: ARP
Song: High Heeled Clouds
Comp: Georgopoulos
Album: More
Label: Smalltown Supersound
Broadcast Time: 21:52

Artist: Beaches
Song: Send Them Away
Comp: Beaches
Album: She Beats
Label: Chapter Music
Broadcast Time: 21:56

And our intro music was:
Artist: Gorillaz
Song: To Binge (with Little Dragon)
Comp: Gorillaz, Nagano
Album: Plastic Beach
Label: Parlophone
Broadcast Time: 19:06