Standing Room Only for Sunday 3 May 2015
12:26 John Pule: Suitcase
The recent Niue Arts and Culture Festival took as its theme the question "Who am I?" and called on Niuean artists to ponder ideas of identity and how they might renew, rethink and reclaim their ancestral home. Painter, poet and novelist John Pule has just moved back to his birthplace in Niue and responded with an exhibition of lithographs. Justin Gregory spoke to him at the Niue Yacht Club.

Niuan Painter, poet and novelist John Pule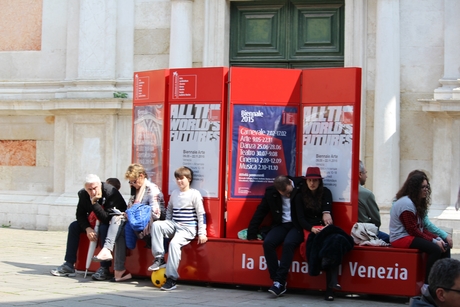 12:41 New Zealand at the Venice Biennale
Berlin-based New Zealand artist Simon Denny and his funders will soon find out if his art installations about mass surveillance have struck a chord with audiences, critics and curators at the Venice Biennale. Half of the installation is unmissable for people flying into Marco Polo International Airport. Standing Room Only presenter Lynn Freeman is covering La Biennale for Radio New Zealand.
(Left) Simon Denny, who is displaying at the Venice Biennale
New York Times article focusing on Simon Denny's work at the Biennale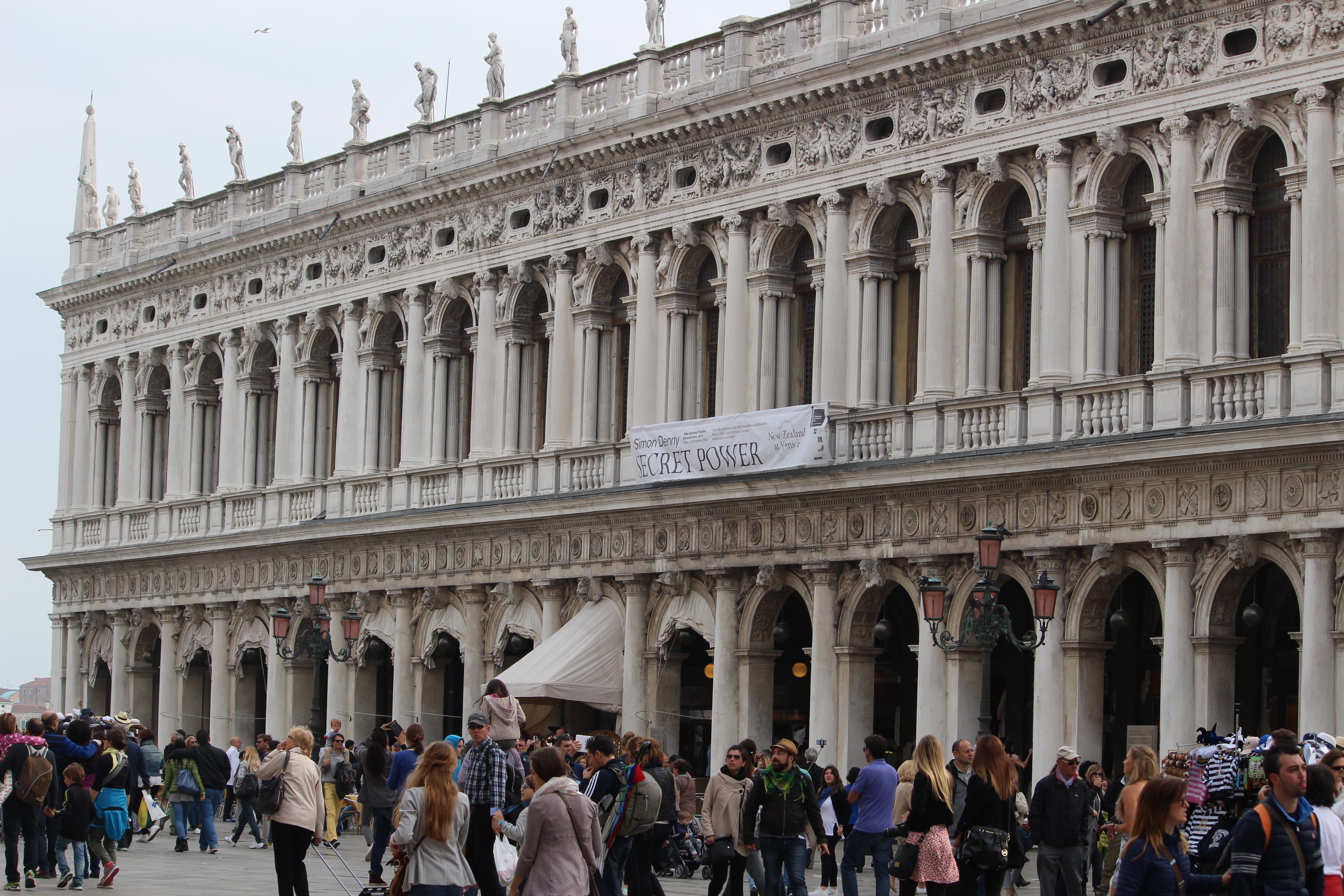 1:10 At the Movies with Simon Morris
Simon Morris welcomes the blockbuster season - or at least big films. Avengers: Age Of Ultron tackles trendy Artificial Intelligence, Testament of Youth is a film version of a famous First World War memoir, and the award-winning Leviathan takes a critical look at Putin's Russia.
1:34 ComicFest
This week Wellington was host to a plethora of comic talent – no not from the comedy festival. New Zealand illustrators and cartoonists met up to discuss their craft at ComicFest. At one such post-discussion panel meetup Standing Room Only producer Shaun D Wilson spoke to Toby Morris, Tim Bollinger, Jonathan King and Tim Gibson about the state of their art.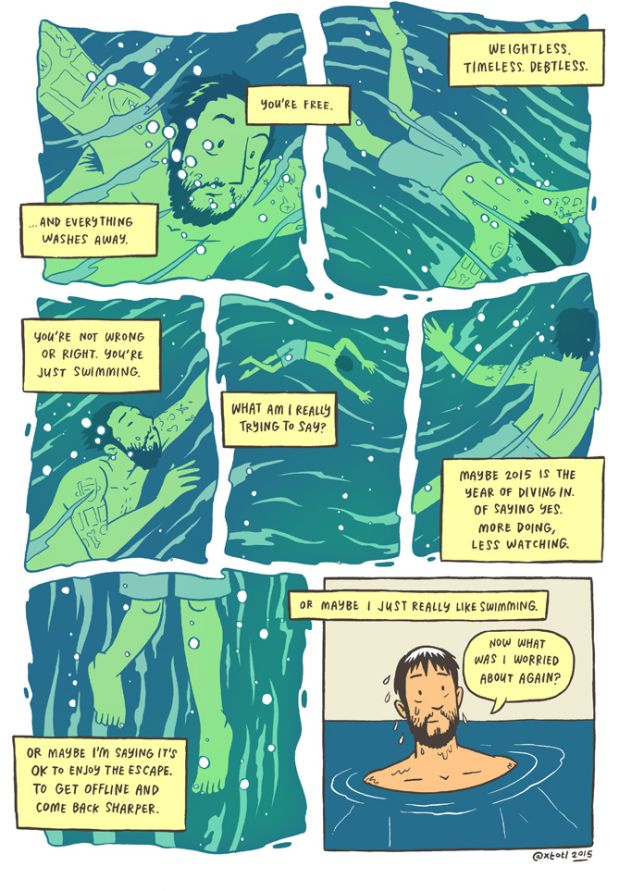 Toby Morris' comic The Pencilsword
1:46 Prepping for 48 Hours of madness
Tiny teams all over the country are doing in two days what it takes far larger teams years to do - make a movie. The 48 Hours film competition is on! Simon Morris speaks to the New Zealand Manager for 48 Hours 2015 Tim Groenendaal, as well as experienced competitors Hayden Weal (Moffilaide), and Julian Vares (The Eh Team).
Le Restaurant D'erreurs by Eh Team
Dick Off by Moffilaide
2:05 The Laugh Track – Nish Kumar
Brit Nish Kumar is playing New Zealand for the first time at the International Comedy Festival. He talks standup and picks choice cuts from Louis C.K., Chris Rock, Daniel Kitson, and Stewart Lee. In Auckland Nish is part of The Big Show, as well as performing his own set at The Classic. He will be touring the country on the Comedy Convoy.
Standup comedian Nish Kumar
2:25 Singing sisters in Cinderella
The latest New Zealand Opera production is about to open. It's Rossini's La Cenerentola, rather better known as Cinderella. Interestingly three of the leads - Cinderella and the two Wicked Sisters - are all played by expat New Zealand singers. Singers Amelia Barry and Rachelle Pike were both New Zealand Opera Emerging Artists who studied together in New York.

Soprano Amelia Barry and Mezzo soprano Rachelle Pike as The Wicked Sisters in La Cenerentole
2:39 Running Towards Danger
The trouble doesn't end for Karen after her flatmate is shot and killed next to her on the street. In her novel Running Towards Danger, author Tina Clough puts Karen under huge pressure as she forces her to travel the country under an assumed name. She thinks she's found a safe place to settle down - but is she right?
2:50 Jack Feleti: Ebony Carver
In a village on Niue's eastern coast, master carver Jack Feleti makes one-of-a-kind objects from the ebony he finds on his ancestral lands. The exquisite, hand-carved pieces he produces have been sold everywhere from Auckland to Japan and he tells Justin Gregory that the raw materials he needs for his art are all around him.
Artist Jack Feleti being recorded by Justin Gregory
3:05 The Drama Hour
Music played in this show
Artist: Bonny "Prince" Billy
Song: Missing One
Composer: Will Oldham
Album: Lie Down In The Light
Label: Spunk  Played at: 12:12
Artist: The Zombies
Song: She's Not There
Composer: Argent
Album: Billboard 1964
Label: Rhino  Played at: 12:26
Artist: Everything But The Girl
Song: Missing (Todd Terry Remix)
Composer: Thorn, Watt
Album: Everything But The Girl
Label: Virgin  Played at: 12:58
Artist: Ferlin Husky
Song: Gone
Composer: Smokey Rogers
Album: The Golden Age of American Rock 'N' Roll – Special Country Edition
Label: ACE  Played at: 1:10
Artist: The Webb Sisters
Song: Missing Person
Composer: Dan Wilson, Charley Webb, Hattie Webb
Album: When Will You Come Home?
Label: TWSR   Played at: 1:44
Artist: John Mayer
Song: Something's Missing
Composer: John Mayer
Album: Heavier Things
Label: Aware  Played at: 1:58
Artist: The Rolling Stones
Song: Miss You
Composer:
Album: Rewind (1971-1981)
Label: CBS  Played at: 2:06
Artist: Orchestra e coro del Teatro Comunale di Bologna
Song: Sinfonia
Composer: Rossini
Album: La Cenerentola
Label: Decca  Played at: 2:25
Artist: Dave Mason
Song: I'm Missing You
Composer: Mason/Stein
Album: Show Me Some Affection
Label: Elite  Played at: 2:45
Artist: Aimee Mann
Song: Disappeared
Composer: Aimee Mann
Album: Charmer
Label: Superego  Played at: 2:59
Artist: Hall & Oates
Song: She's Gone
Composer: Hall, Oates
Album: Greatest Hits: Rock 'n Soul Part 1
Label: RCA  Played at: 3:59